MY RHINO ROAD TRIP: Cincinnati ZOO and Botanical Garden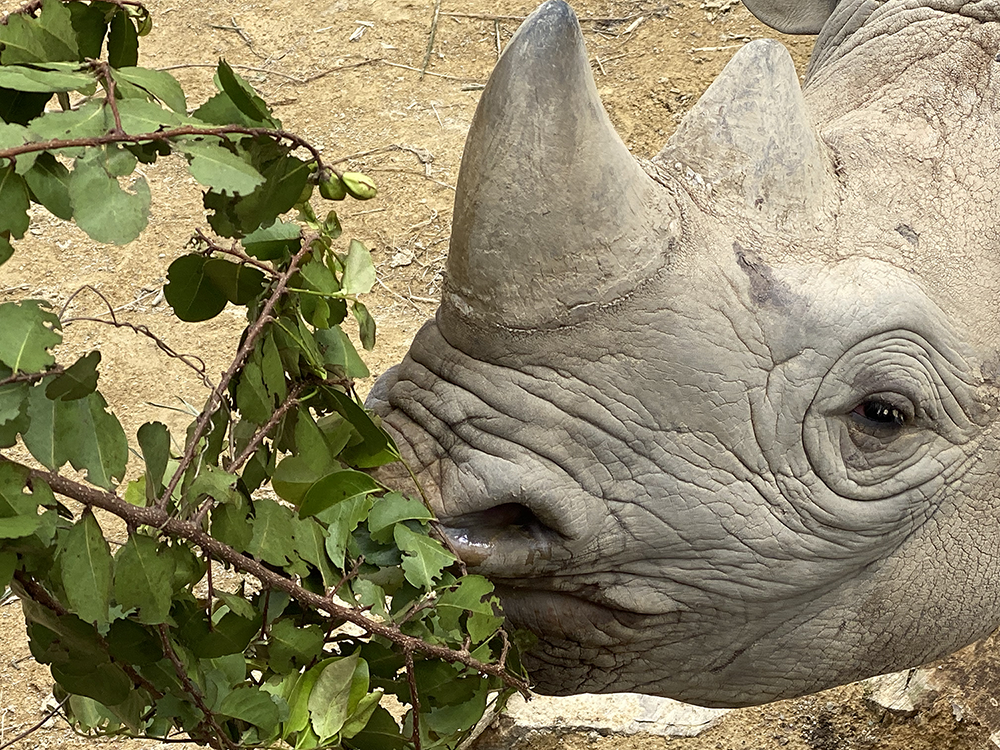 Hi Team Rhino. Chris Whitlatch, Communications Director at the International Rhino Foundation (IRF), here. I had the opportunity to hit the road for another Rhino Road Trip as we gear up for Go Wild for Rhinos on May 5th. My travels took me to the Cincinnati Zoo, which I have not had the opportunity to visit yet.
The Zoological Society of Cincinnati was founded in 1873 and officially opened its doors in 1875, making the Cincinnati Zoo & Botanical Garden the second oldest Zoo in the United States. The Zoo was founded on 65 acres in the middle of the city, and since then has acquired some of the surrounding blocks and several reserves in Cincinnati's suburbs.
Of course, you may have heard of the zoo's famous celebrity, Fiona the Hippo, but the zoo is currently also home to black rhinos. It has also previously the home of Sumatran and greater one-horn rhinos as well. In fact, Cincinnati is one of the leaders into rhino research and produced the first Sumatran rhino born in captivity in more than 100 hundred years. You may know him – his name is Andalas and he is gone on to father two of the calves born at the Sumatran Rhino Sanctuary in Indonesia.
I had the opportunity to sit down with Dr. Terri Roth and Paul Reinhart while I was there, recognized as experts in Sumatran rhino biology and behavior. Dr. Roth is also the Board Vice President of Asia Programs for IRF. She took me for a tour of The Lindner Center for Conservation and Research of Endangered Wildlife's (CREW).
Through their research, CREW scientists have become world experts on the reproductive physiology of Sumatran and greater one-horned rhinos. In an effort to increase animal numbers and improve genetic diversity, CREW uses science and technology to achieve numerous reproductive breakthroughs in these endangered Asian rhinos.
Thanks to CREW's efforts as well as advancements within Indonesia from the government, Taman Safari, the SRS and leading vets, we are celebrating the birth of a Sumatran rhino calf and the hope it brings for the survival of the species. Collaboration, science, passion and commitment are core values of IRF and our partners.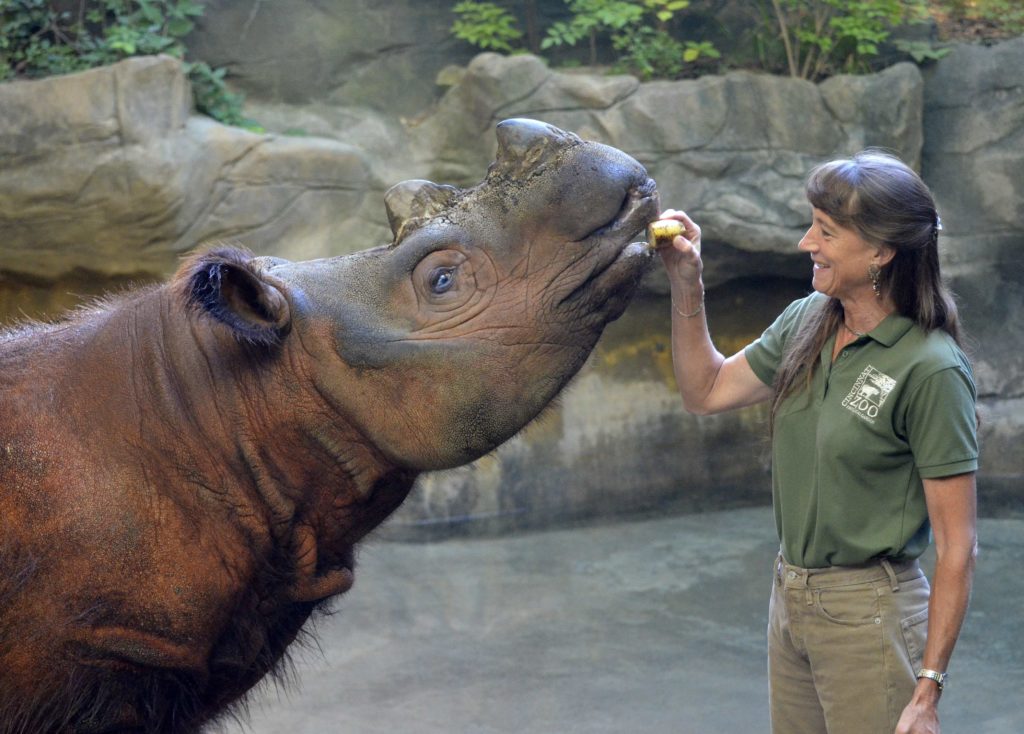 I enjoyed sharing some time with Dr. Roth and Paul and hearing the stories of when Andalas and Harapan were young as well as Paul's recent trip to attend the birth of Rosa's first calf. The smiles on their faces when they recall the personalities of each rhino is heartwarming.
I also got to meet Ajani Joe and his mother Seyia. Ajani is now two years old and his name means 'he who wins the struggle'. That is appropriate as black rhinos are Critically Endangered but numbers are slowly rising to more than 5,000. He is an Eastern Black rhino which are native to eastern and central Africa and have been impacted by poaching and habitat loss.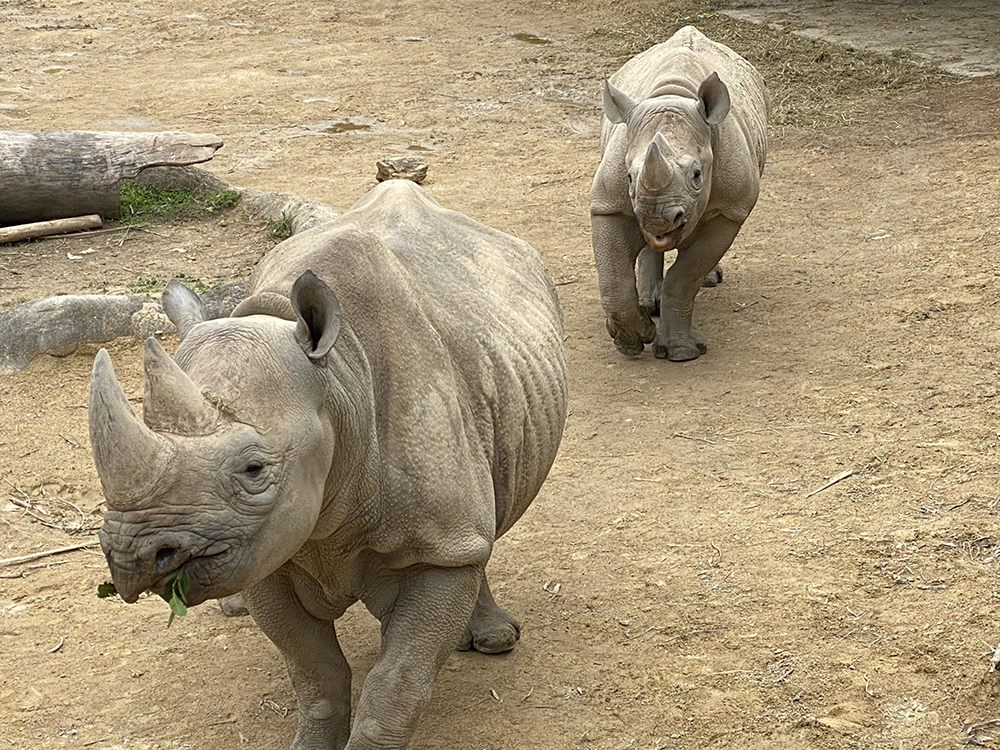 I was able to get up close as they both chowed down on browse. Black rhinos have a prehensile upper lip that helps them tear off leaves and twigs. This sets them part from the other African species, the white rhino, which prefers grass to plants. Black rhinos like other rhino species are critical to their ecosystems, spreading seeds and regenerating plant growth throughout the habitat.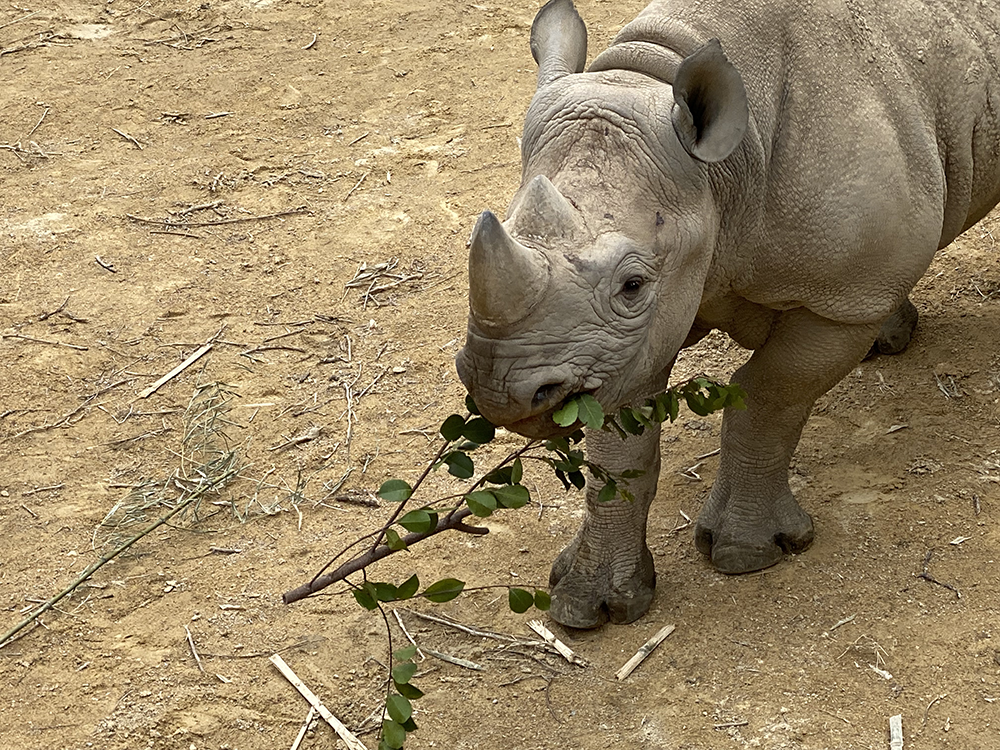 Thank you to the team at the Cincinnati Zoo and Botanical Garden for hosting me and for the cutting edge research that is helping to Keep the Five Alive.
You can join the celebration. Go Wild for Rhinos and help us save the five species of rhinos by throwing a party fundraiser, making a donation, or spreading awareness for why rhinos are important.