Current Numbers
and distribution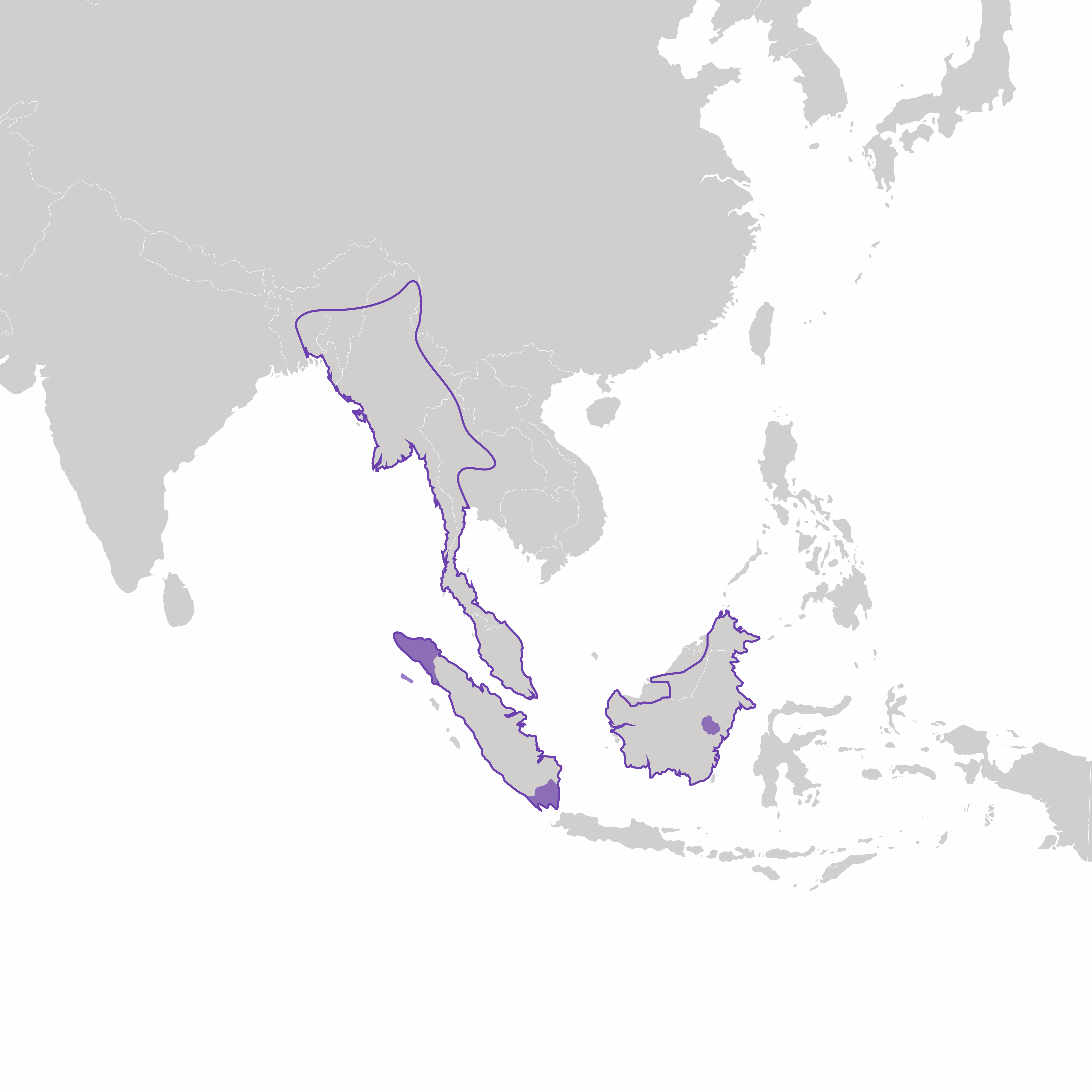 Sumatran rhino
(Dicerorhinus sumatrensis)
Fewer than 80 Sumatran rhinos survive in very small and highly fragmented populations. The Sumatran rhino is the most endangered of all rhinoceros species due to its rapid rate of decline. Because of poaching, numbers have decreased more than 70% over the last 20 years, with the only viable populations now in Indonesia. The species was declared extinct in the wild on mainland Malaysia in 2015 and Malaysian Borneo in 2019. Sumatran rhinos exist only in protected areas where they are physically guarded by Rhino Protection Units (southern Sumatra) and Wildlife Protection Units (northern Sumatra). Continued protection, combined with consolidating small, fragmented populations into larger ones, and intensifying captive breeding efforts, are the best hope for the species' survival.
IUCN Red List Status: Critically Endangered & Population Declining
Facts
BIOLOGY
The Sumatran rhino lives in dense tropical forest, both lowland and highland, mainly on the Indonesian island of Sumatra.
This species is a browser and an opportunistic feeder with a very varied diet that may include more than 100 plant species.
Sumatran rhinos live between 35 and 40 years. Gestation lasts approximately 15-16 months, and cows are believed to give birth to one calf about every 3 years.
These tropical forest dwellers are generally solitary in nature.
COMMON NAMES
Sumatran Rhinoceros
Asian Two-Horned Rhinoceros: the only two-horned rhino in the Asian region.
SCIENTIFIC NAME AND ORIGIN
Dicerorhinus sumatrensis
"Dicerorhinus": from the Greek di, meaning "two" and "ceros", meaning "horn" and "rhinos", meaning "nose" and "sumatrensis" referring to Sumatra (with the Latin-ensis, meaning locality)
CURRENT SUMATRAN RHINO NUMBERS AND DISTRIBUTION
Fewer than 80 Sumatran rhinos survive in fragmented populations in Indonesia's Bukit Barisan, Gunung Leuser, and Way Kambas National Parks, and a small population was recently found in central Kalimantan.
PHYSICAL CHARACTERISTICS
SIZE
Weight: 1,300 – 2,000 pounds (600 – 950 kg)
Height: 3 – 5 feet (1.0 -1.5m) tall at shoulder
Length: 6.5 – 9.5 feet (2.0 – 3.0m) length of body
HORN
Sumatran rhinos have two horns. The front horn is larger and measures 10 – 31 inches (25-79 cm) long. The second horn is smaller, generally less than 3 inches (10 cm).
OTHER FEATURES
Fringed ears and reddish-brown skin, variably covered with long hair.
Photo Gallery
The Sumatran rhino is by far the most threatened of the world's five rhino species, with some individuals sporting full body coats of long hair. Photo by YABI.
Tropical forest species like the Javan and Sumatran rhino are obligate browsers, surrounded by a diverse buffet of leafy plants. Hundreds of species comprise their diets. Photo by IRF.
On Saturday, June 23, 2012, Ratu, one of the three adult female rhinos at Indonesia's Sumatran Rhino Sanctuary, gave birth to a 60-lb male calf named Andatu. He was the first Sumatran rhino ever born in captivity in Indonesia and only the fifth ever born in captivity worldwide. On May 12, 2016, Ratu gave birth to her second calf, Delilah, bringing the total to seven rhinos at the SRS. Photo by YABI.
More than 60% of the world's Sumatran rhinos live in just two Indonesian national parks: Bukit Barisan Selatan and Way Kambas. While that sounds like a respectable percentage, the actual number of animals is quite small — less than 80 individuals. Photo by Scott Citino.
Rhinos also risk overheating under the hot tropical sun, and they lack sweat glands that would help them cool off. So, whether they live out on the plains, in marshes or in dense jungles, they routinely seek out water to help rid themselves of excess heat. Photo by IRF.
The Sumatran Rhino Needs Your Help
The global partnership working together to save Sumatran rhinos from extinction.
Sumatran rhinos need your help
Support our work and save this species.
IRF's Sumatran Rhino Conservation Program