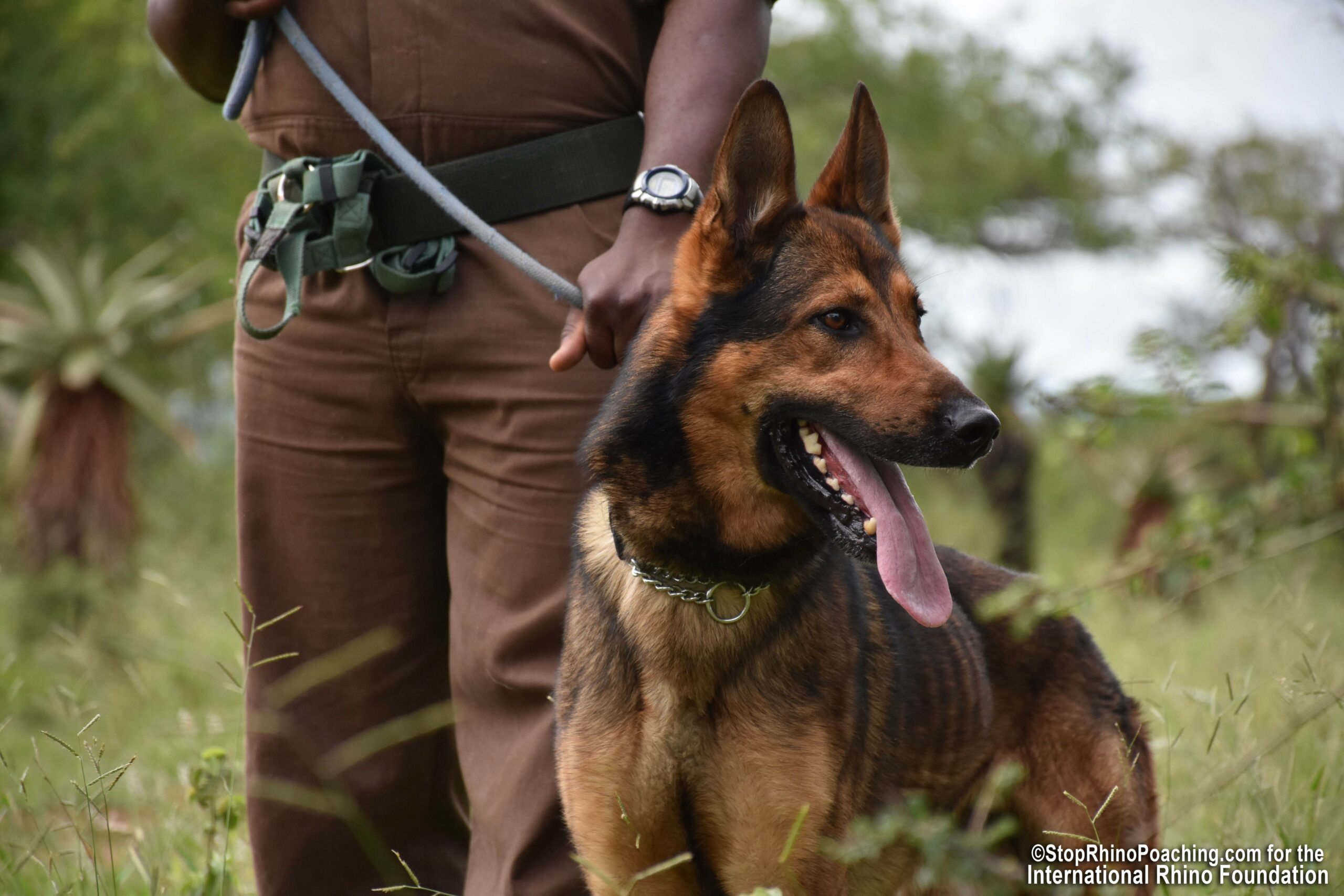 Dozer
A well-trained dog and its handler are powerful weapons against wildlife crime. Dogs use their superior senses of smell, hearing, eyesight and agility to sense and do things that people can't. As poachers become more lethally armed, dogs provide vital early warning and safety systems for rangers and handlers. Their keen sense of smell and ability to track over long distances for up to 48 hours make them invaluable additions to anti-poaching programs. In southern Africa, IRF has partnered with StopRhinoPoaching.com and the Southern African Wildlife College to provide dogs trained to track poachers by following their scent in the bush, protect handlers and rangers, detect ammunition (which poachers often stash prior to a poaching event) and locate the horns of poached rhinos at road blocks and security check points.
Dozer is a very special dog, as he is one of the first rhino dogs that IRF ever sponsored. His drive, intelligence, and loyalty to his handlers make him an effective K9 Ranger and a powerful addition to anti-poaching teams.
FOR EACH ADOPTION YOU WILL RECEIVE:
A digital certificate to print
A digital photo of your adopted K9 Ranger to share on social media
A bio on your adopted rhino dog
An exclusive K9 Ranger adoption sticker
By adopting a K9 Ranger like Dozer today, you'll help protect white and black rhinos in southern Africa. Your donation will fund:
Top quality food and veterinary care for K9 Rangers
Skills training for dogs and their handlers
Related anti-poaching programs in southern Africa
Dozer's Story
Dozer is a German Shepherd/Belgian Malinois mix that works on Big Game Parks' reserves throughout Eswatini, in southern Africa. Thanks to dedicated staff and a variety of anti-poaching initiatives, like the K9 units, there have been no rhinos poached on these reserves in the last five years. In the video below, you'll see Dozer and one of his handlers in a training session, and you can see how important their bond is. By adopting a K9 Ranger like Dozer, you're helping to support these critical K9 units and related anti-poaching programs in southern Africa. 
You can symbolically adopt a K9 Ranger – like Dozer – either in your own name, or as a gift for a relative or friend who supports wildlife conservation.