Keep the Five Alive on 5/5
The International Rhino Foundation has partnered with Blue Rhino to raise awareness about the importance of protecting rhinos and their habitats – and to Keep the Five Alive! We're celebrating the FIVE rhino species on the FIFTH day of the FIFTH month. Please join us on May 5th to learn more about how you can help black, white, greater one-horned, Javan and Sumatran rhinos.
THIS WEEK ONLY, Blue Rhino is matching all donations up to $25,000! Double your impact today and help us Keep the Five Alive!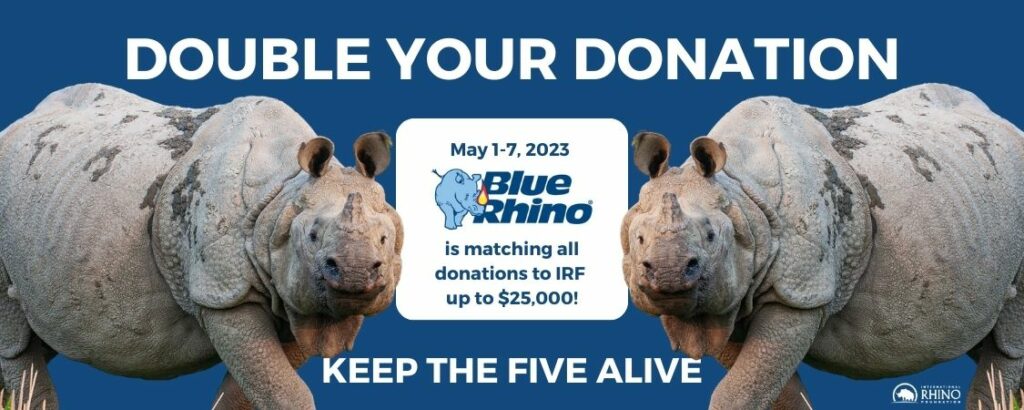 From 100 to 5
Rhinos have walked the earth for more than 50 million years. Nearly 100 rhino species once roamed throughout the world; now just 5 species remain. You can help us Keep the Five Alive.
Dire Threats to Rhinos
At the beginning of the 20th century, the worldwide rhino population numbered 500,000 animals. One hundred and twenty years later, only 26,000 survive. Illegal poaching for horn has decimated rhino populations, with at least 1 rhino killed every single day in Africa. Habitat loss and fragmentation caused by ever-increasing human populations also poses a severe and growing threat.
Why Rhinos Matter
All five types of rhinos are umbrella species – by protecting rhinos and their habitats, we can also protect countless other species. We can rebuild forests and grasslands that serve as critical carbon sinks. And rhino conservation can provide environmentally-friendly job opportunities for local people in rhino range states.
5 Ways to Save 5 Species on 5/5
1. Donate. Help us raise $25,000 to fund rhino conservation programs in Indonesia, India, Nepal, Namibia, Zimbabwe, Zambia and South Africa. Blue Rhino will match donations dollar for dollar this week! Double your impact for rhinos today!
2. Party for a Purpose. Go Wild for Rhinos by hosting a party or event to raise awareness about rhino conservation.
3. Host Your Own Fundraiser. Don't feel like throwing a party? No problem. There are lots of other fun ways to raise money and awareness for rhino conservation. Hold a spare change drive at your school or office, get a jump on your spring cleaning and have a yard sale, host a bake sale or lemonade stand, or create rhino artwork or t-shirts to sell. Or, just create your own fundraiser on GoFundMe. We've got content to help you get started!
4. Leave a Legacy. Write or update your will today to create a conservation legacy that reflects your values by making a bequest to IRF. It's a gift that costs nothing during your lifetime, but will provide invaluable benefits for endangered rhinos and the brave people working to protect them. Visit IRF's Planned Giving page for free tools and resources.
5. Share 5 Facts. Help educate others about rhinos and the threats they face by sharing one of our social media posts.
Celebrate 5/5 with these grilling recipes inspired by rhino range countries courtesy of Blue Rhino & Operation BBQ.
Grilled Tofu & Vegetable Kebabs
Zimbabwean Steak Skewers
Barbecue Spiced Shrimp
Padangnese Grilled Chicken
And to help with your grilling needs, be on the lookout for this SPECIAL EDITION 2023 Blue Rhino + IRF propane tank!