IRF works with local partner, the Rhino Foundation of Indonesia (Yayasan Badak Indonesia or YABI), to increase the population of Sumatran rhinos in Indonesia by monitoring and protecting rhinos and their habitats through our Rhino Protection Units, understanding its basic biology, breeding the species at the Sumatran Rhino Sanctuary, and working with local communities to build support for conservation.
No more than 80 Sumatran rhinos survive in very small and highly fragmented populations in Indonesia. The largest populations of wild rhinos are found in Bukit Barisan Selatan, Gunung Leuser, and Way Kambas National Parks in Sumatra, Indonesia; there is also a tiny population in Kalimantan, Borneo. The species was recently declared extinct in the wild in Malaysia.
The initial decline of Sumatran rhinos was caused by poaching for horn, which is used in traditional Chinese medicine. Now, the populations are also limited by living in fragmented habitats which prevent their ability to get together to breed; rhino habitat is also continuously encroached by human populations.
With our on-the-ground partner, the Rhino Foundation of Indonesia (Yayasan Badak Indonesia or YABI), IRF operates a multi-faceted Sumatran Rhino Conservation Program that includes protection of Sumatran rhinos and their habitat through our Rhino Protection Units, research on and propagation of the species at the Sumatran Rhino Sanctuary.
Rhino Operations in Sumatra
Sumatran Rhino Sanctuary. In 1996, the International Rhino Foundation (IRF) built the 250-acre Sumatran Rhino Sanctuary in partnership with local NGO Yayasan Badak Indonesia (YABI). Located in the heart of Way Kambas National Park on the island of Sumatra, the SRS is home to the only reproductively viable captive Sumatran rhinos in the world. The facility's seven resident rhinos – adult males Andalas and Harapan (brothers born at the Cincinnati Zoo and moved to the SRS as sub-adults), male Andatu (born at the facility in 2012), and females Rosa, Bina, Ratu and her female calf Delilah (also born at the facility May 12th, 2016), reside in large, natural rainforest habitats and receive state-of-the-art veterinary care and nutrition. This tiny population is the core of an intensively managed breeding and research program that is intended to promote the species' population growth while also generating a genetically diverse "founder" group that could be used as a source for animals to repopulate the National Parks. The goal of this program is to increase our knowledge about the ecology and behavior of the species while also supporting the population in the wild.
In October 2019, IRF and Yayasan Badak Indonesia (YABI) cut the ribbon on the expansion of the Way Kambas Sumatran Rhino Sanctuary (SRS) in Indonesia. The larger sanctuary will provide a home for more rescued rhinos and support the Indonesian government's national breeding program to help save the species.
The SRS expansion is the third step in the emergency action plan developed under the guidance of the Indonesian government. A coalition of international conservation organizations, including IRF, has launched the Sumatran Rhino Rescue project, a multi-faceted, multi-year effort to survey, translocate, breed and ultimately return rhinos to the wild in protected, sustainable habitats.
At the Sumatran Sanctuary, two births have taken place. Female Ratu gave birth to a male calf, Andatu on June 23, 2012, after having been bred by Andalas in March 2011 and taking a 16-month pregnancy to term. On May 12 2016, a second calf, Delilah, was born to Ratu and Andalas.
Ratu is a wild Sumatran rhino who wandered out of Way Kambas National Park in 2005, came into contact with local villagers, and ultimately was rescued and brought to the SRS. Andalas is one of three Sumatran rhinos born and raised at the Cincinnati Zoo – the first of his species born in a zoo in more than a century. In 2007, he was sent to the Sanctuary with hopes that he would sire calves from one or more of the females. And he has!
Given the Sumatran rhino's Critically Endangered status, it's important that we learn as much as possible about this species – its basic biology, disease risks, food and habitat requirements – to help it survive. The rhinos living at the Sumatran Rhino Sanctuary serve as ambassadors for their wild counterparts, and as instruments for education for local communities and the general public. They also comprise an 'insurance' population that can be used to re-establish or revitalize wild populations, once threats have been eliminated in their natural habitat.
Rhino Protection Units, Facing habitat loss, encroachment by humans, and poaching for their horns, something had to be done to protect Indonesia's two species of rhinos (Javan and Sumatran) from disappearing. On August 31 in 1995, the line was drawn and the first Rhino Protection Units were formed to guard rhinos and other wildlife from poaching threats.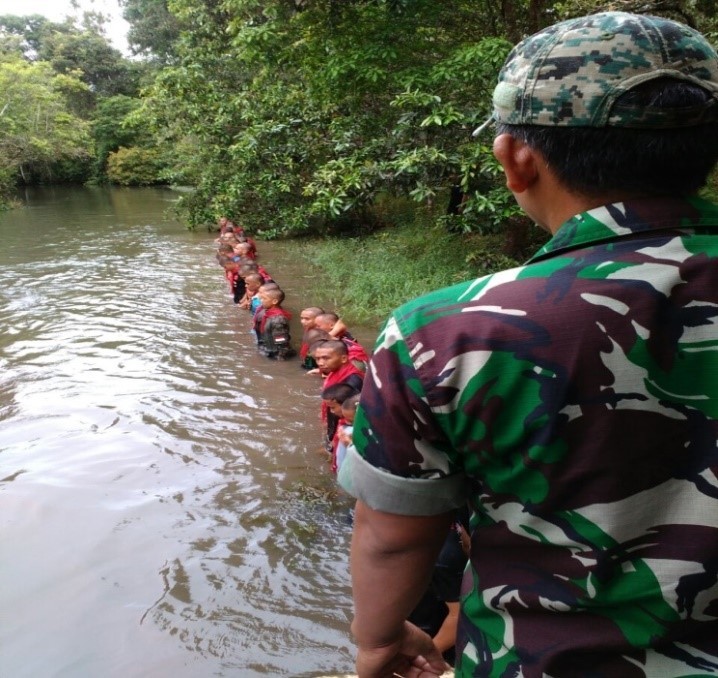 RPUs are highly trained four-person units that patrol key areas of rhino habitat in the national parks. IRF's on-the-ground partner, the Rhino Foundation of Indonesia (Yayasan Badak Indonesia or YABI), operates the RPU program.
Prospective RPUs must pass a written exam as well as several physical tests, including swimming.
Members are recruited from local communities and even today, there are many applications for any opening. "To work with the RPU is not easy," said Bahara, a 25-year RPU member. "Many people want to join but not everyone can."
Recruits undergo a rigorous selection process that includes running, swimming, hiking, and other physical activities. That is followed by an intensive training course that includes classroom instruction, field exercises, and law enforcement practices.
RPUs not only patrol for poachers. They also perform vital monitoring activities, documenting rhino tracks or other signs encountered and any human disturbance to habitat encountered. They also remove snares and other dangers to wildlife encountered on their treks. Evidence is collected for any arrests made and perpetrators are transported to the national park's headquarters for further processing by civil investigators.
Habitat Management, Way Kambas National Park is also the only protected area in Indonesia with no buffer zone – villages surround the park on all sides, and human settlements have frequently encroached into the park, destroying the habitat that rhinos and other wildlife need to survive. Sadly, around one-third of the rhinos' rainforest habitat has already been lost to human encroachment. Park management successfully and peacefully moved around 5,000 families from within the park boundaries nearly ten years ago, but the land they cleared for illegal farming remains degraded and unsuitable for rhinos and other species. Working with the park and local communities, we are now replanting this degraded land – which is right next to the prime rhino, tiger and elephant habitat within the park – to create more habitat for the elusive Sumatran rhino and other endangered wildlife.
Because rainforest species grow so quickly, the replanted forest should be mature enough for rhinos within just four or five years – and our experience elsewhere has shown us that rhinos are experts at quickly finding and taking advantage of new habitats. By planting trees in the park today, we help ensure that rhinos will have a home to move into – and that the population will be able to grow.
Latest News from Sumatra
The staff and rhinos at the Sumatran Rhino Sanctuary (SRS) are healthy and COVID-19 protocols remain in effect. Keepers have reported that the rhinos are eating well and nearly every rhino has gained approximately 20 kilos in weight over the past few months!
Rhino Protection Units in the field are also following social distance protocols as they continue to patrol and protect rhinos.