Rhinos depend on us, now more than ever, and we depend on your generosity to keep our comprehensive rhino protection programs going. Every dollar you donate will provide invaluable support to rangers, security managers, and investigators working to monitor and protect rhinos and investigate and prosecute wildlife crimes. You'll help local communities working to restore rhino habitats, researchers working to solve critical conservation questions, and the scientists and veterinarians who are breeding rhinos and reintroducing them to areas from which they've disappeared. 
THANK YOU FOR YOUR SUPPORT!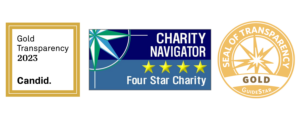 If you would like to make a donation on behalf of an organization, please click here
Make a lasting impact for rhinos with your donor-advised fund (DAF) today!
If you currently have a DAF with Fidelity Charitable, Schwab Charitable or BNY Mellon, consider designating a gift to the International Rhino Foundation today using our convenient DAFDirect widget.
Be sure to include your name and address so that we can recognize you for your generous commitment to rhinos.