The Asian Rhino Specialist Group (AsRSG) announced that the greater one-horned rhino (Rhinoceros unicornis), found only in India, Nepal and Bhutan, has increased to 4,014 individuals after a biannual survey was completed in early 2022. The population is growing largely due to the governments of India and Nepal creating habitat for rhinos, while also preventing poaching.
IIRF will continue our work with the Assam Government and our partners to help increase the rhino population in Assam, India, by supporting implementation of a new strategy, Indian Rhino Vision 2.0 (IRV2.0). IRV2.0 will help secure and manage a minimum of three meta-populations with a total population of 4,500 – 5,000 greater one-horned rhinos in Assam by 2030.
In 2022-2023, IRV 2.0 intends to:
Translocate 10 rhinos from Kaziranga National Park and Pobitora Wildlife Sanctuary to Manas National Park, to increase the Manas population (and its genetic diversity).

Make Laokhowa and Burhachapori Wildlife Sanctuaries, safe habitat for greater one-horned rhinos with adequate monitoring and security infrastructure, staff, strategies and equipment in place.

Establish a new rhino population in Laokhowa and Burhachapori Wildlife Sanctuaries by translocating 20 rhinos from Kaziranga and Pobitora over the next 2-3 years.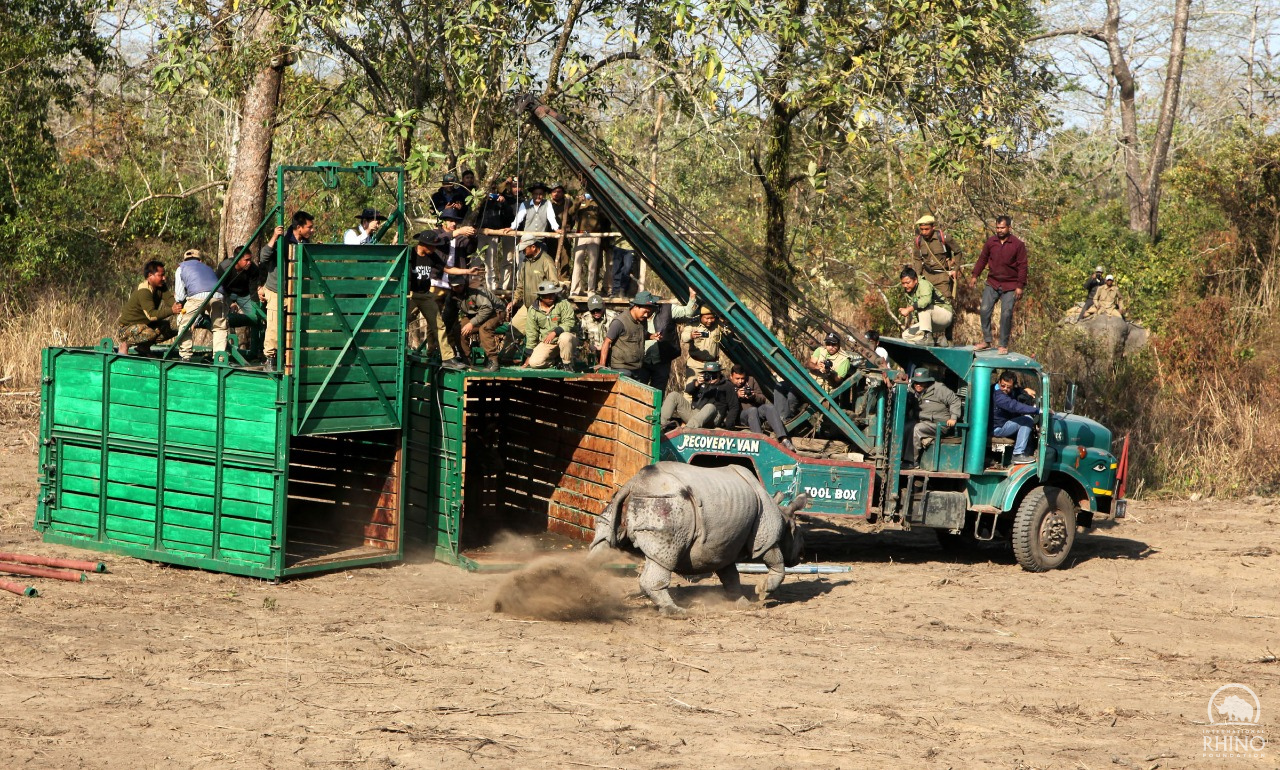 The current population of greater one-horned rhinos in India:
Kaziranga National Park: 2613
Orang National Park: 125
Pobitora Wildlife Sanctuary: 107
Manas National Park: 40
Jaldapara National Park:  287
Gorumara National Park: 52
Dudhwa National Park: 38
Kaziranga National Park, home to the world's largest greater one-horned rhino population, announced an increase of 200 individuals since 2018, despite 400 deaths that were due mainly to natural causes. 
Earlier this year, the Indian government increased Orang National Park by about 200 square km, connecting it to the Laokhowa and Burachapori Wildlife Sanctuaries, to build a larger landscape corridor for rhinos and other threatened species. This increase follows several expansions of Kaziranga National Park in recent years, which have added 919.48 square kilometers to the Park.
With NGO partners, including IRF, the government of Assam (a state in northeastern India), initiated translocations of rhinos within protected areas of Assam to give rhinos more room to breed. The state government also closes all rhino bearing protected areas in Assam to visitors during breeding season. 
Working with Local Communities to Restore Habitat in India
One of the most significant landscape-level threats to greater one-horned rhinos is the prevalence of invasive species, which choke out native rhino food plants and limit the amount of habitat available for rhinos and other wildlife. IRF is collaborating with our NGO partner, Aaranyak, and local community members to remove these invasive plants from Manas National Park in India as a pilot phase, where around one-third of the rhinos' grassland habitat has already been taken over by invasive species. 
Over the past year, local community members successfully restored 50 acres of prime rhino habitat under the supervision of our on-the-ground partner, Aaranyak, and Manas National Park officials. We plan to restore another 250 acres over the next two years. Engagement of local people in removal of invasive plant species also offers them livelihood and in that way it helps park officials to garner better support from local communities along with improvement of grassland habitats. 
Rhino Operations in India
Our annual operations include:
Providing logistical support and training for wildlife crime enforcement;
Tracking and monitoring rhinos on a continual basis to ensure their safety;
Continuing intensive monitoring of these populations;
Growing population by translocating animals to new, sustainable habitats;
Working with local communities to build support for rhino conservation through education and employment;
Habitat management, including invasive species removal.