Go Wild for Rhinos on 5/5!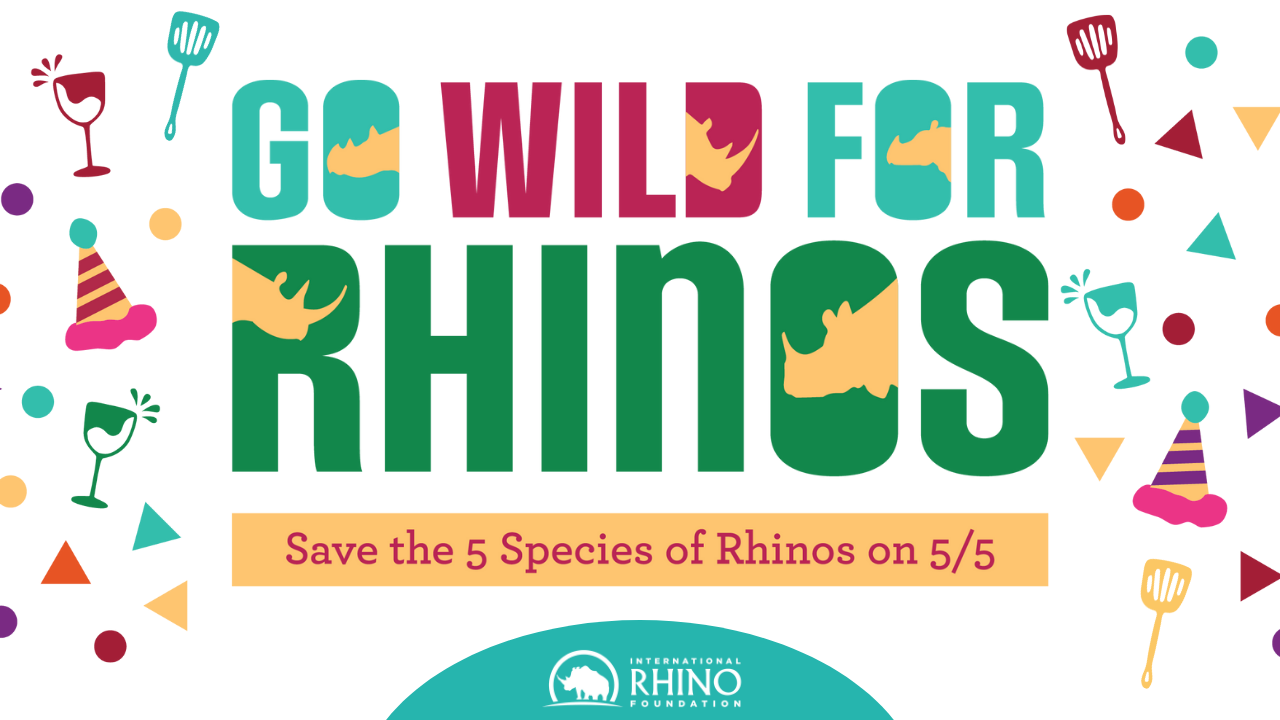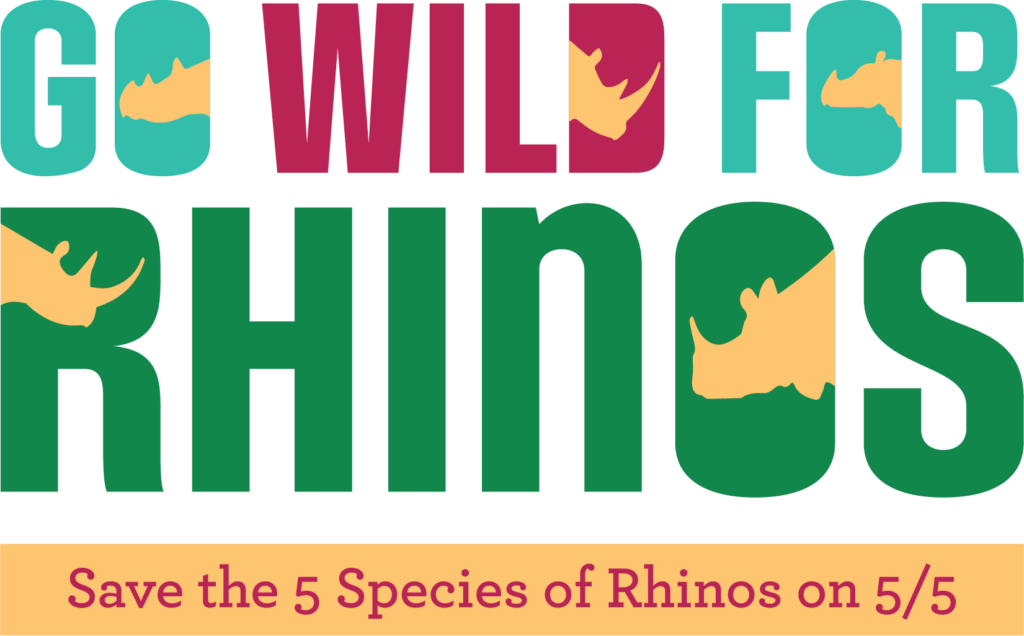 Mark your calendars because we are Going Wild For Rhinos, presented by Blue Rhino, on 5/5. Each year on May 5th we celebrate the five species of rhinos, and for 2022 we have a new look!
Go Wild for Rhinos is an annual event celebrating the 5 species of rhinos on 5/5 while raising critical funds for rhino protection throughout Africa, India and Indonesia. 4 of the 5 species of rhino remaining are threatened with extinction while 3 of these species are critically endangered – meaning they could go extinct in our lifetime. 
On 5/5 and during the month of May, we're asking Team Rhino to help by taking 1 (or more!) of 5 actions to help rhinos.

1. Donate money or host a fundraiser for rhino conservation
Donations will provide immediate, critical protection to rhinos and their habitats around the world. A visit to rhinos.org/donate is the quickest way to make a donation, but there are plenty of ways to give – you can now even donate in cryptocurrency!
We'll be celebrating rhinos online on 5/5 and we invite you to join us by hosting your own backyard get together, party for a purpose, virtual hangout or other fundraiser. We've created a toolkit to help you with in-person or virtual party planning – download today for party ideas, cookout & drink recipes, fundraising tips, and more!
An easy way to collect donations online for IRF is through Tiltify. Create an account, set up & share your campaign with friends and family, and all donations made on your page will be transferred directly to us!
2. Subscribe to the IRF newsletter to learn more about rhinos
Stay informed! The more we know about rhinos and the issues they face, the easier it is to help them. Get monthly updates on our field programs and events delivered straight to your inbox.
3. Share an IRF post on social media about rhino conservation
Help spread the word! Now that you've learned more about rhinos, educate other people about them – where they live, why they're threatened, and what's being done to help them. Make sure to follow us on Facebook, Twitter, Instagram, and LinkedIn and like, comment, and share our posts – this spreads awareness for rhinos even farther! Our Go Wild for Rhinos toolkit has ideas and graphics for social media posts as well.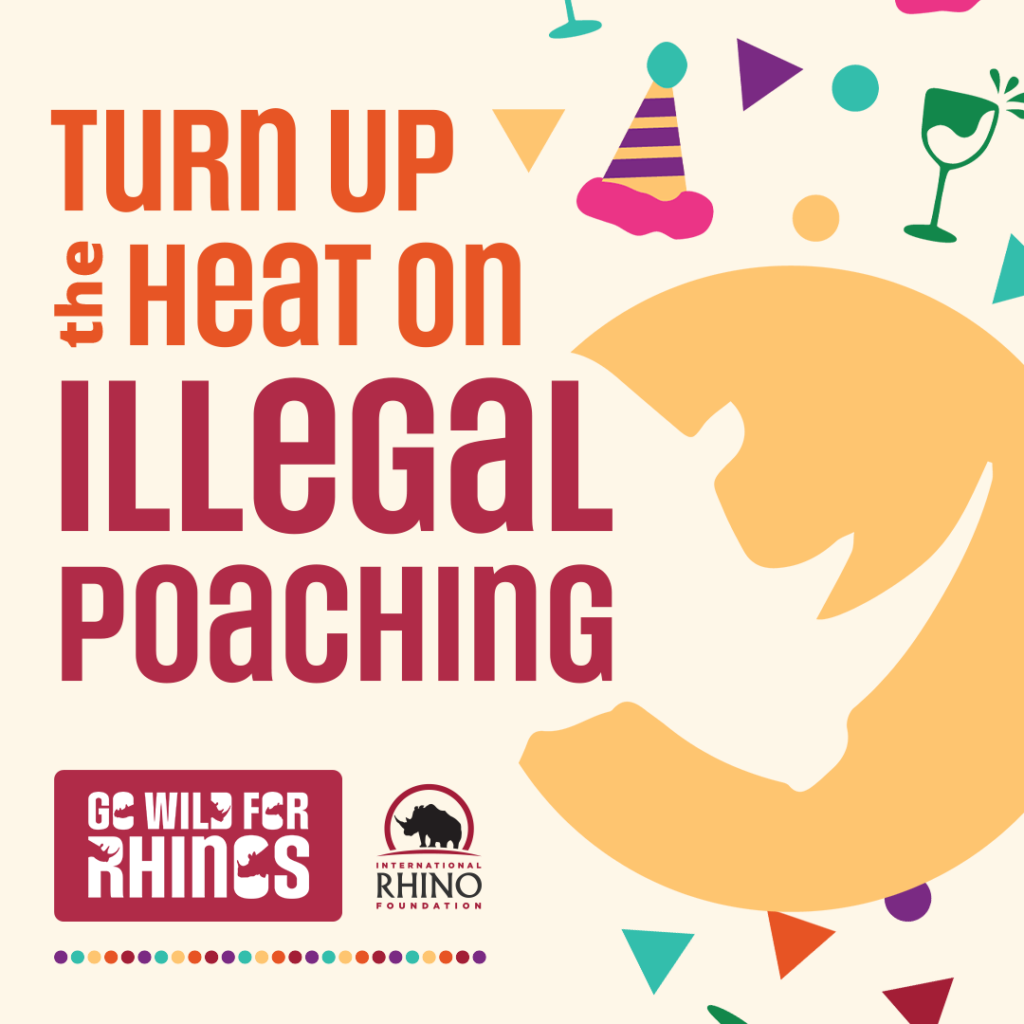 4. Sign the rhino pledge
Rhino populations have decreased by up to 96% over the last 100 years, with all five species now facing extinction from poaching and habitat loss. Together, we can take a stand and stop the killing. Unite with the International Rhino Foundation and fellow rhino lovers from around the world to help these species win their fight for survival. Join Team Rhino and pledge to stop poaching and commit to preserving the worlds's rhinos for future generations.
5. Buy a t-shirt to support rhino conservation
It's Rhino'Clock somewhere! During the months of April and May, we'll be selling this limited edition 2022 Go Wild For Rhinos shirt. This shirt design is only available this year until May 31st, so get your orders in! By buying a shirt (or more!) you're helping rhinos in two ways: of course profits from the shirt sales go to our rhino conservation efforts, AND wearing the shirt is a great conversation starter and the perfect opportunity to tell people about rhinos. There are women and men's shirt styles and multiple color options, something for every rhino lover you know. Batches will print and ship every 7 days – order yours by April 14th for delivery by May 5th.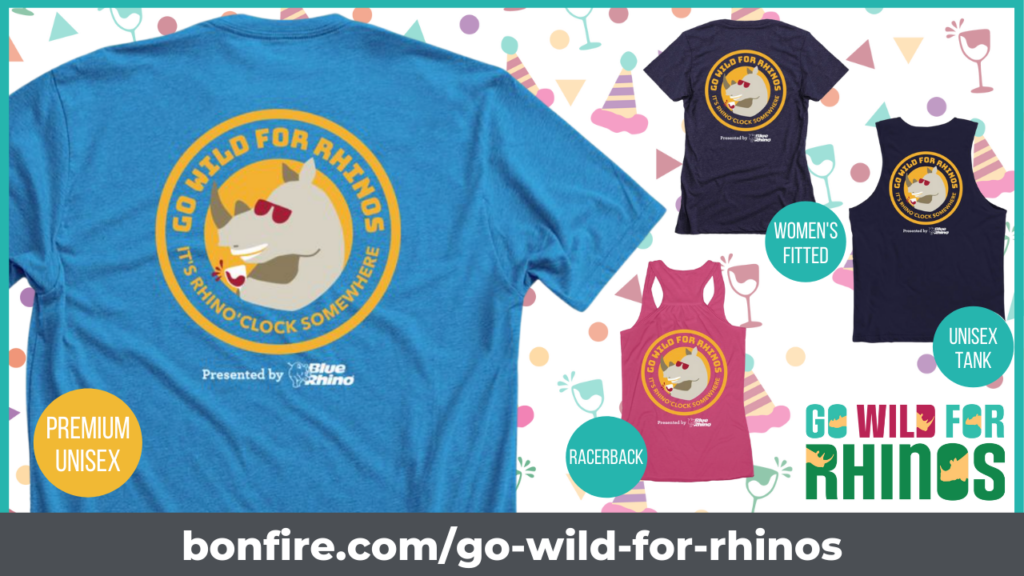 ---
There are plenty of ways to celebrate rhinos on 5/5 and no matter which you choose we are so grateful for your support for rhinos and appreciate any way you can contribute to their survival. Thank you for your help Team Rhino – now let's Go Wild!