Black Rhino Births in Zimbabwe Happy News After Poaching Crisis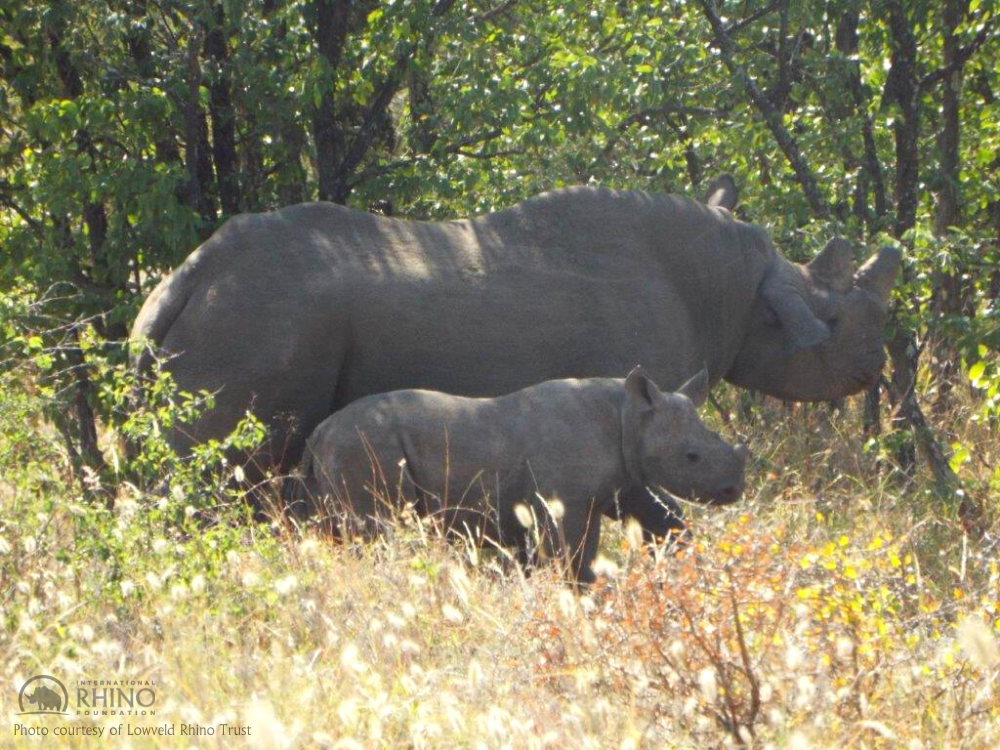 Over 50 rhinos were killed by poachers in Bubye Valley Conservancy (BVC) in early 2019. This heavy poaching pressure resulted in population declines for both black and white rhino populations there. Responding to the increased threat, Bubye Valley Conservancy dramatically increased its anti-poaching efforts. At the same time IRF's partner, Lowveld Rhino Trust (LRT), also stepped-up rhino monitoring efforts. Hope remained strong that the population could recover.
As a result of those efforts, 2019 ended well with rhino poaching incursions dramatically reduced, and those that have occurred, were intercepted before any rhino could be killed. In just the past month LRT rhino monitoring patrols have confirmed ten new black rhino calves, a great contribution to population recovery in BVC.
"If you have large rhino populations with good rhino habitat, such as BVC has, then those areas have the ability to suffer poaching losses and still have recovery potential," said Raoul du Toit, IRF's African Rhino Program Coordinator.
Two of the new calves are to first time mothers that are only five years old. The average age at first calf for the species is considered seven years. The fact that the new mothers are so young is very encouraging. Also hopeful is the fact that one of the mothers is a particularly beloved rhino, Floppy, and this is her seventh calf.
Floppy is 19 years old. She got her name because when she was captured for translocation, she had been injured by a mining cable snare and one ear was hanging off her head as a result of the wound. Moved into the much safer BVC, she recovered from her injuries and has proved to be an exceptional breeder and mother.
In BVC, she lives in an area with especially high lion density. Most black rhino cows send their offspring off at about two years when they have their next calf. Floppy allows her older calves to stay with her and her new calf, keeping them safe from the lions.
Zimbabwe has seen a decrease in poaching pressure during country-wide travel restrictions as part of COVID-19 mitigation directives. This is likely because most poaching gangs do not come from the communities directly neighbouring rhino areas. Continued vigilant monitoring and protection activities remain in place, giving the next generation of black rhinos in BVC an opportunity to grow.
Learn more about our work in Zimbabwe at https://rhinos.org/where-we-work/zimbabwe-lowveld-rhino-program/