The Sumatra Reforestation Program – One Year Later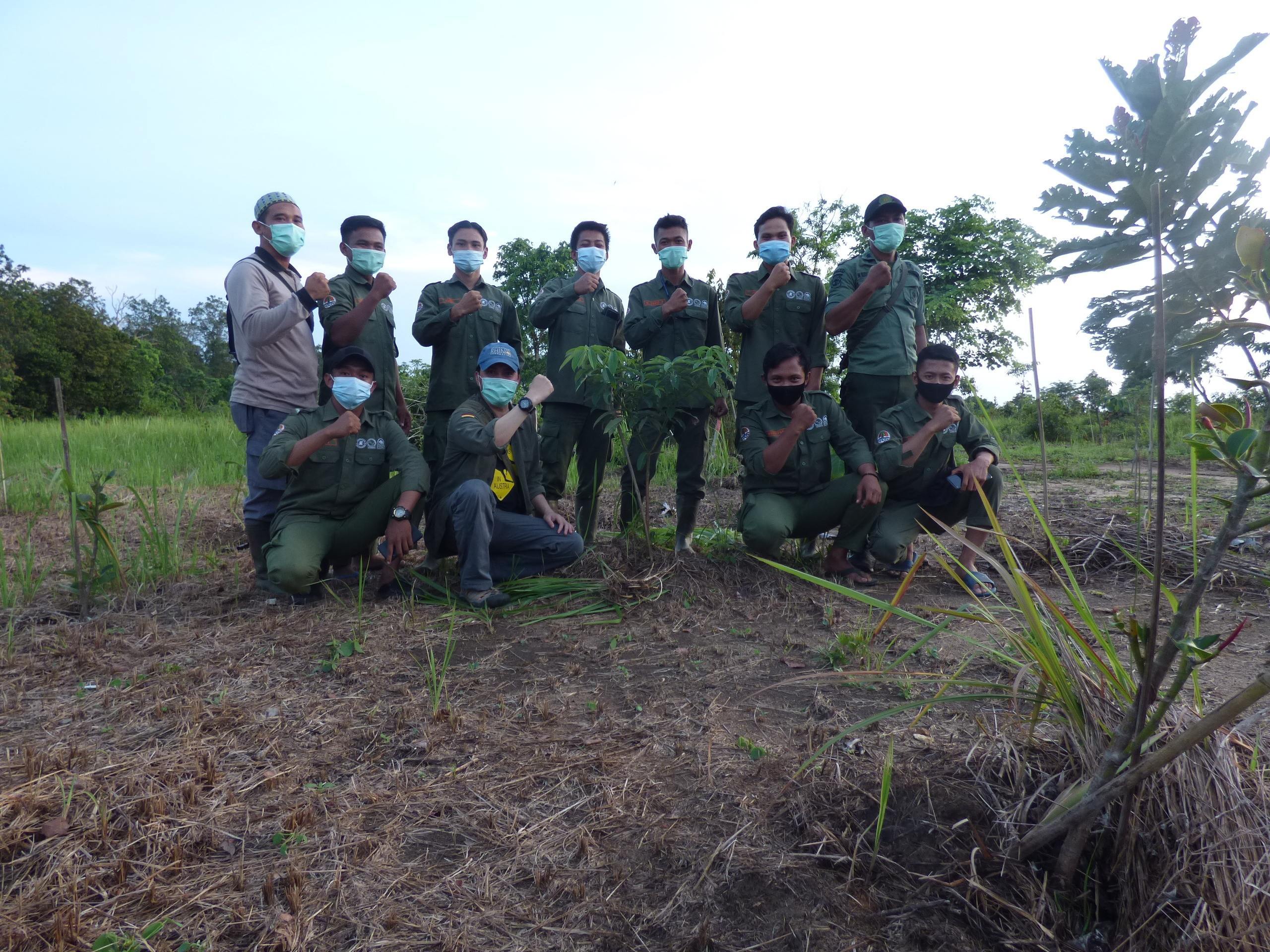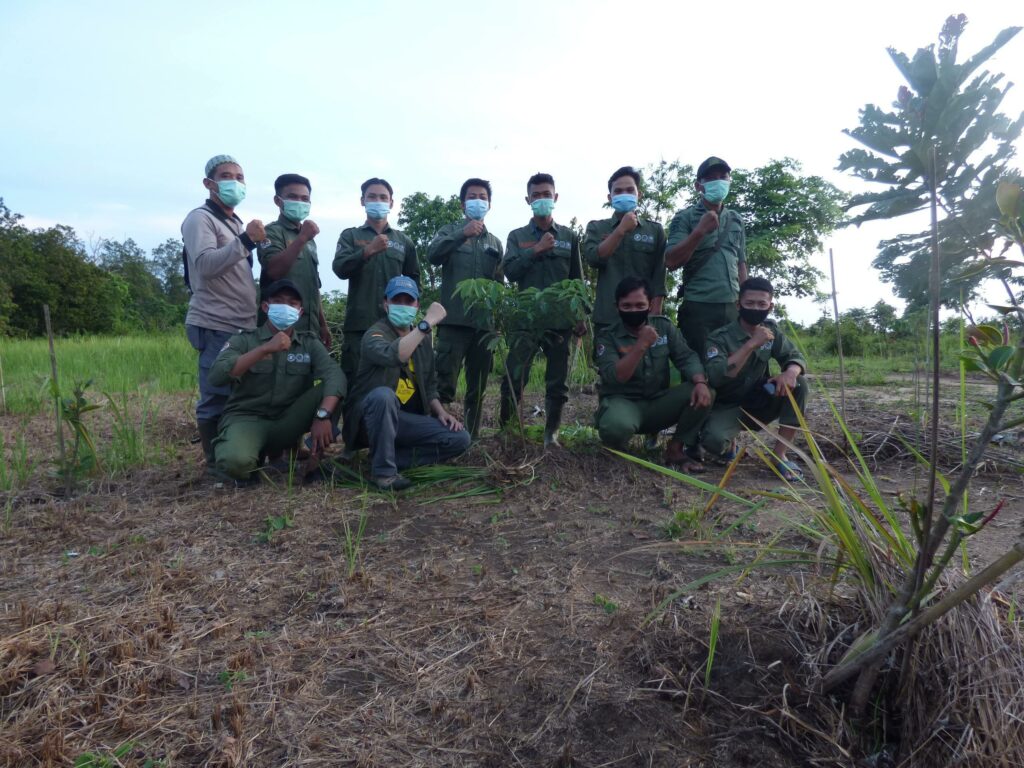 In June 2020, the International Rhino Foundation (IRF) asked supporters from around the world to plant a tree in the rainforests of Way Kambas National Park in Sumatra, Indonesia for just $1 – or to plant an entire acre for $1,000. Team Rhino responded with $25,000 in donations, which was matched by a generous IRF board member, replanting 50 acres, about the size of Grand Central Station, that will become future habitat for rhinos and other wildlife. We are excited to show you the impact that you made in just one year.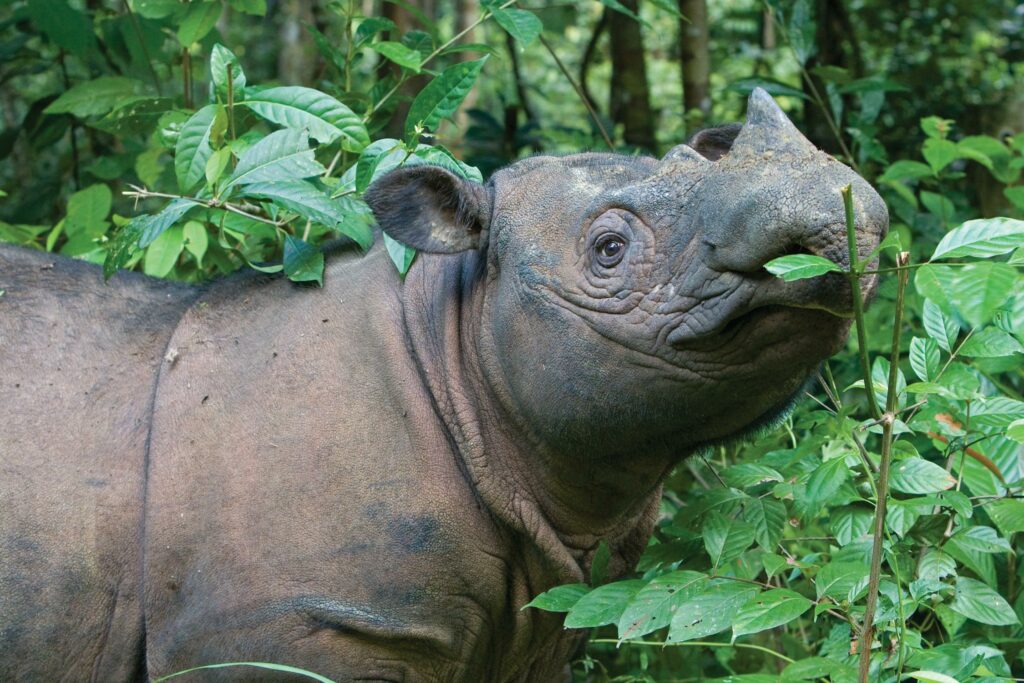 Making More Room for Sumatran Rhinos
The Sumatran rhino, a Critically Endangered species with fewer than 80 individuals, can only be found in tiny rainforest pockets on the Indonesian islands of Sumatra and Kalimantan. Experts estimate that Way Kambas National Park on the island of Sumatra holds one of only two wild populations in the world large enough to reproduce and sustain itself.
Way Kambas is also the only protected area in Indonesia with no buffer zone – villages surround the park on all sides, and human settlements have frequently encroached into the park, destroying the habitat that rhinos and other wildlife need to survive. Sadly, around one-third of the rhinos' rainforest habitat has already been lost to deforestation.
In late 2018, Way Kambas National Park, IRF and Yayasan Badak Indonesia (YABI), a local foundation, began a pilot project to restore degraded habitat and reforest it with rhino and elephant food plants. Because rainforest species grow quickly, the replanted forest should be mature enough for rhinos within just four or five years – and our experience elsewhere has shown us that rhinos are experts at quickly finding and taking advantage of new habitats.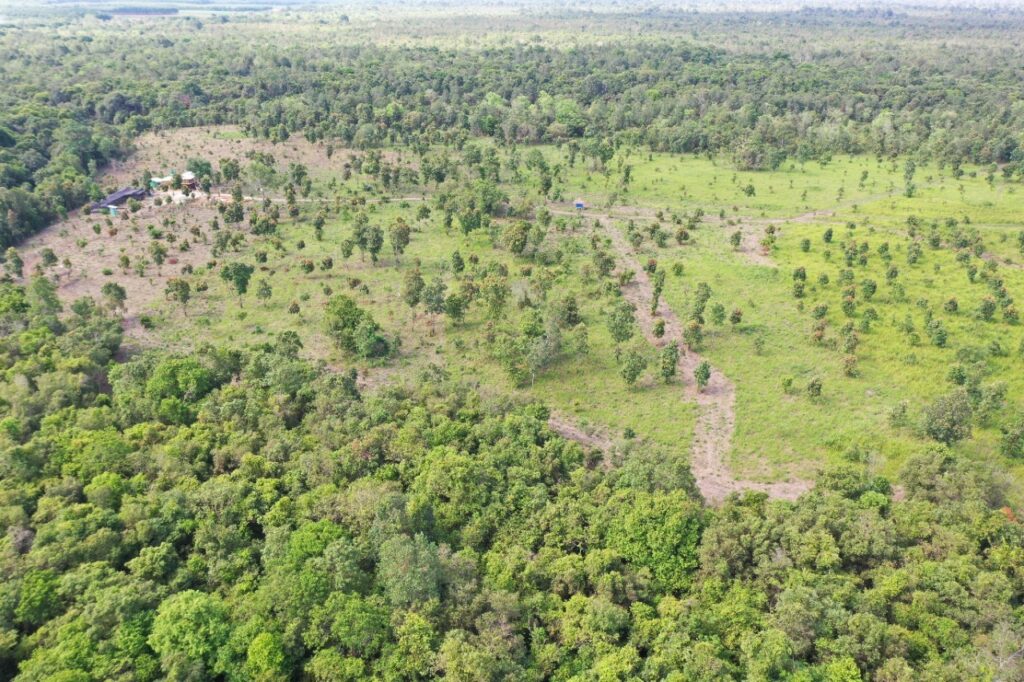 Despite some setbacks, including intentional fires set by poachers to drive animals out of the forests and distract rangers, the reforestation effort has been successful and we are making plans to expand the program in three different sites within Way Kambas.
Restoration Site 1 (Rawa Bunder)
Rawa Bunder is a difficult site to reforest as it was previously a cassava plantation and the land was heavily degraded. This site served as our pilot location and in 2019, local workers planted 15,000 seedlings. Unfortunately, in November 2019, the Rawa Bunder site was damaged by a forest fire (probably intentionally set by poachers) and all seedlings were wiped out.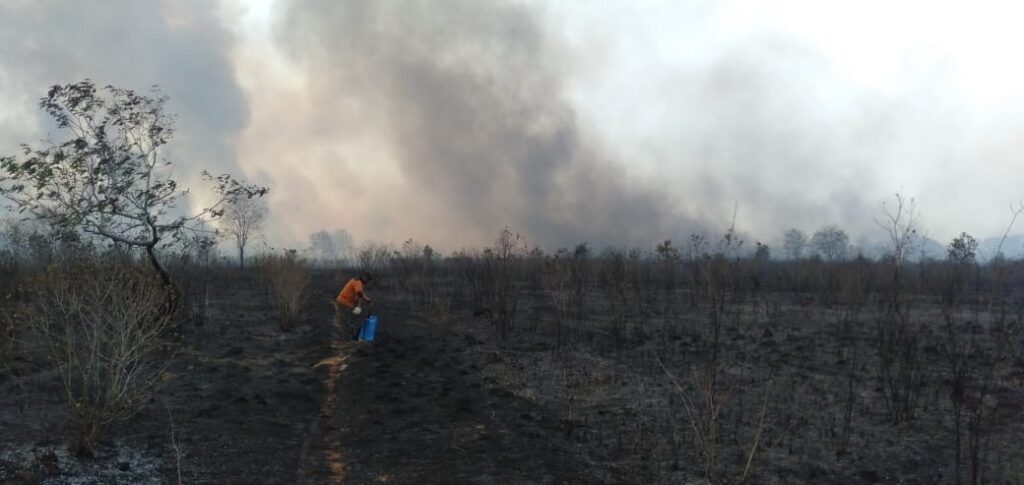 IRF, YABI and the park remained committed to supporting this critical program to restore Sumatran rhino habitat, and started working immediately to replant the site, with extra fire prevention measures in place. We planted larger seedlings, which should be better able to resist fire damage, and cleared larger spaces around each seedling. With additional technical and financial assistance from Taronga Conservation Society Australia, our teams also built better fire breaks and invested in additional fire-fighting equipment.
We've hired 25 people from local communities to plant and maintain this site, monitor the site for illegal activities and remove snares. They have now planted 17,300 seedlings of ten different types of rhino food plants (including jackfruit, ficus, alstonia and agarwood) across 70 acres. Workers wait for periods of good rain to plant, so the seedlings are planted at different times over the course of several months.
The park has created a Reforestation Protection Unit to monitor the replanting efforts in Rawa Bunder and to protect the reforestation area through regular patrols. The unit arrested 2 poachers and removed 254 snares in 2020. So far this year, they've removed 62 snares and put out several manmade fires.
The Reforestation Protection Units are proud to be a part of this project. Photo by Nick Garbutt.

Years of experience help patrols spot snares that poachers try to catch animals with.

When found, snares are dismantled, removed, and documented.

In addition to regular patrols, Protection Units are on-call to help control fires like this one in May 2021.

Improved fire-breaks and additional equipment have made this year's fires more manageable and less destructive.
Restoration Site 2 (Rawa Kidang)
Rawa Kidang is located next to prime habitat for rhinos, elephants, tigers and other wildlife but also lies in close proximity to a local village. Villagers often collect fruits and other resources from the forest. Mr. Rusdianto, Way Kambas National Park coordinator and supervisor for the forest farmer group in Way Kambas National Park, recommended involving the local community in the reforestation effort.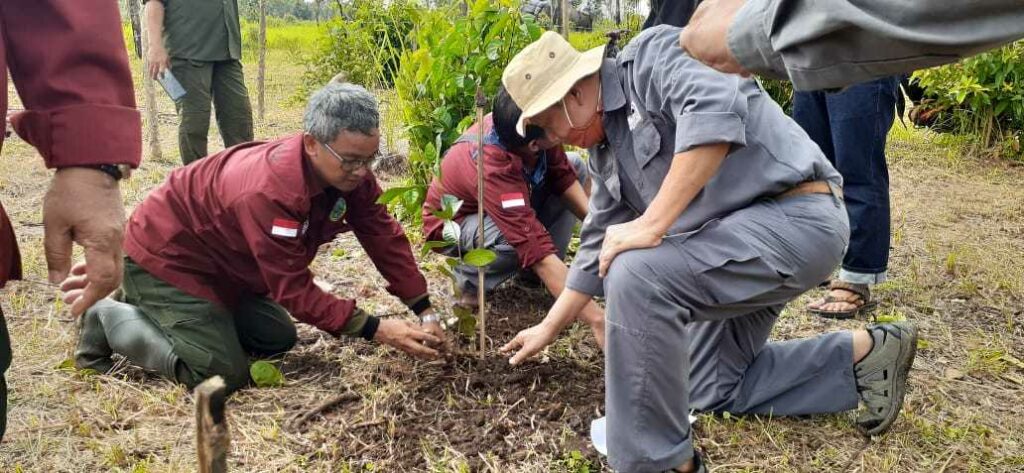 Park staff contracted local farmer groups to begin growing seedlings of 22 different species of native plants. Two groups, composed of 50 families, participated and grew more than 21,000 seedlings. In April, IRF donated a motorcycle to the farmer group to speed up transport between the nurseries where seedlings are grown and the restoration site.
We've also hired 62 local workers, including individuals with disabilities who may have trouble finding other types of work, to plant seedlings and maintain the area. Rhinos' preferred foods are planted in the core of the restoration area. On the outside, bordering the village, locals plant fruit trees (including jackfruit – loved by humans and rhinos) that they can later harvest to eat or to sell.
Park staff meet regularly with the participating farmer groups to discuss the importance of protecting the Way Kambas ecosystem and its wildlife. They then ask the farmers to voluntarily sign agreements pledging not to encroach into the park for farming or hunting. More than 60 families have signed the agreements so far. The farming groups are incredibly proud of the work they are doing to create habitat for rhinos and other wildlife; many farmers have volunteered to help plant and maintain trees in their spare time and are bringing their entire families to the sites to participate. Way Kambas National Park and the Ministry of Environment and Forestry are particularly supportive of this aspect of the project and hope to replicate it, both at other sites within Way Kambas, and at other parks.
More than 45 species of wildlife have been recorded visiting the reforestation site since planting efforts began. Recently, the team found a fresh footprint of a tapir, a first for this particular area and a sign that replanting efforts are working.
Tapir have three toes on their back feet so their footprints can look very similar to Sumatran rhinos.

Sambar deer are frequently seen feeding at the sites.

Sumatran elephants are also benefitting from more space.

Dozens of bird species have returned to the restoration site like this Banded king fisher,

Scarlet minivets (male & female),

Black bellied malkoha,

and Blue Throated bee eaters.
Restoration Site 3 (Susukan Baru)
Susukan Baru is our newest restoration site. In 2021, we plan to restore 15 hectares in Susukan Baru, utilizing best practices learned from site one and site two.
Because of You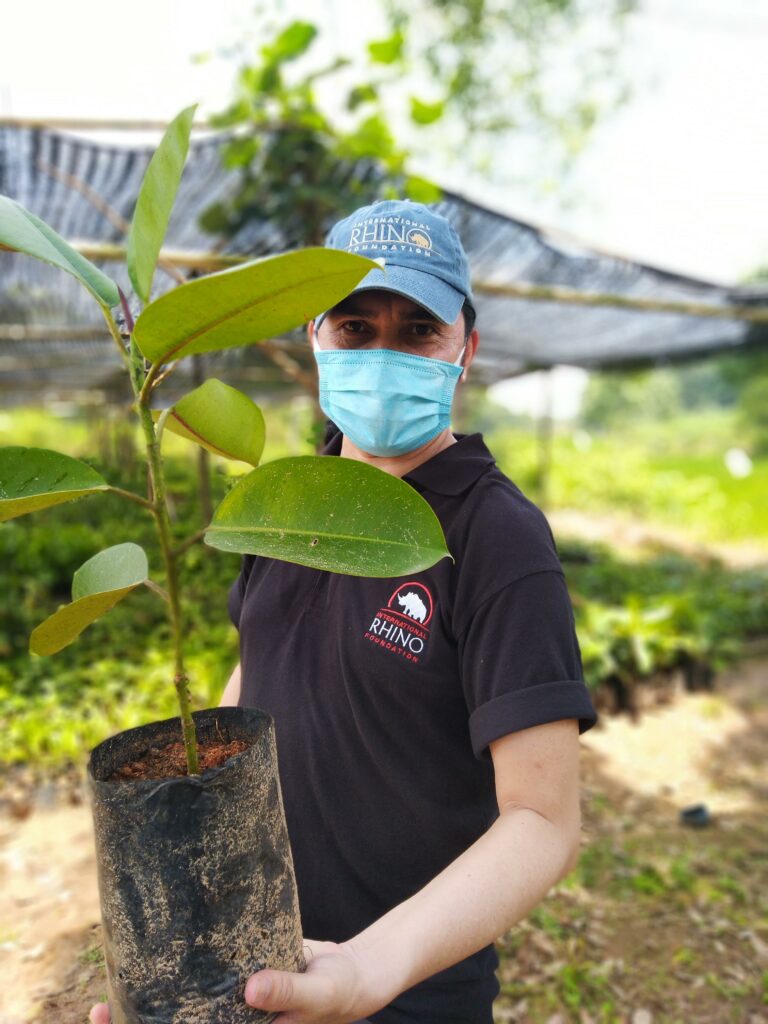 Despite ongoing fires, poaching pressures and other setbacks we've faced, we're making great progress in Way Kambas. This year, we plan to expand to a third site and plant another 88 acres across all three sites. If you would like to help us plant more trees in 2021, please donate here.
Before land was cleared by people for illegal farming and settlements, these Way Kambas reforestation sites were home to the critically endangered Sumatran rhino – and soon they will be again. Thank you for helping expand the habitat for some of Sumatra's most threatened species.