The Plan to Save Sumatran Rhinos: Step 2- Translocate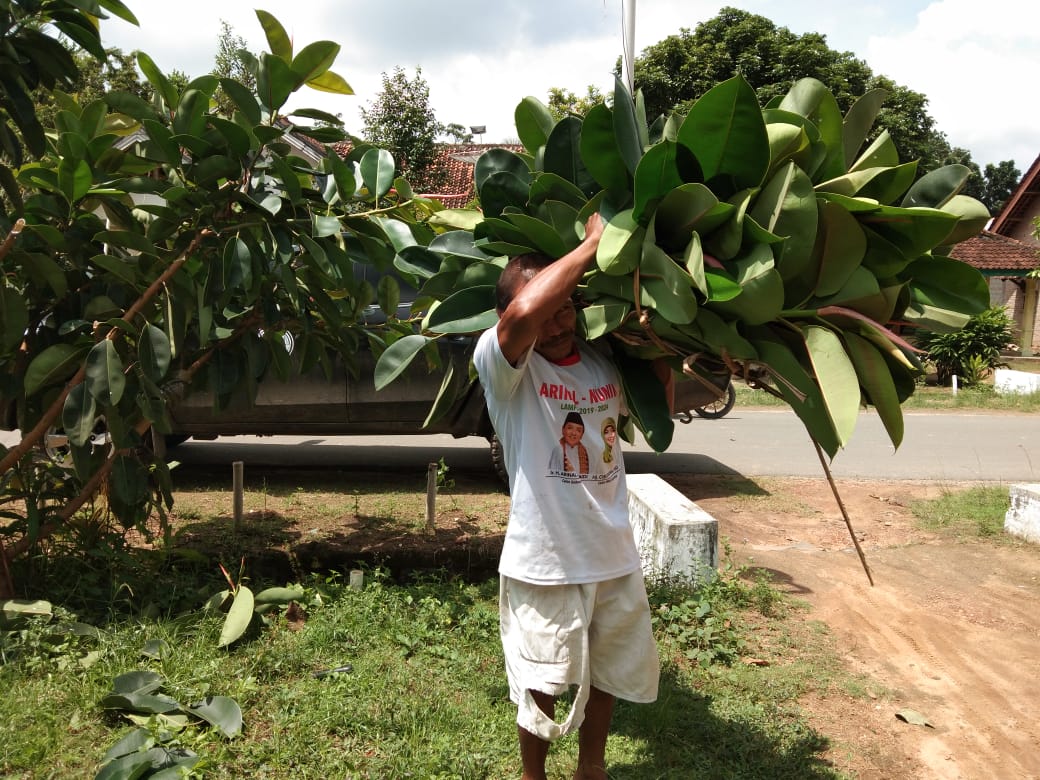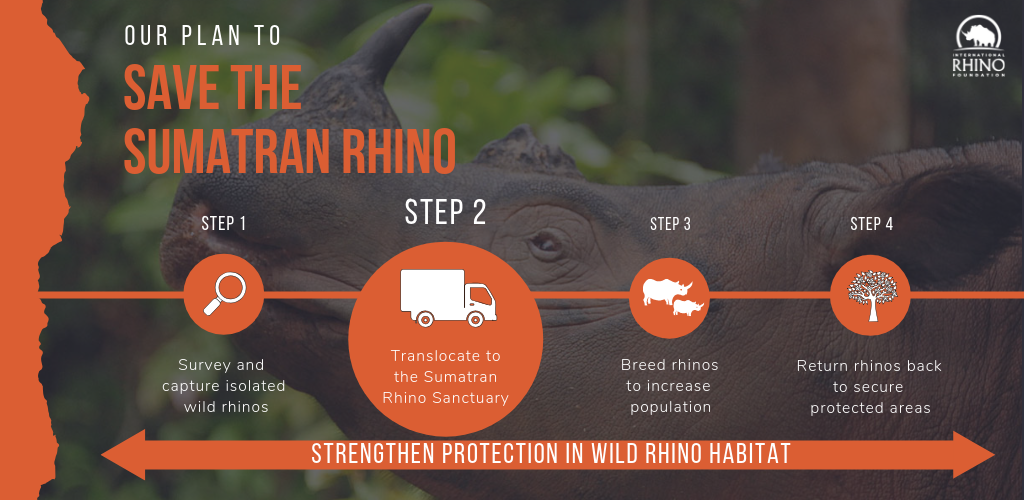 SUMATRAN RHINOS IN CRISIS
With fewer than 80 remaining, Sumatran rhinos are in very real danger of becoming extinct soon if we don't intervene in a big way. Under the guidance of the government of Indonesia's emergency action plan, an alliance of international conservation organizations, including IRF, has launched Sumatran Rhino Rescue, a huge, multi-stage, multi-year undertaking to save the Sumatran rhino. We plan to consolidate the widely dispersed, fragmented wild populations into managed breeding facilities, like the Sumatran Rhino Sanctuary. Rhinos will be bred in captivity and eventually reintroduced into protected areas in the wild. In this blog series, we will explain each step of the program in detail and give examples of how past experiences around the world will help guide the implementation of this plan.
Step 1 includes conducting surveys so we can determine the locations of isolated rhinos, developing plans for, and then implementing captures using pit traps. Once we have a rhino in a crate, where is it going and how does it get there?
---
TRANSLOCATE
Regardless of which species of rhino or what part of the world you're working in, the decisions and logistics surrounding the translocation process need to be well planned-out ahead of time. The security of the rhino is a top priority and influences every step of the translocation process. The rhino's final destination will dictate the details of how it's translocated and whether there will be any stops along the way. With the end goal in mind, this article will work backwards from Permanent Home to Temporary Holding to Moving.
Permanent Home
In many cases, translocations are a wild-to-wild situation where animals are moved to either release overcapacity at one site, or to move a population to a safer area less prone to poaching. Several factors are considered when selecting a permanent home for a rhino or group of rhinos and often involves preparing the selected location– especially when there haven't been rhinos there for a while.
One example of this is the recent rhino translocations in India. Through the Indian Rhino Vision 2020 program, IRF partnered with local and international conservation organizations to address the threats facing greater one-horned rhinos. In this case, rhino populations in Pabitora Wildlife Sanctuary and Kaziranga National Park had become overcrowded, which was causing territorial disputes between rhinos and stresses on the available resources. To relieve these pressures, it was decided to translocate several rhinos and re-establish a population in Manas National Park. Manas NP is home to the tiger, pygmy hog and golden langur, as well as elephants, wild buffalo and Indian bison. Rhinos were once common in the park, but violent civil conflict beginning in 1989 caused massive damage to the park's infrastructure, including destruction of anti-poaching camps, roads and villages. Until recently, the last rhino seen in Manas was in 1996 and in order to prepare it for rhinos, IRF and our partners rebuilt the park's anti-poaching camps, repaired roads and bridges and also hired, trained and equipped guards from the local communities. Since these translocations began in 2008, there have been 13 greater one-horned rhino calves born in Manas NP, making a total of 38 rhinos where there once were none.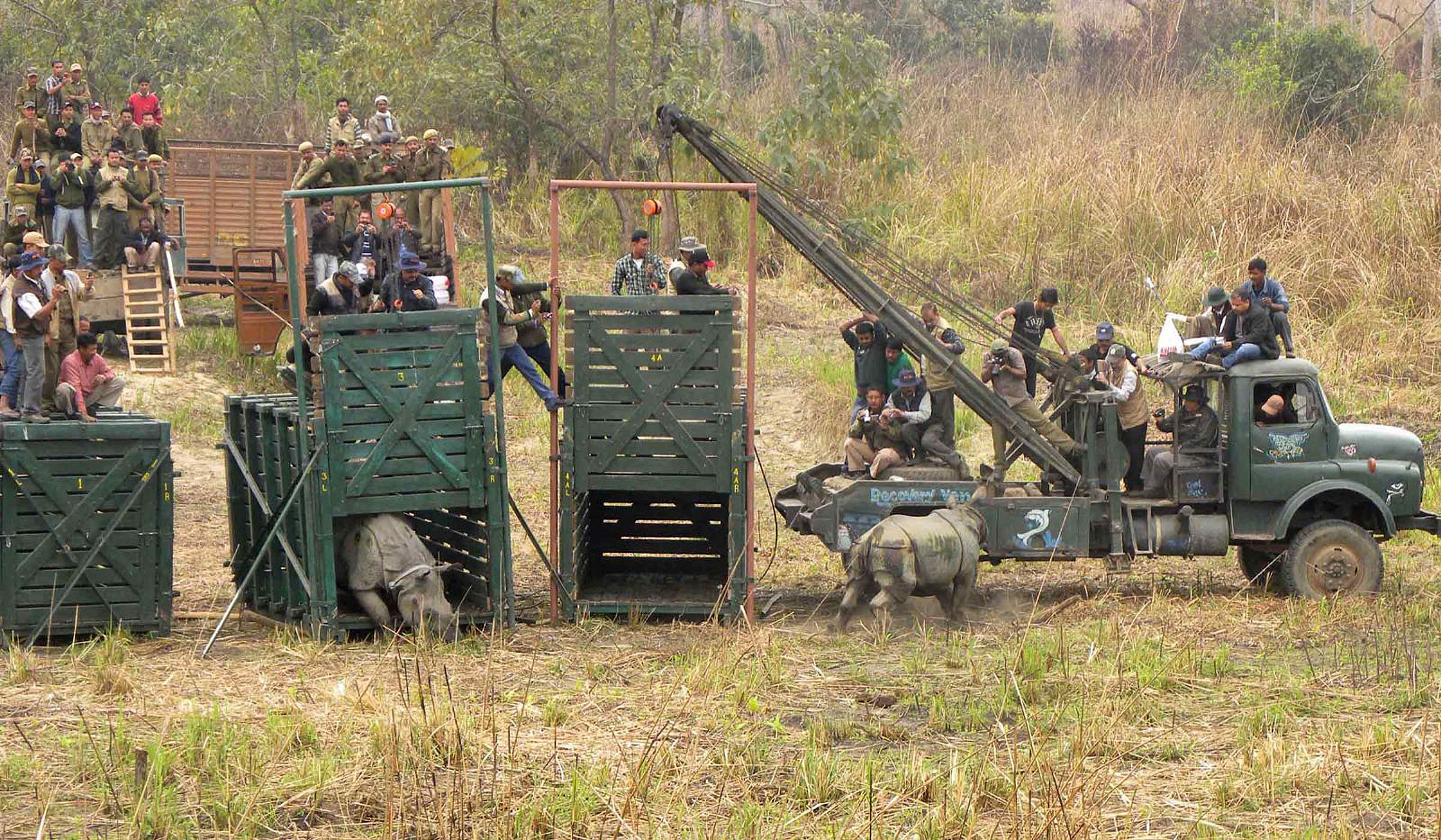 Temporary Holding
Depending on the circumstances of the particular translocation, the rhino or group of rhinos may need to temporarily be kept at a holding facility before moving-on to their ultimate destination. Often, these temporary enclosures or "bomas" are created in or near the chosen permanent home. The bomas are meant to provide a secure area where the rhino can rest and acclimate to the new environment before being released. While staying in a boma, trained specialists have the opportunity to monitor the animals, ensure they have acclimated and are healthy enough to be released into the park. Once released, they will be continually monitored, but from a farther distance.
Moving
The first stop for each rhino's translocation will be decided long before any capture attempt is made. So once the rhino is in the crate– what's next? First, the crate needs to be lifted and placed on the back of a flat-bed truck with heavy machinery.
This is where crate design plays a key-role. Moving crates need to be built strong enough to hold a rhino, while also providing ventilation to keep the animal cool, ports to keep the animal hydrated and an easy access for veterinarians. It's also very important that the crate is just the right size for the rhino being translocated. Too small will make the trip uncomfortable, too large increases the chances of the rhino hurting itself. The perfect fit is especially important to balance the weight of the crate when being loaded onto the truck — if the rhino is able to shift around too much it is putting itself and the people on the ground in danger!
Once the crate is secured to the truck, the truck will either drive the rhino to its destination, or in some cases, may drive it to the airport so that the crate can be put on a cargo plane– like when Sumatran rhino Harapan was translocated 10,000 miles from the US to Indonesia! The longer the distance traveled, the more risks involved, so every option needs to be carefully weighed before planning a long translocation. Security for the rhino also needs to be considered during the whole journey– the transport convoy is often escorted by rangers or police to ensure there are no poaching attempts and to ensure the transport team has a clear road ahead, free from traffic and unnecessary noises.
Carefully loading rhino crates, South Africa

IRV2020 Translocations

Harapan arrives at the airport
---
SUMATRAN RHINO RESCUE TRANSLOCATIONS
Translocations are vital to the plan to save the Sumatran rhino, so that they can be managed in a conservation breeding program to ensure they can rebuild their population as quickly as possible. For now, rhinos captured in this program will be translocated the Sumatran rhino facility nearest to them- with the possibility of moving between the facilities in the future. There are currently two Sumatran rhino facilities in Indonesia– one on Indonesian Borneo and the Sumatran Rhino Sanctuary (SRS) in Way Kambas National Park. There are also plans to construct a third Sumatran rhino facility in northern Sumatra, in the Gunung Leuser ecosystem.

The SRS is currently at capacity with seven rhinos, but an expansion project is underway and will be completed later this year. This will enable the facility to hold up to five more rhinos. Rhinos found and captured in either Way Kambas or nearby Bukit Barisan Selatan National Parks will more than likely be translocated to the SRS and incorporated into the conservation breeding program.
JOIN US
Next month, we'll be covering the most important and possibly most challenging step- BREEDING. In the last century, there have been only five Sumatran rhinos born in captivity in the world, and two of those– Andatu (2012) and Delilah (2016)– were conceived and born at the SRS in Way Kambas.
IRF has nearly 30 years of experience in Sumatran rhino care and conservation and we are committed to keeping this species from going extinct. If you'd like to support this mission, please consider making a tax-deductible donation here and help us save Sumatran rhinos…while we still can.