Some Bright Spots for Javan Rhinos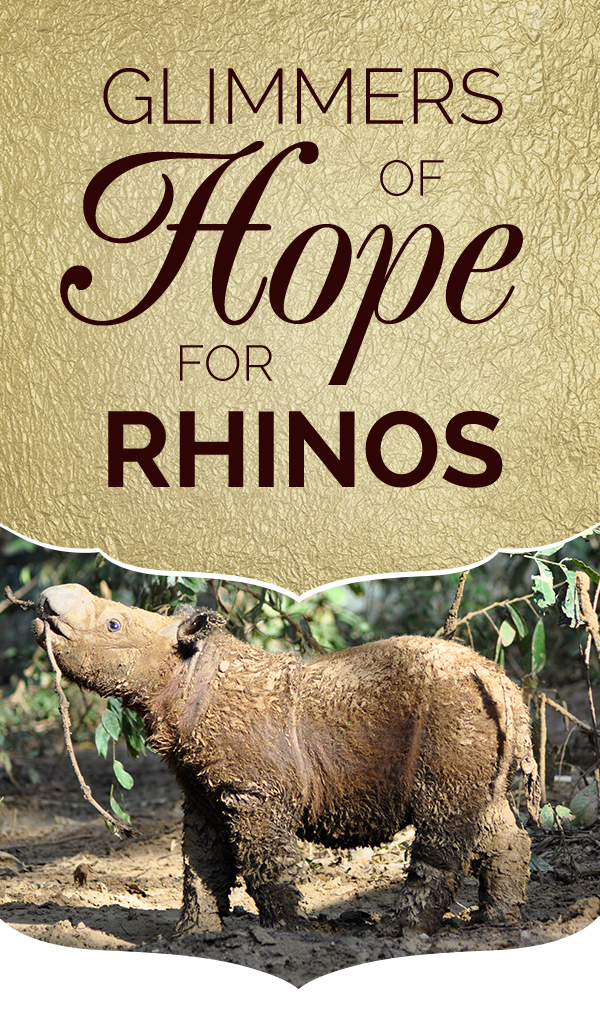 The past year will go down as one of the darkest on record for rhinos. We can't ignore this unfortunate truth.
But amidst all the bad news, there remain glimmers of hope that strengthen our resolve to ensure the survival of rhinos across the globe.
Leading up to the year's end, we're going to be sharing stories of rhino conservation that's working. We're taking time to celebrate the small victories won by our projects in Africa and Asia, which inspire hope for the future of rhinos.


SOME BRIGHT SPOTS FOR JAVAN RHINOS
The existence of Javan rhinos in Indonesia's Ujung Kulon National Park is nothing short of a miracle. This critically endangered species has numbered around 50 rhinos for decades. Even the most optimistic biologists will confess that bouncing back from such a low level is a challenge, especially for a species that reproduces only every three years (and has a 16-month pregnancy!).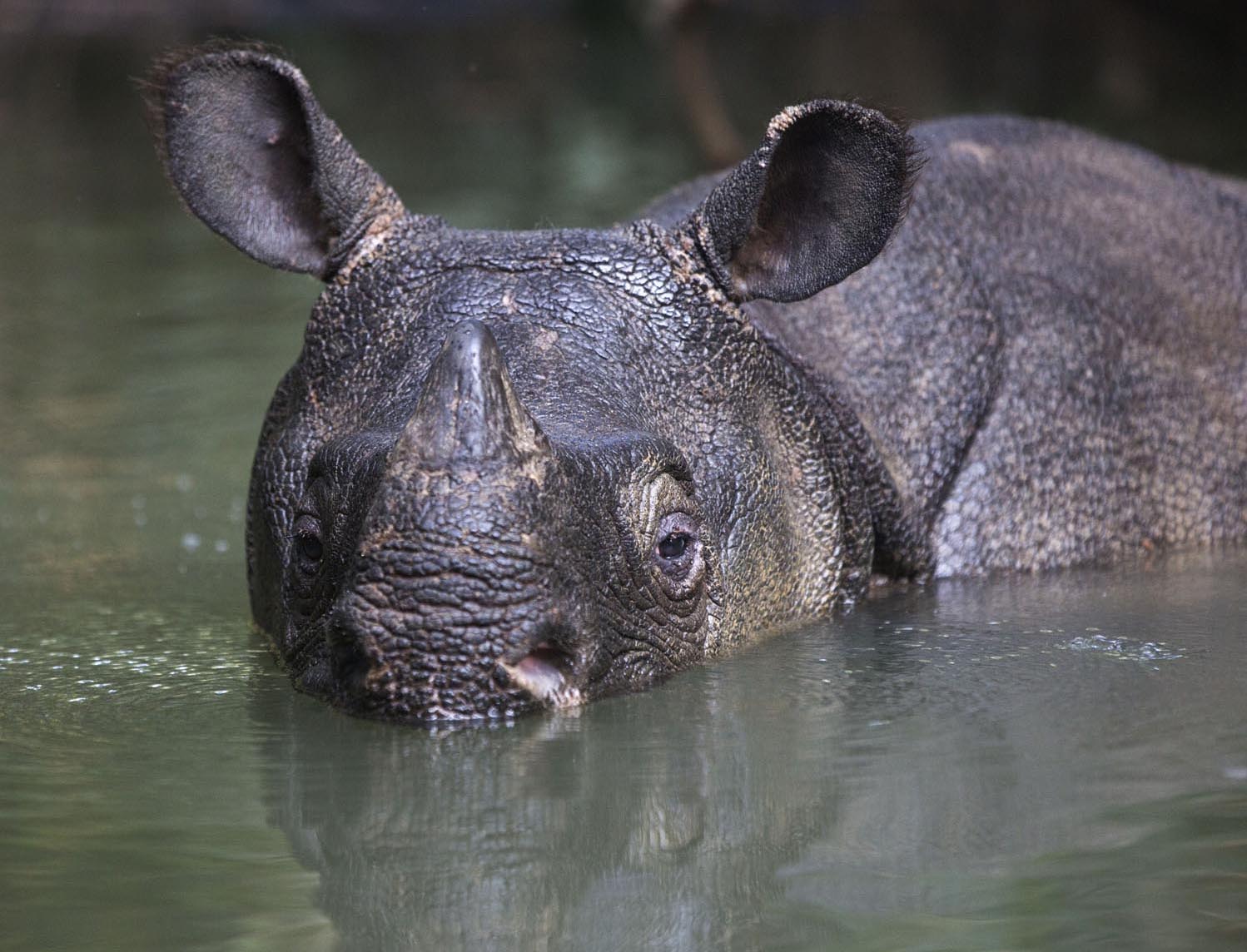 Yet, the Javan rhino persists. And the population seems to be growing.
This year, a study by Ujung Kulon National Park, using video camera traps — including an additional 140 cameras donated by the International Rhino Foundation and World Wildlife Fund — yielded images of 58 (possibly as many as 61) individually identifiable rhinos.
When compared to the 44 animals previously thought to survive in the wild, this population increase is fantastic news!
Not only does it improve the chances for a successful recovery, it provides a remarkable incentive for the men who work every day to protect Javan rhinos.
Four Rhino Protection Units (RPUs) — supported by IRF and managed by our Indonesian partner organization, Yayasan Badak Indonesia (YABI) — patrol and survey Ujung Kulon's lowland tropical forests on the lookout for rhinos and other threatened wildlife. While hiking thousands of kilometers each year, our four-man RPUs rarely see rhinos, but document their presence in terms of footprints, dung, wallows and signs of feeding. They also seek signs of illegal activities like hunting, trapping, fishing and logging, but especially for heavy cable snares that can prove deadly to rhinos.
Thanks to the efforts of these dedicated rangers, there has been no recorded poaching of Javan rhinos in Ujung Kulon for more than 15 years.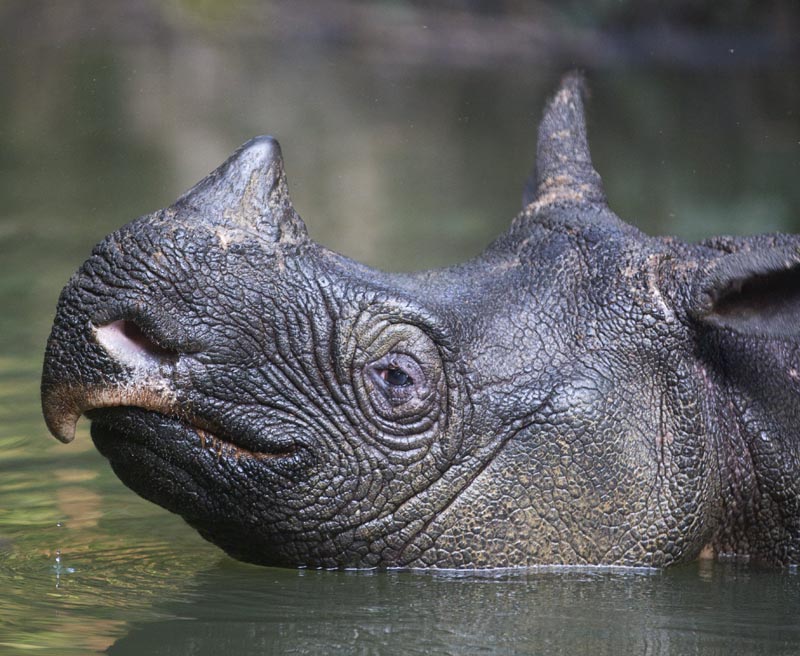 A secure future for Javan rhinos also depends on efforts to increase the rhino-friendly habitat of Ujung Kulon. IRF and YABI have been hard at work to restore rhino habitat in the park's Javan Rhino Study and Conservation Area by removing an invasive palm that chokes out the sunlight and suppresses all other plant growth. We've cleared about 200 acres (80 ha) of invasive palm, allowing rhino food plants to flourish.
This previously unused area is now home to ten Javan rhinos, or 16% of the remaining population.
Our hope — to move a group of rhinos from Ujung Kulon to another site so that the "eggs aren't all in one basket" — seems within reach.
The Javan rhino is the rarest of the world's five living species, and we're starting to see a silver lining in its prospects for survival. By supporting Javan rhino conservation efforts in Indonesia — efforts that are proven — you can play a major role in saving this species from extinction. Together, we will remain hopeful, but ever vigilant.
Please consider a donation today to keep the hope alive for Javan rhinos. Every gift, large or small, matters. Every gift helps us do more.


OTHER WAYS TO KEEP THE GOOD NEWS COMING
When shopping for gifts online this holiday season, you can save rhinos at the same time. Shop with Amazon Smile and designate the International Rhino Foundation as your charity. Be sure to bookmark www.smile.amazon.com so that your future Amazon purchases support rhino conservation.
When you shop with iGive.com or GoodShop, choose the International Rhino Foundation as your cause. These sites will donate up to 20% of your purchases from thousands of retailers to the International Rhino Foundation.