Remembering Widodo Ramono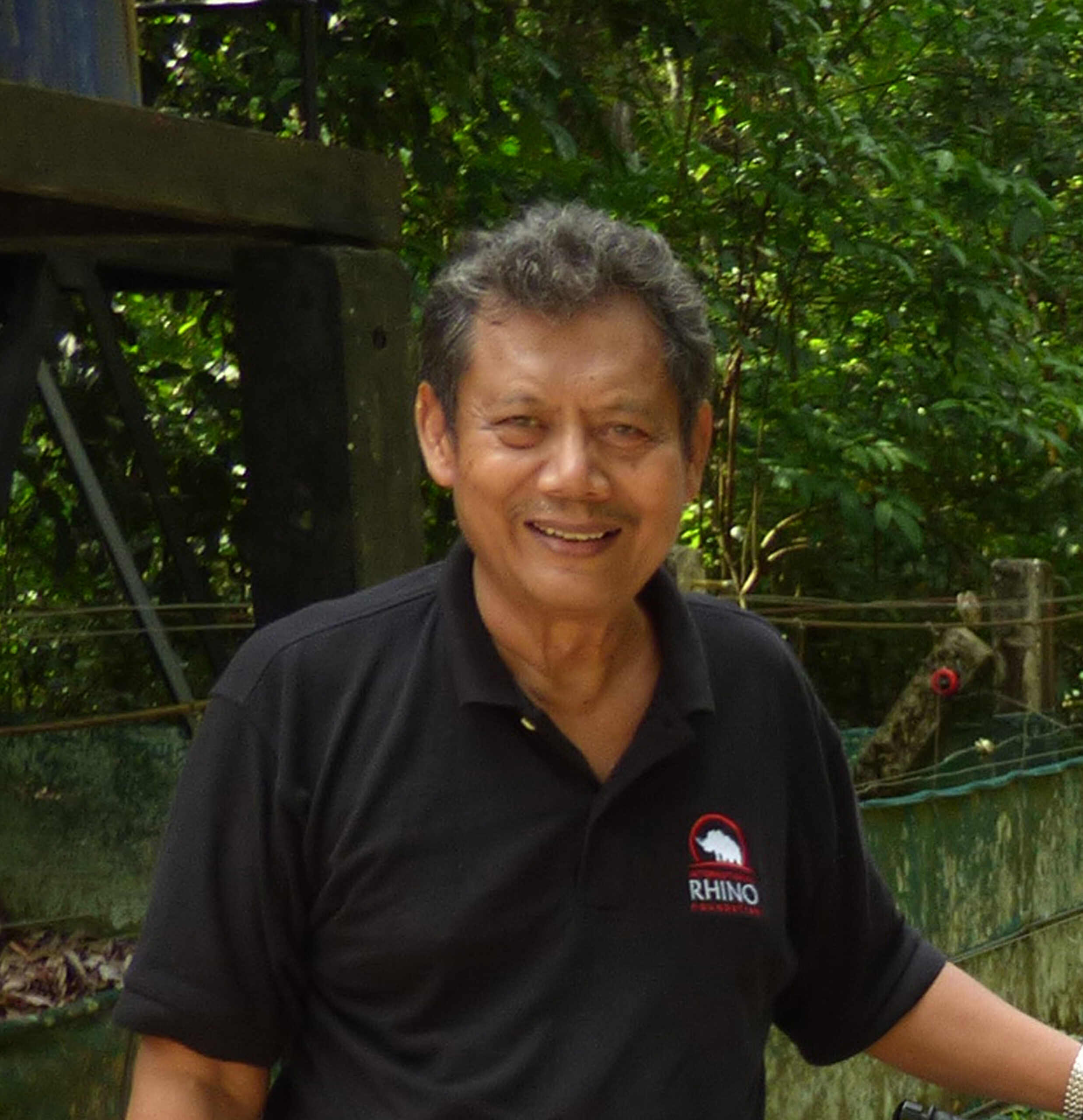 Widodo Ramono, executive director of Yayasan Badak Indonesia (YABI) also known as the Rhino Foundation of Indonesia, passed away on December 24, 2020 after a short illness. Few people have dedicated more years to the study and conservation of Asian rhinos.
"We are heartbroken by the passing of Widodo Ramono," said Nina Fascione, executive director of the International Rhino Foundation (IRF). "Pak Widodo spent more than five decades fighting to protect Indonesian wildlife, particularly Sumatran and Javan rhinos. We have lost a dear friend and the world has lost a great champion for rhinos."
Widodo has served as YABI's executive director since 2009, stewarding the organization's role in the protection of Indonesia's rhinos. YABI, which marks its 14th anniversary on Dec. 28, is IRF's principal partner in programs that are helping to ensure the survival of both Sumatran and Javan rhinos.
"Whenever we were in the field Pak Widodo would change from his suit to his field clothes and wear a goofy looking hat and just smile," remembered John Lukas, President of the IRF Board of Directors. "When in the forest, among the rhinos, he was the happiest."
On April 4, 1945, Widodo was born in the Central Javan city of Blora. He studied nature conservation at the Senior High School of Forestry in Bogor and later traveled internationally to receive technical training in forestry operations, national park administration, wildlife management, environmental impact assessment, conservation biology and public sector leadership.
Since 1969, he has held a variety of civil servant positions in wildlife conservation, notable among them being the head of Nature Protection and Conservation of Ujung Kulon National Park, which now holds the only population of Javan rhinos – numbering 74 individuals.
Widodo's lengthy career has also included the management of Asian elephant populations in southern Sumatra, and development of three Indonesian national parks (Bukit Barisan Selatan, Kerinci Seblat and Way Kambas). After completing his study on State Administration in Lampung, he was appointed forestry operations management chief in Aceh Province. And, as the former Director of Biodiversity Conservation for the Ministry of Forestry, he played a major role in establishing management practices for Indonesia's national parks, nature and game reserves, recreation forests, and wetlands. Widodo worked for The Nature Conservancy – Indonesia Programs after completing his work for the Government of Indonesia.
In 2015, Widodo was awarded the Sir Peter Scott Award for Conservation Merit by the Species Survival Commission of IUCN in recognition of his lifetime's work to save the Javan and Sumatran Rhinos from extinction. He also was a leading voice in the Sumatran Rhino Survival Alliance, established by the Indonesia government and global and local organizations to save the critically endangered species.
Widodo is survived by his wife and three grown children. He was 75.
"In this time of grieving, IRF stands with the YABI family to continue our shared responsibilities to secure the future of Sumatran and Javan Rhinos in Indonesia, a legacy Pak Widodo left to us," said Lukas. "The International Rhino Foundation sends our heartfelt condolences to his family and colleagues around the world."