Reducing Asia's Demand for Rhino Horn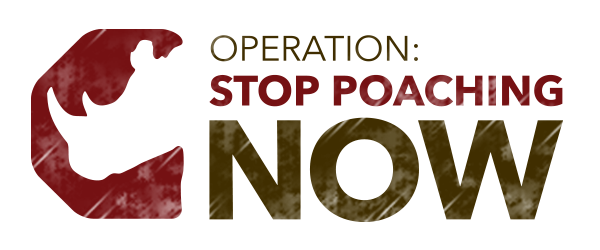 Operation: Stop Poaching Now
We're counting down and almost to number 10. We're sharing 10 Ways to Fight Rhino Poaching — detailing diverse solutions you can support to address the poaching crisis.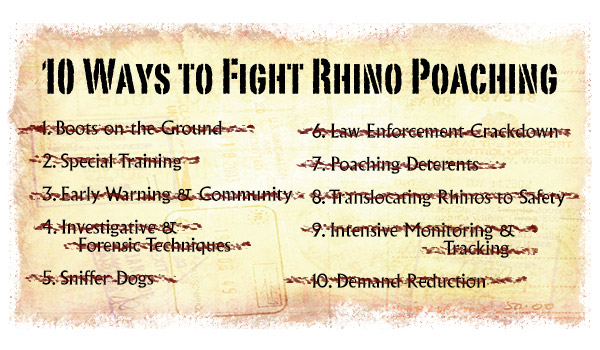 10. Demand Reduction
With 900 rhinos killed so far this year in South Africa, decades of success in conservation are in jeopardy from an unprecedented illegal trade in rhino horn. Traditional Chinese Medicine practitioners have used rhino horn for thousands of years to treat any number of maladies — including arthritis, fever, convulsions, vomiting and worms — despite the fact that there is no scientific evidence that rhino horn successfully treats any medical condition.
THE ROLE OF VIETNAM
The scale of the problem has escalated exponentially since Vietnam became the newest and most deadly rhino horn market. Since 2010 when the country's last Javan rhino was killed for its horn, dozens of Vietnamese nationals have been arrested in South Africa and Vietnam for illegal rhino hunting and horn smuggling.
Vietnamese use rhino horn as a status symbol, as well as a purported cure for hangovers and cancer. According to a report by TRAFFIC , consumers tend to be middle-aged or older and relatively wealthy, representing the established or elite. They are not likely to be influenced by concerns over legality or extinction. In 2012, the nonprofit Education for Nature Vietnam reported that 69% of Traditional Asian Medicine practitioners believe rhino horn is good for detoxification, and 51% of them said that it could be used to cure cancer.


BEWARE FALSE HOPE
Last week, Humane Society International and Vietnam's CITES Management Authority claimed that rhino horn use is down by 38% in Vietnam. The organizations surveyed 1,000 Vietnamese citizens in 2013 and again this year. In this year's poll, 2.6% of respondents said they would continue to buy and use rhino horn, down from 4.2% reported in the 2013 poll. This finding led to the claim that rhino horn consumption had been reduced.
While this may sound like good news, it's not that simple, and the data certainly would not seem to be supported by this year's record killing of rhinos. The International Rhino Foundation questions the study's small sample size and polling methodology, which does not generally yield credible results when concerns of confidentiality or social embarrassment are an issue, as would be the case of illegal use of rhino horn.
DEMAND ENFORCEMENT TO REDUCE DEMAND
The most important concern is that a report indicating this level of change in consumption, which is difficult to verify, will be used by the government of Vietnam to get off the hook for numerous infractions concerning its commitments as a signatory to the Convention on International Trade in Endangered Species (CITES). A coalition of organizations led by the Environmental Investigation Agency previously filed a petition to the U.S. Department of Interior seeking trade sanctions against Vietnam for undermining the effectiveness of CITES.
Not long ago, South Africa and Vietnam signed a Memorandum of Understanding on Cooperation in Biodiversity Conservation and Protection. Vietnam also announced that it would put in place more stringent measures concerning export, import, buying and selling of rhino horn — on paper. In reality, the country is taking little action to enforce its laws, control trade and reduce demand for horn. Despite numerous implications of Vietnamese nationals in rhino horn trade — and under specific direction by the CITES Secretariat — Vietnam only now has begun to report on seizures of illegally imported rhino horn and prosecute suspects for rhino horn trade.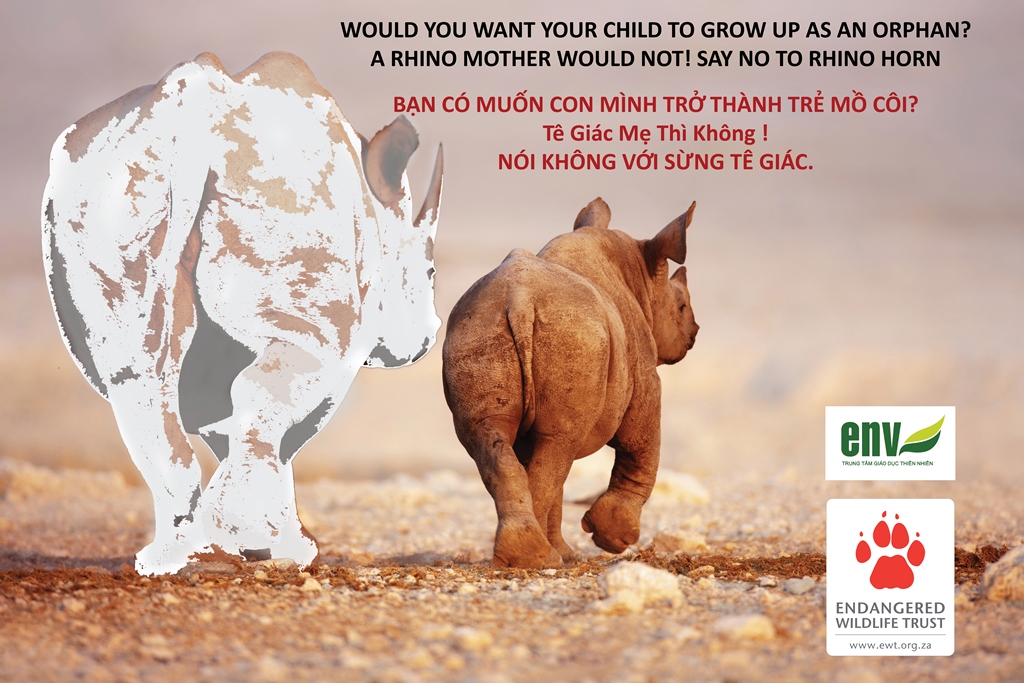 CONSUMER BEHAVIOR CHANGE
When a country is unwilling to enforce its laws, other sectors have to step up. The International Rhino Foundation, along with our partner Save the Rhino, has provided grant funding to the nonprofit Education for Nature Vietnam (ENV) for a communications campaign targeting three audiences: (1) rhino horn consumers; (2) people who do not currently use rhino horn but could in the future; and (3) people that do not use rhino horn and who are willing to become actively involved in efforts to protect rhinos by reporting rhino crimes and educating others.
Strategic messaging addresses consumer perceptions that rhino horn is a status symbol, urging younger potential consumers not to consume rhino horn by generating a negative social stigma associated with its use and making positive associations with non-users. The project also educates medicinal consumers by emphasizing that rhino horn has no proven pharmaceutical value and is a waste of money, while encouraging the public to educate others and report rhino crimes to ENV or local authorities. New public service announcements carrying these messages are airing this year on national and provincial television and radio.
No one approach will solve the rhino poaching crisis. IRF supports sustained campaigns that target consumers and dispel myths about the 'magical' properties of rhino horn in order to protect rhinos on the ground and influence international policy to create change.
The biggest question? Can we effect the deep cultural and behavioral changes needed in countries like Vietnam before we lose these precious species?
Time is growing short. Please join us in reducing the demand for rhino horn in countries like Vietnam.
Every gift, no matter how small, helps. Every gift allows us to do more.