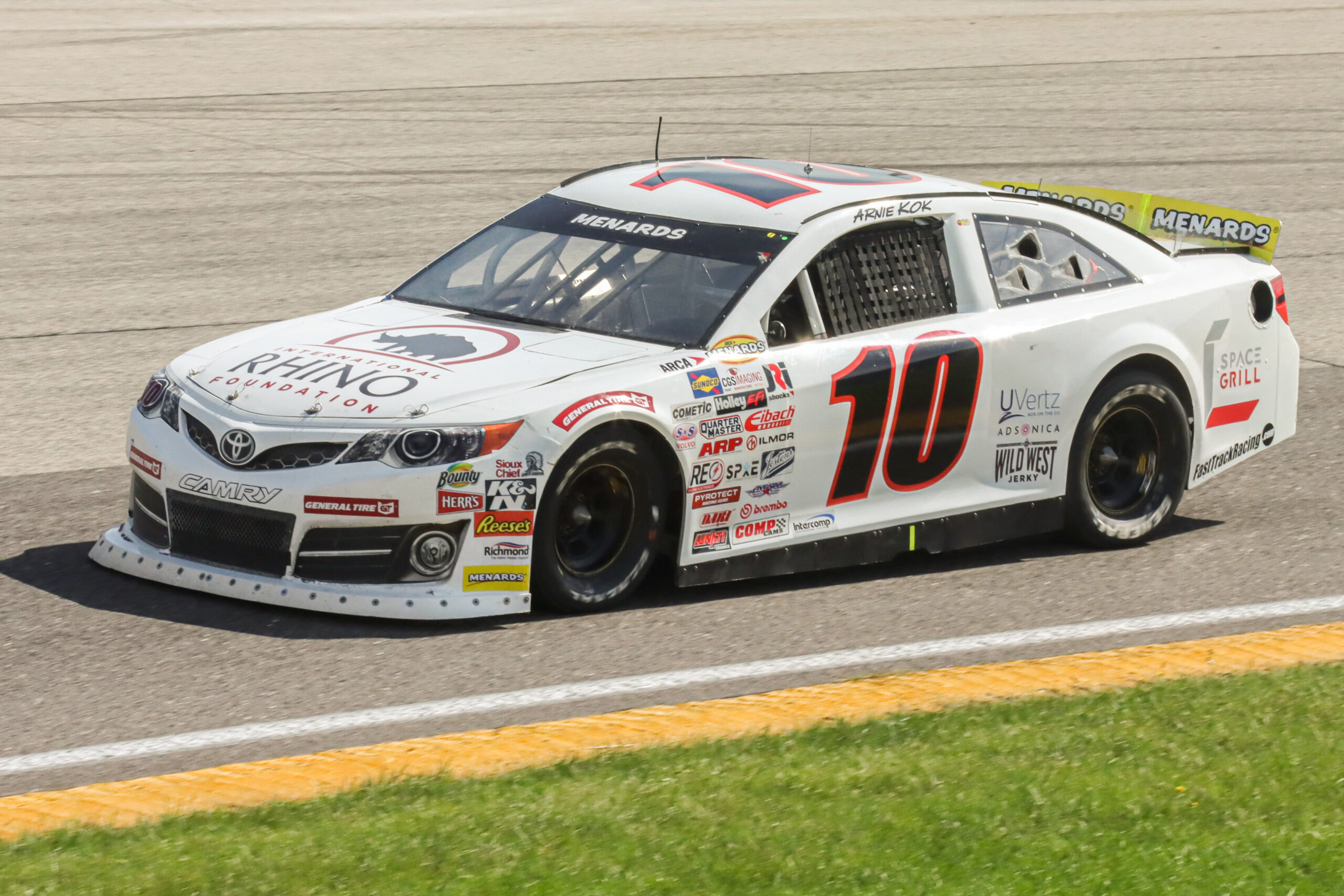 Arnout Kok, a native of South Africa, races in the ARCA Menards Series in the United States. For the Sprecher 150 at the Milwaukee Mile his #10 Brand South Africa Toyota featured the International Rhino Foundation (IRF) logo on the hood.
Unfortunately, engine troubles prevented Kok from starting the race, and we did not get to see how fast that rhino could go. However, Kok plans to use the IRF logo again for his upcoming race in Kansas City in October.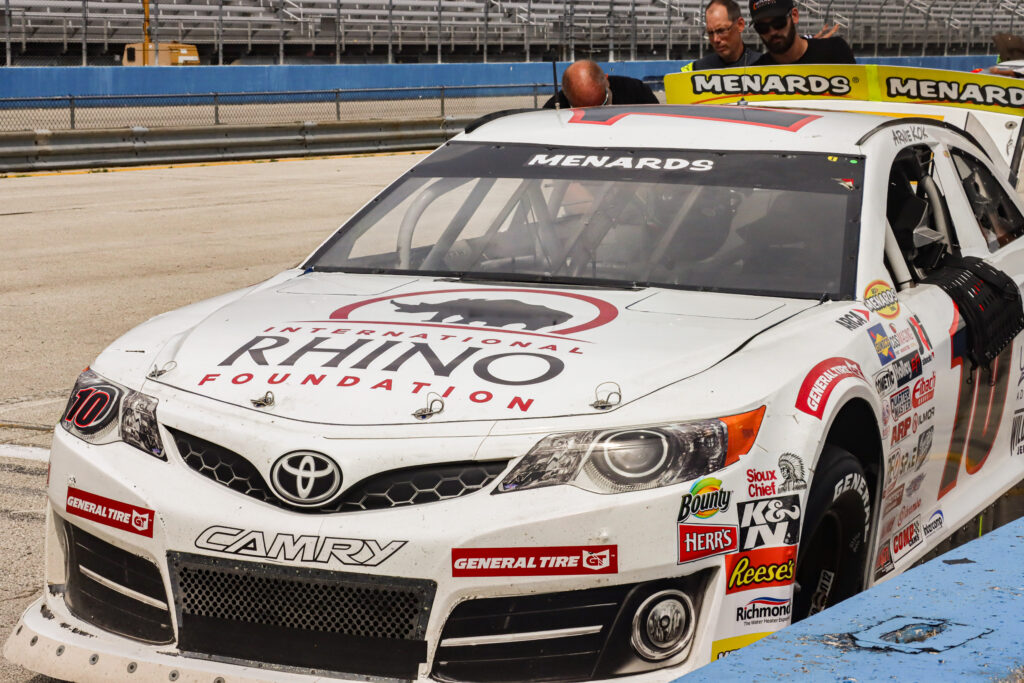 Kok started his racing career in a way many American drivers do – piloting go-karts. He later made his way to closed-fender cars, working through Legends cars before going to late models, and won the 2017 European Late Model championship. This was his third ARCA race, and he plans to run a full season in 2022.
Kok grew up in the province of KwaZulu-Natal in South Africa. It is a region known for world class beaches, majestic mountains and plains home to diverse wildlife. Kok remembers family holidays to area game ranges. "There were rhinos everywhere in the 80's and 90's," he said. "That's not the case anymore."
Kok has made it his mission to raise awareness for South Africa and it's rhinos. He is working with Brand South Africa to field his car for races. The organization works worldwide to tell the story of the country and its people as well as facilitating business ties. Together, they form "Team Africa".
Kok is also "Team Rhino". He approached IRF last year, expressing a desire to raise awareness and funding to help rhinos thrive again in South Africa. "I don't think people fully comprehend the situation," he explained. "If we don't do anything, we won't have rhinos in 10-15 years."
The logo on the car is just the first step for Kok. He is planning a variety of events and outreach, including future "Racing for Rhinos" go-kart races that will take place leading up to scheduled ARCA races.
We think rhinos on race cars look cool. We want to thank Arnout and Brand South Africa for making Team Rhino a part of Team Africa. We look forward to the growth of this partnership, helping South Africa's treasured rhinos thrive in the wild for future generations.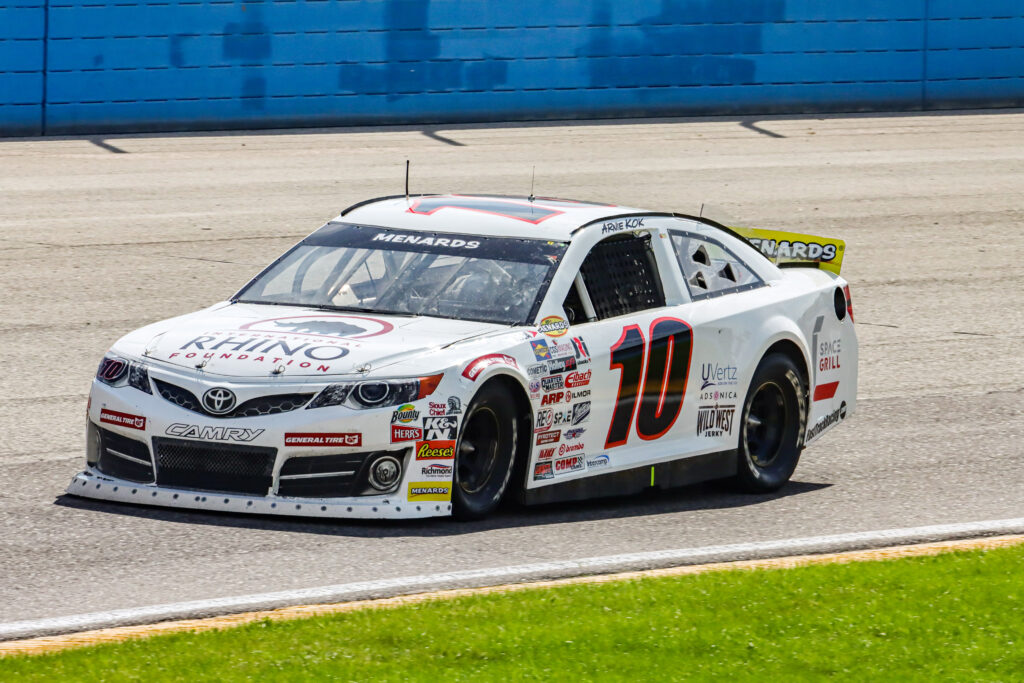 You may not have a race car, but there are plenty of ways to raise awareness for rhinos without one. Check out our World Rhino Day 'Ways to Help' blog for ideas and toolkits.