Last Chance to Save Sumatran Rhinos


SUMATRAN RHINOS IN CRISIS
In dense, steamy rainforests on the Indonesian islands of Sumatra and Borneo, Earth's few remaining Sumatran rhinos are struggling to exist. Barely hanging on in fragmented sub-populations, this rhino is so rare – fewer than 80 survive – that only a handful of people have ever seen one in the wild. The decline of the species was initially caused by habitat loss and poaching for their horns, threats that persist today. Despite ongoing protection, the species still faces extinction. Animals have become isolated in tiny pockets, decreasing the probability of breeding-age animals encountering one another. There simply aren't enough rhino babies being born.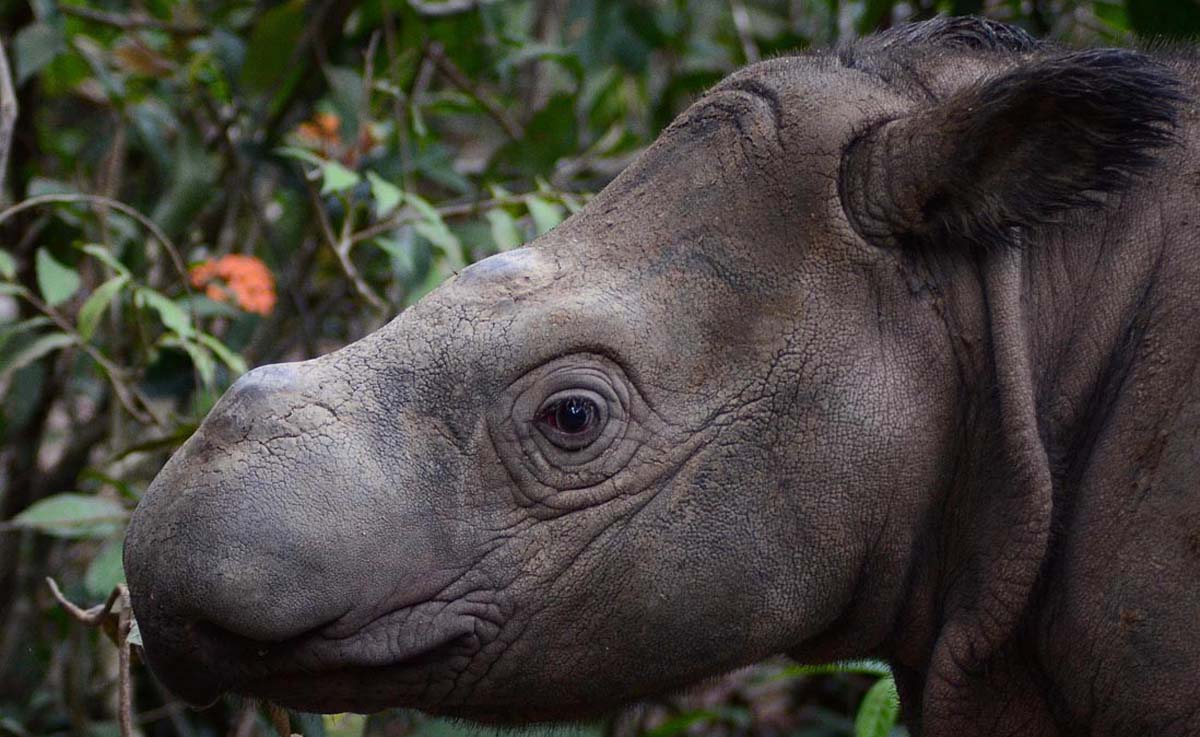 ---
THE WORLD MUST COME TOGETHER
Saving the Sumatran rhino requires capturing and consolidating the majority of remaining wild populations in intensively managed breeding facilities. Breeding efforts will be complemented by continued protection of wild populations.

HARD TO FIND, IMPOSSIBLE TO REPLACE
This species' greatest threat is isolation. Separated by habitat destruction and fragmentation, tiny groups of Sumatran rhinos exist in remote, isolated rainforest pockets. Sumatran rhinos will silently disappear if they aren't reunited to breed.

BUILDING ON SCIENCE
There have been multiple successful captures in the past, and international collaboration has led to refining the tricky science of breeding the Sumatran rhino in captivity. Three calves were born at the Cincinnati Zoo & Botanical Garden. Two calves have been born at the Sumatran Rhino Sanctuary in Way Kambas National Park in southern Sumatra. We will build on these successes.

IT'S NOW OR NEVER
The Sumatran rhino could be extinct in our lifetime. It is time to act. This is a difficult and hazardous mission with no guarantee of success. While these actions are risky, doing nothing will most certainly lead to this species' extinction.
---
OUR PLAN
Recently, the Government of Indonesia and rhino experts from around the world developed a three-year emergency plan to secure the remaining Sumatran rhinos and develop the infrastructure to care for and grow their population, based on the success of the Sumatran Rhino Sanctuary. As part of this program, the International Rhino Foundation, National Geographic, the IUCN Species Survival Commission, Global Wildlife Conservation, and WWF have founded the Sumatran Rhino Rescue project. Local NGOs, YABI (southern Sumatra), WWF-Indonesia (Kalimantan), and Forum Konservasi Leuser (northern Sumatra) will implement the program.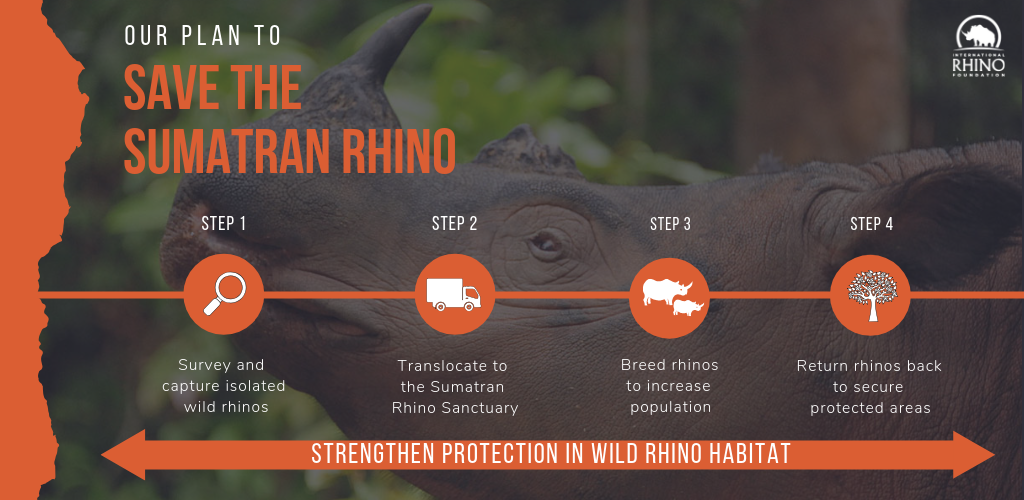 In anticipation of captures from small, isolated populations, IRF is expanding the captive breeding program at the Sumatran Rhino Sanctuary, which now holds seven animals. Our goal is to quickly and safely increase rhino numbers, creating a source population from which animals can be someday be reintroduced into the wild.
We plan to:
Move reproductively viable animals from the wild into the conservation breeding program to maximize the population growth rate.
Continue to strengthen anti-poaching programs in core rhino habitats.
Establish Intensive Protection Zones in national parks in preparation for returning rhinos to the wild.
JOIN US
If we don't act now, the Sumatran rhino could be extinct in our lifetime. There is still a chance to save the Sumatran rhino. It takes a lot to save a species: vision, a plan, persistence…and your support.
Today IRF is launching a campaign to Save the Sumatran Rhino. We need $6 million to expand the Sumatran Rhino Sanctuary and to begin capturing and translocating more rhinos to the facility. We have already raised two-thirds of these funds and are working to raise the remaining $2 million. Please click here if you'd like to make a donation.
Over the next four months, we'll tell you much more about our comprehensive plan to save Sumatran rhinos through surveys and captures, translocations, breeding, and protection in the wild. Our plan and nearly 25 years of experience with Sumatran rhinos will make this a success. We need your help make it happen.