It's A Rhino! You're Invited to One of the BIGGEST Baby Showers of the Year


Did you hear? We're expecting a new rhino calf! Critically Endangered Sumatran rhino, Ratu is pregnant, and she's due to have her second calf this May. With no more than 100 Sumatran rhinos left in the wild, this is big — and we do mean BIG. Newborn Sumatran rhinos weigh between 50 and 60 lbs. — and big babies need big baby showers.
That's why we're inviting you to host your own baby shower to help welcome the new calf at the Sumatran Rhino Sanctuary (SRS) in Indonesia. Start your own (online) baby shower fundraiser and share it with your friends and family to help us reach our $20,000 overall goal. Together, we can give Ratu a baby shower fit for a rhino.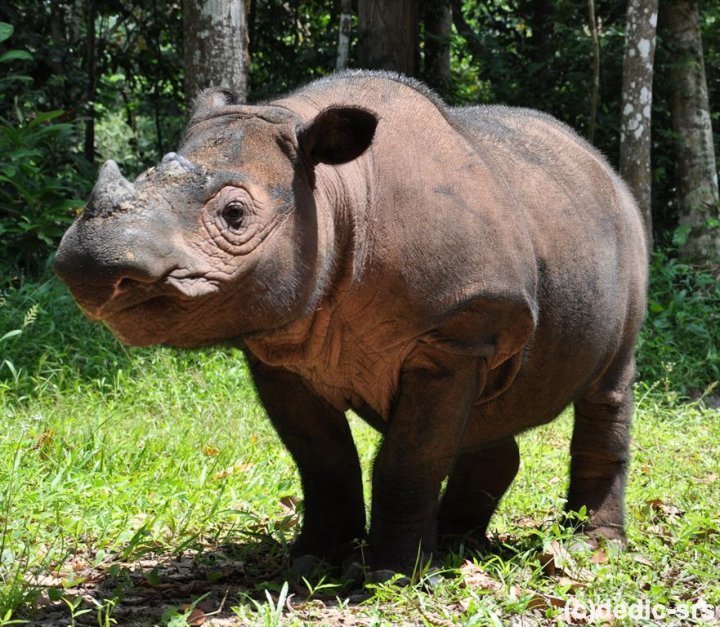 Your gifts will help purchase these items on Ratu's Rhino Registry:
A New Maternity Pen
Since Ratu can't make it to the nearest maternity ward, we'll need to build her a maternity pen. At her last check-up, Ratu weighed in at more than 1,300 lbs. — so we're going to need a pretty big pen.
Baby Food
Eating between 75 to 100 lbs. of food per day, Ratu's already eating for two. When the baby arrives in May, she'll need even more to sustain herself and the new calf. With enough support, we can even treat Ratu with one of her favorite pregnancy cravings — sliced watermelon.
Medical Supplies
Ratu will need medicine and monitoring equipment to ensure she and her baby remain healthy from labor and delivery to nursing to rearing.
A New Closed Circuit TV System
Sumatran rhinos are solitary creatures, and Ratu needs her privacy. With a CCTV video system, we can watch over mom and baby while giving them the privacy they need to bond, just as they would in the wild.
A New Radio System
Ratu's dedicated team of vets, specialists and caregivers needs regular updates on her status. Cell phones don't work well at the secluded Sumatran Rhino Sanctuary, so digital radios are a reliable way to transmit critical information.
Help us secure the next generation of this critically endangered species.
CLICK HERE to start your own Sumatran rhino baby shower fundraiser.