How to Help Rhinos on World Rhino Day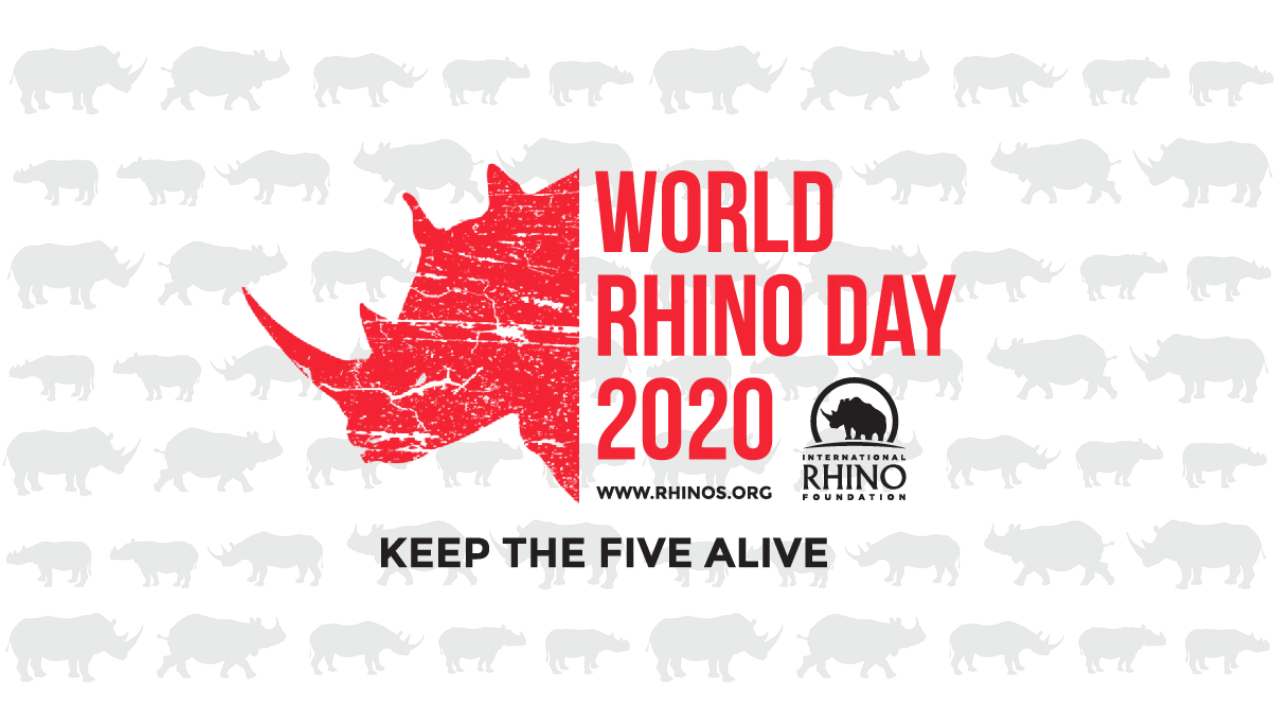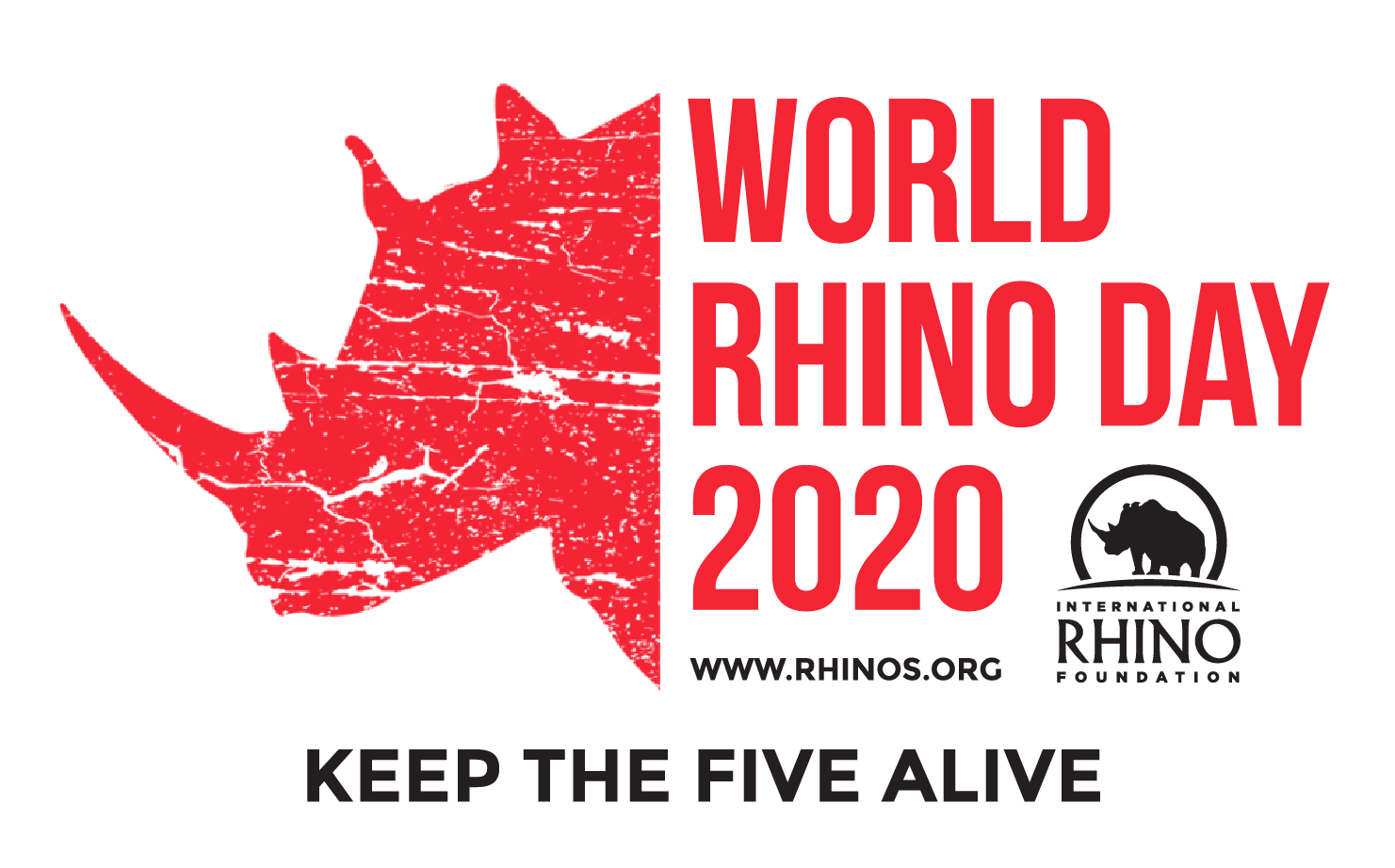 Since 2011, World Rhino Day has been celebrated internationally on September 22nd. The International Rhino Foundation recognizes World Rhino Day as day of awareness for the threats facing all five rhino species, and celebrates rhinos and all those around the world who care about them.
Throughout the year and especially around World Rhino Day, we're asked: 'how can I help rhinos?' Of course donations are always a great way to help when it's possible, but we know it isn't always. Another impactful way to help rhinos is to simply be an advocate for them and spread awareness. The more people that know about rhinos and the threats they face, the better chance all five species have to thrive. Team Rhino is big, so any effort adds up to make a big difference.
Here are some ways you can help #KeepTheFiveAlive on World Rhino Day and everyday: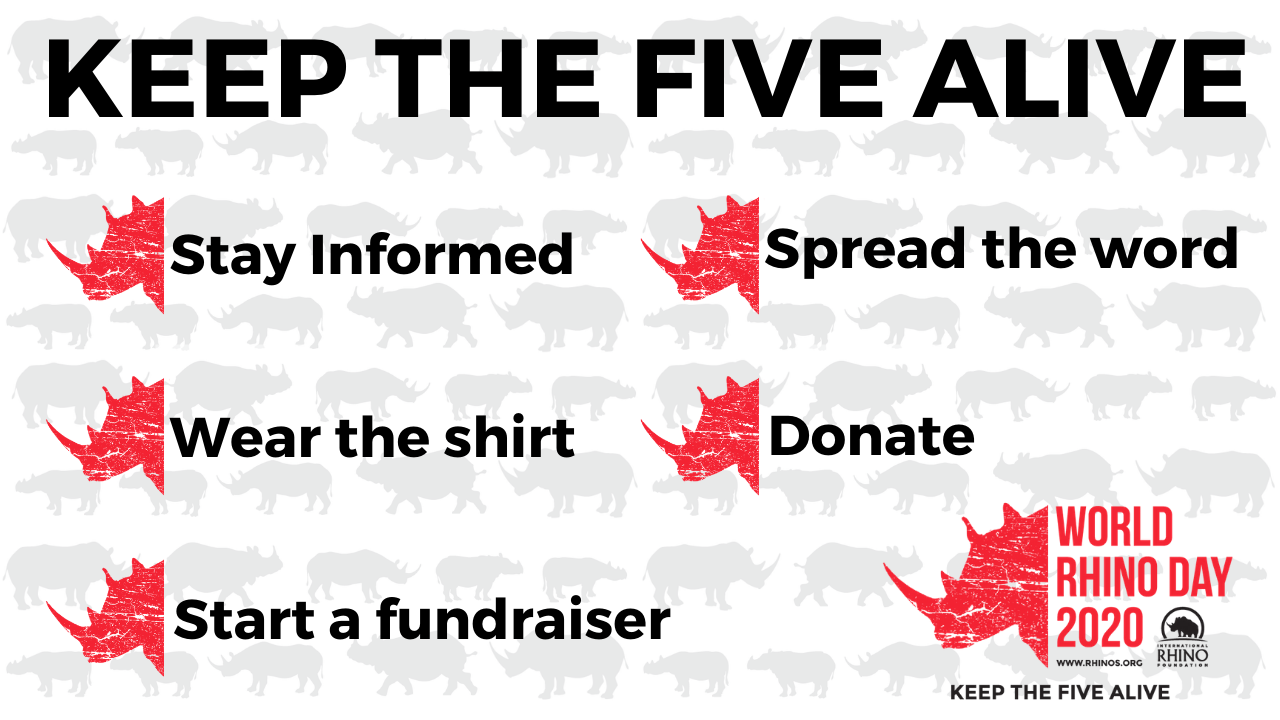 Stay Informed!
The more we all know about rhinos, the easier it is to help them!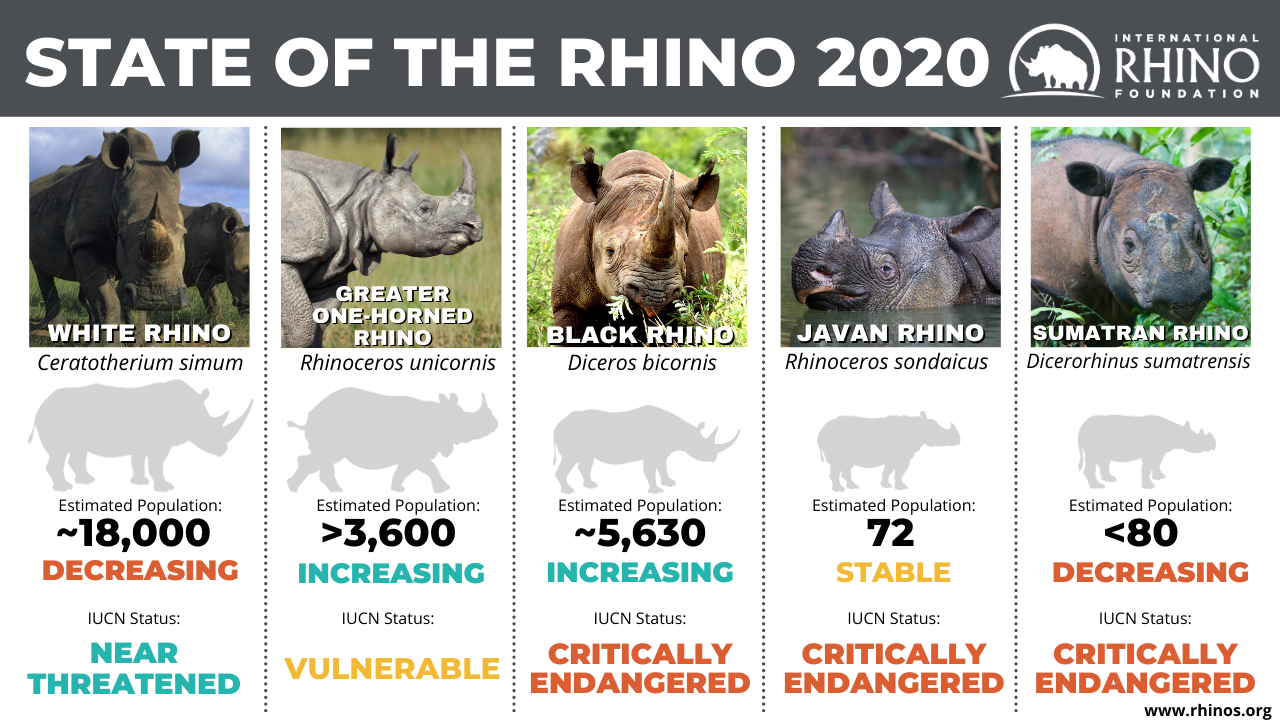 Spread the Word
Tell a friend! Now that you've learned more about rhinos, educate other people about them – where they live, why they're threatened, and what's being done to help them. The more people on Team Rhino, the better it is for all rhinos.
If you already follow us on social media platforms, that's great! You can do even more by liking, commenting, and sharing/retweeting our posts. The more likes and comments on a post, the more it will be seen by others. When you share a post, that taps into your whole network of friends & family and that awareness multiplies even more when one of them shares it too!
We've created a social toolkit just for World Rhino Day with graphics and captions ready to go – feel free to share these or any of the posts you see on our social media platforms.
See something you like on our website or blog? Share that too! 
Post your own photo or facts for World Rhino Day and tag us: (Facebook @InternationalRhinoFoundation; Twitter & Instagram @rhinosirf) and use the hashtags #KeepTheFiveAlive #WorldRhinoDay #TeamRhino
Share this blog post!
Wear the Shirt
Of course profits from our shop sales go to our rhino conservation efforts – but also – wearing that shirt, hat, or sweatshirt you bought is a great conversation starter and the perfect opportunity to tell people about rhinos.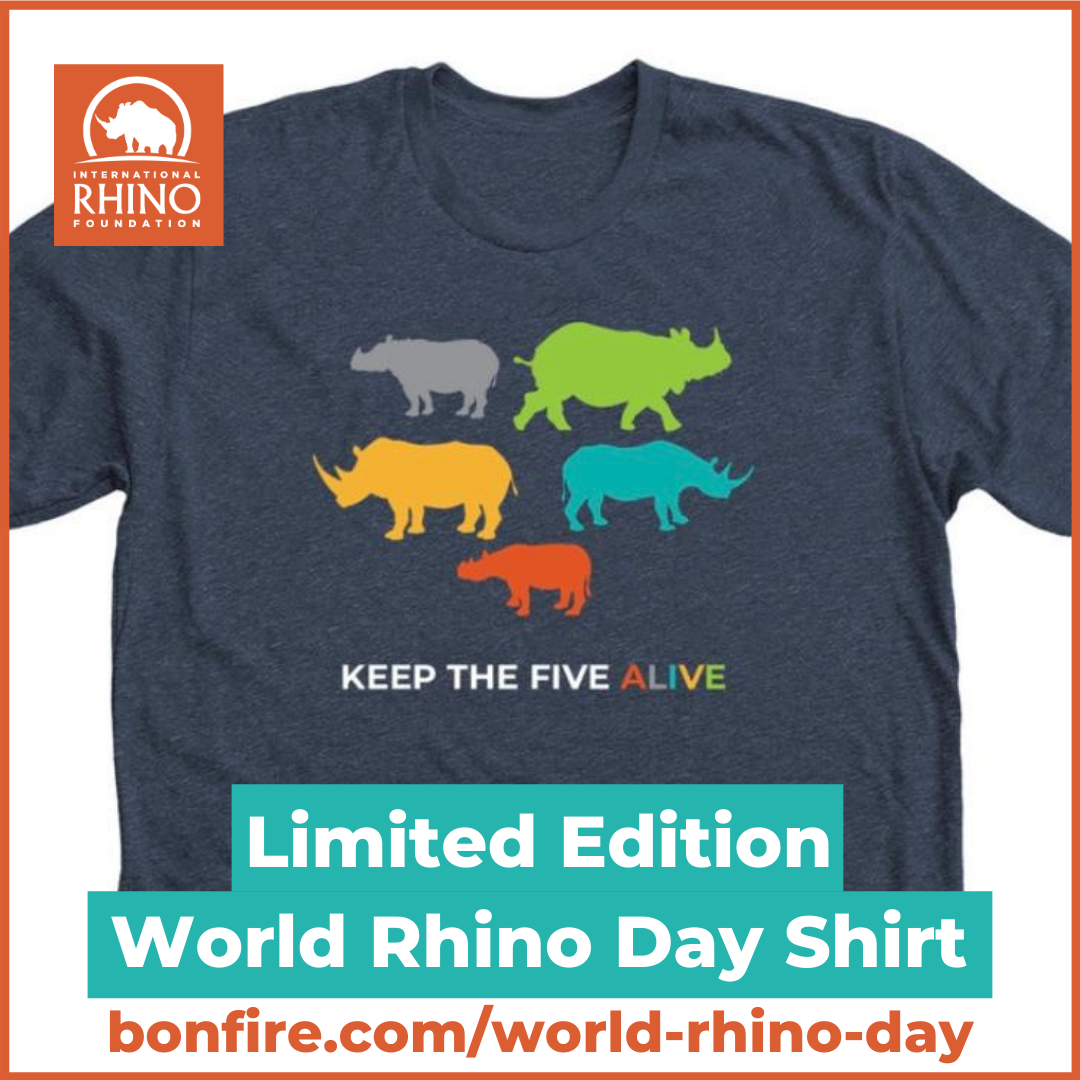 Get our limited edition World Rhino Day 2020 shirt while it's here! We'll only be taking orders for this design until Monday, September 28, 2020.
Check out our rhino shop. We have a large selection of Team Rhino apparel, jewelry, bandanas, stickers, and artisan goods year round. And keep an eye out for new items!
Know someone who might like the World Rhino Day shirt or one of our shop items? Share the link with them!
Start a fundraiser
Maybe you can't donate, but you might know people who can. These days people are getting very creative with their fundraisers for conservation. It seems there's no limit to what you can do – even virtually!
Celebrate with us on World Rhino Day!
We've got a full day of virtual events across all our platforms on Tuesday, September 22nd. We hope you can us for a day full of talks, educational events, and the return of rhino bingo. We'll be on Facebook, Instagram, Twitter, and YouTube throughout the day, so please join us in the comment section!
World Rhino Day Schedule (All times in EST).
12:00 am World Rhino Day Kick Off on Instagram: Rhino Talk on Flooding and Artificial Highlands in India with Dr. Bibhab Talukdar, Chair of the Asian Rhino Specialist Group and the International Rhino Foundation's Asian Rhino Program Coordinator.
9:00 am State of the Rhino Address with IRF Executive Director, Nina Fascione.
11:00 am Facebook Livestream: IRF Deputy Director, CeCe Sieffert, joins Exploring by the Seat of Your Pants for a virtual education talk on Sumatran and Javan rhinos.
2:00 pm Join us on Twitter for a Rhino Talk on Assisted Reproduction Technology Advancements with Dr. Budhan Pukazhenthi of the Smithsonian's National Zoo.
4:00 pm Join us on YouTube for a Rhino Talk on Black Rhinos in Zambia with Ed Sayer, project leader for Frankfurt Zoological Society's North Luangwa Conservation Programme.
7:00 pm Facebook Livestream: IRF Communications Director, Chris Whitlatch joins tech podcast AwesomeCast to talk technology and conservation.
8:30 pm Rhino Bingo Returns! Join us live on Facebook for the fun.
RSVP to the Event Page & get schedule notifications from Facebook
There's no wrong way to celebrate World Rhino Day, but if you'd like to help rhinos- there are plenty of ways! We are so grateful for your support for rhinos and appreciate any way you can contribute to their survival.
Thank you Team Rhino and Happy World Rhino Day!