How to Help Rhinos on Giving Tuesday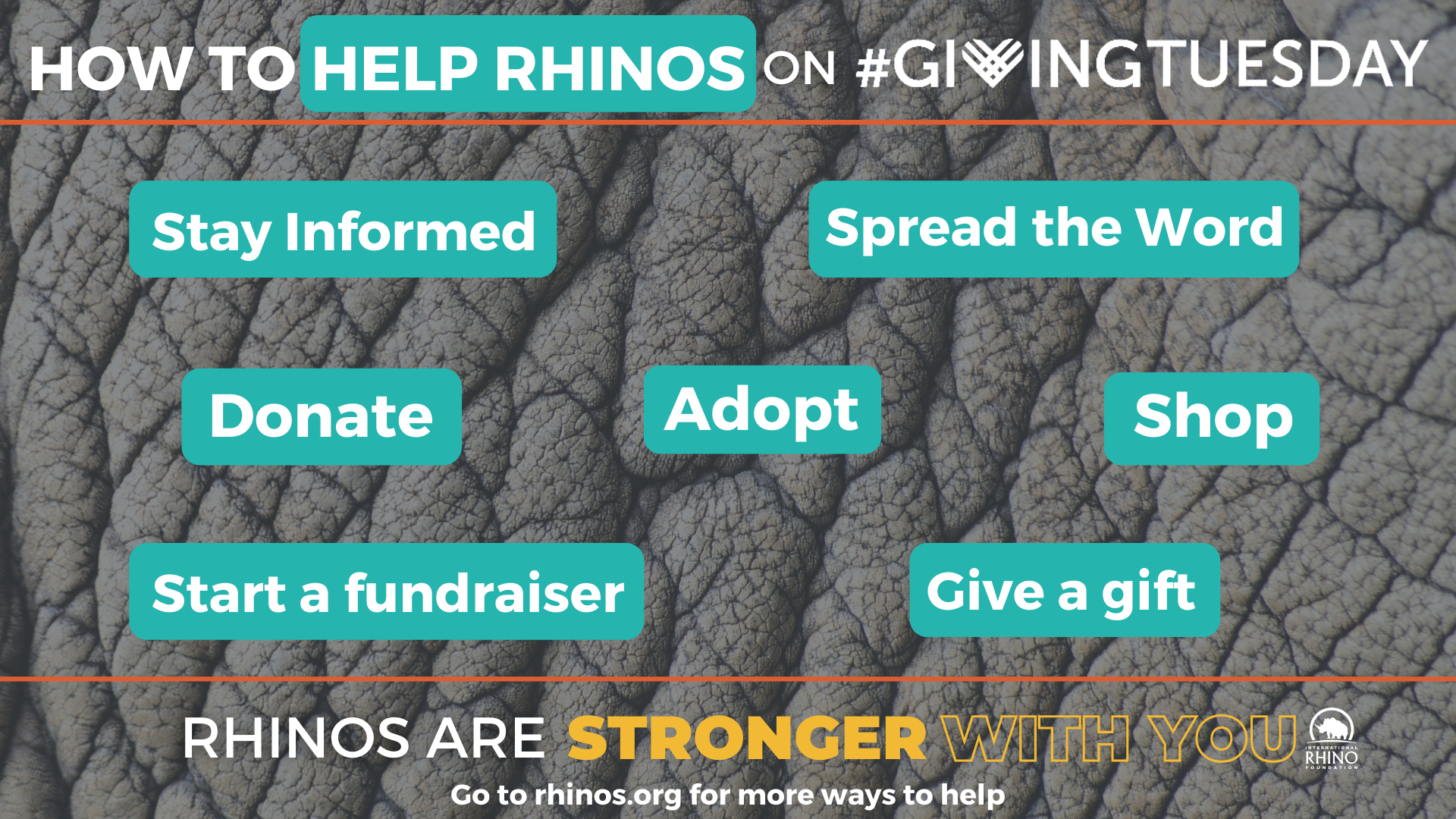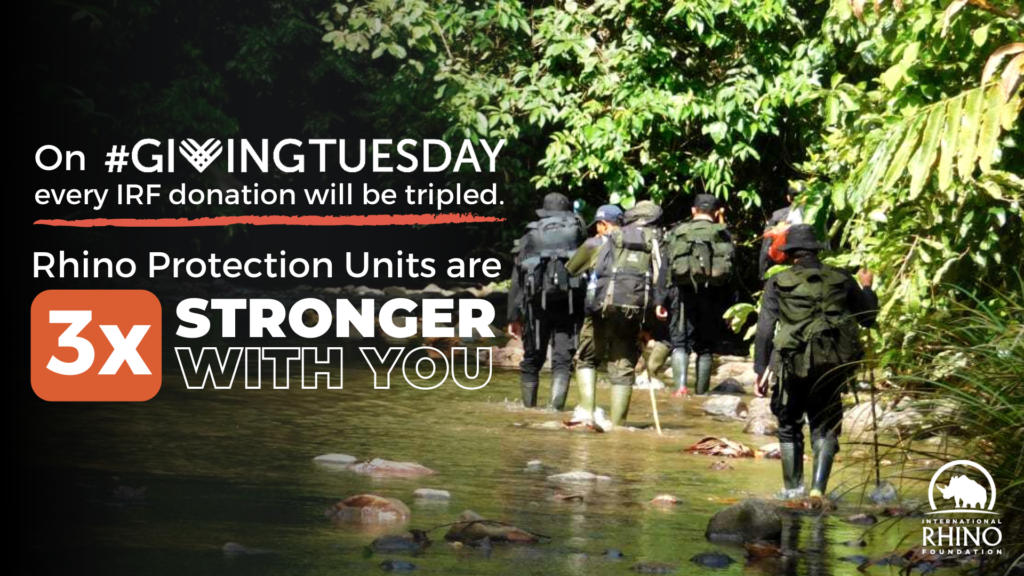 Giving Tuesday, celebrated the first Tuesday after Thanksgiving, was created simply to encourage people to dedicate one day a year doing good. Over the years, #GivingTuesday has grown into a global movement that inspires hundreds of millions of people to give, collaborate, and celebrate generosity. It has always been an important day for rhinos, and this year, carries even more weight.
Significant decreases in government and donor revenue caused by the pandemic are jeopardizing critical rhino protection in Indonesia, home to two of the world's most endangered rhino species. Javan and Sumatran rhinos are protected around the clock by Rhino Protection Units, even throughout the global lockdowns. With fewer than 80 individuals of each species left, we can't afford to lose even one to poaching, so today we're asking for your help to keep Rhino Protection Units in place throughout 2021.
Today, on Giving Tuesday, we're trying to raise $50,000, to fund the operations of one Indonesian Rhino Protection Unit for one full year.
Two generous, long-time IRF donors have agreed to match every gift you make, dollar for dollar, today. That means your gift will go three times as far and make triple the impact for Sumatran and Javan rhinos and the people guarding them.
If you've already donated or can't make a donation this year, there are plenty of other ways to help rhinos – like be an advocate. The more people that know about rhinos and the threats they face, the better chance all five species have to thrive. Team Rhino is big, so any effort adds up to make a big difference.
Here are some ways you can help rhinos on #GivingTuesday & everyday:
Stay Informed
The more we know about rhinos, the easier it is to help them!
Spread the Word
Tell a friend! Now that you've learned more about rhinos, educate other people about them – where they live, why they're threatened, and what's being done to help them. The more people on Team Rhino, the better it is for all rhinos.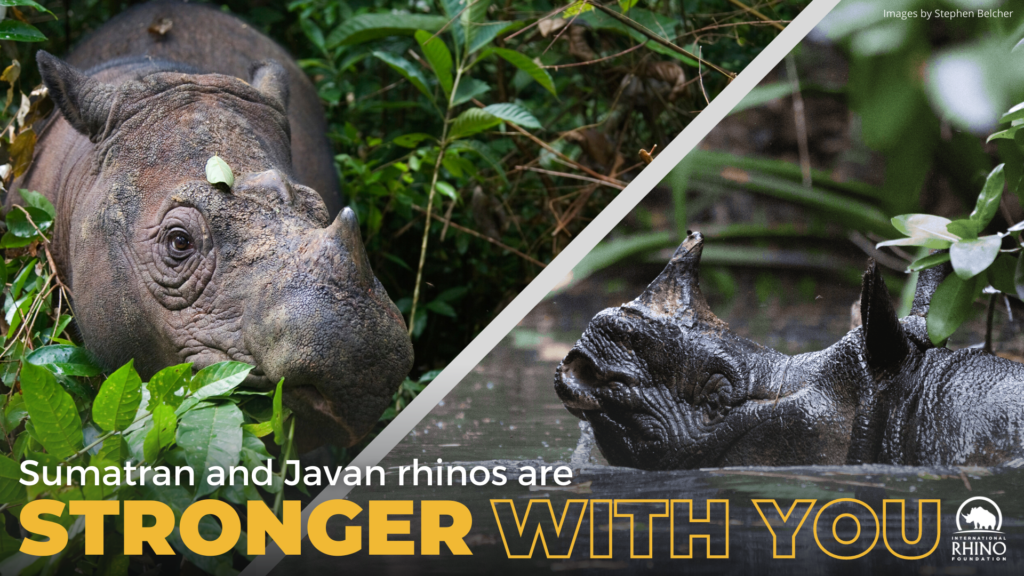 If you already follow us on social media platforms, that's great! You can do even more by liking, commenting, and sharing/retweeting our posts. The more likes and comments on a post, the more it will be seen by others. When you share a post, that taps into your whole network of friends & family and that awareness multiplies even more when one of them shares it too!
See something you like on our website or blog? Share that too! We just launched a new website so would love help promoting it.
We'd also love to know how you're celebrating Giving Tuesday! You can take an #Unselfie (a selfie of you doing good) and tag us: (Facebook @InternationalRhinoFoundation; Twitter & Instagram @RhinosIRF) and use the hashtags #GivingTuesday #KeepTheFiveAlive #TeamRhino
Share this blog post!
Wear Your Rhino Gear!
Of course profits from our shop sales go to our rhino conservation efforts, but also, wearing that shirt, hat, or sweatshirt you bought is a great conversation starter and the perfect opportunity to tell people about rhinos.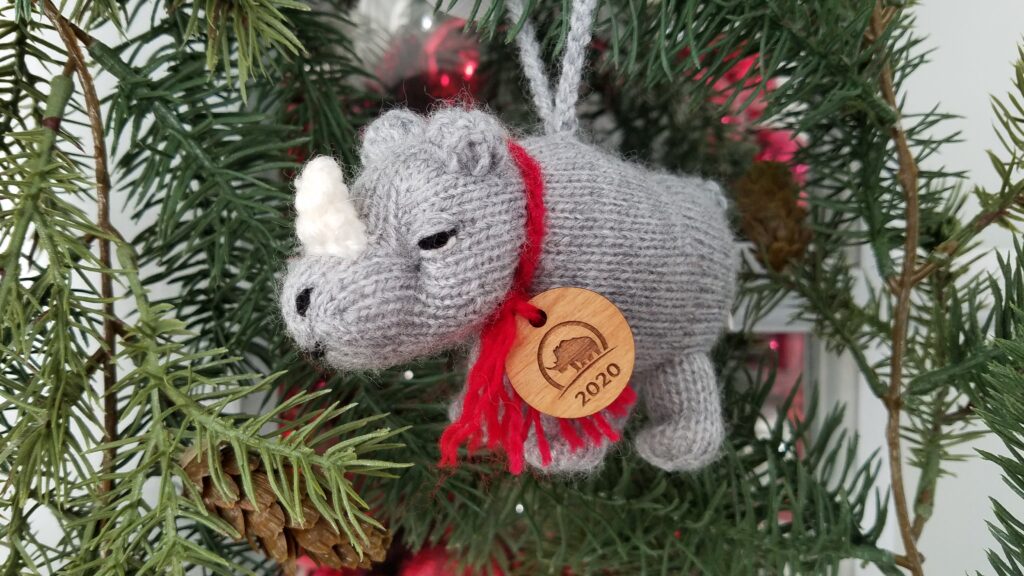 Get our limited edition 2020 Holiday Ornament while it lasts! These hand knit rhinos are going fast, so order yours before they're gone. Now officially SOLD OUT – but there are plenty more options in our shop.
Do your holiday shopping at our rhino shop. We have a large selection of Team Rhino apparel, jewelry, and stocking stuffers – we even have a new 'Keep the Five Alive' mask. And from now until Dec 10th, water bottles are 25% off and we'll include a sticker with every purchase! 
See something you'd like as a gift? Share the link with your friends!
Start a fundraiser
Maybe you can't donate, but you might know people who can. These days people are getting very creative with their fundraisers for conservation. It seems there's no limit to what you can do – even virtually!
More Ways to Give
There's no wrong way to do good on Giving Tuesday, but if you'd like to help rhinos- there are plenty of ways! We are so grateful for your support for rhinos and appreciate any way you can contribute to their survival. Thank you Team Rhino! We are STRONGER WITH YOU!