Harapan The Rhino Arrives In Indonesia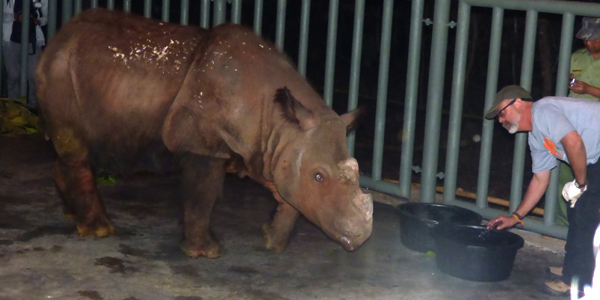 10,000 miles and 53 hours later,
Rhino Harry Arrives at Sumatran Rhino Sanctuary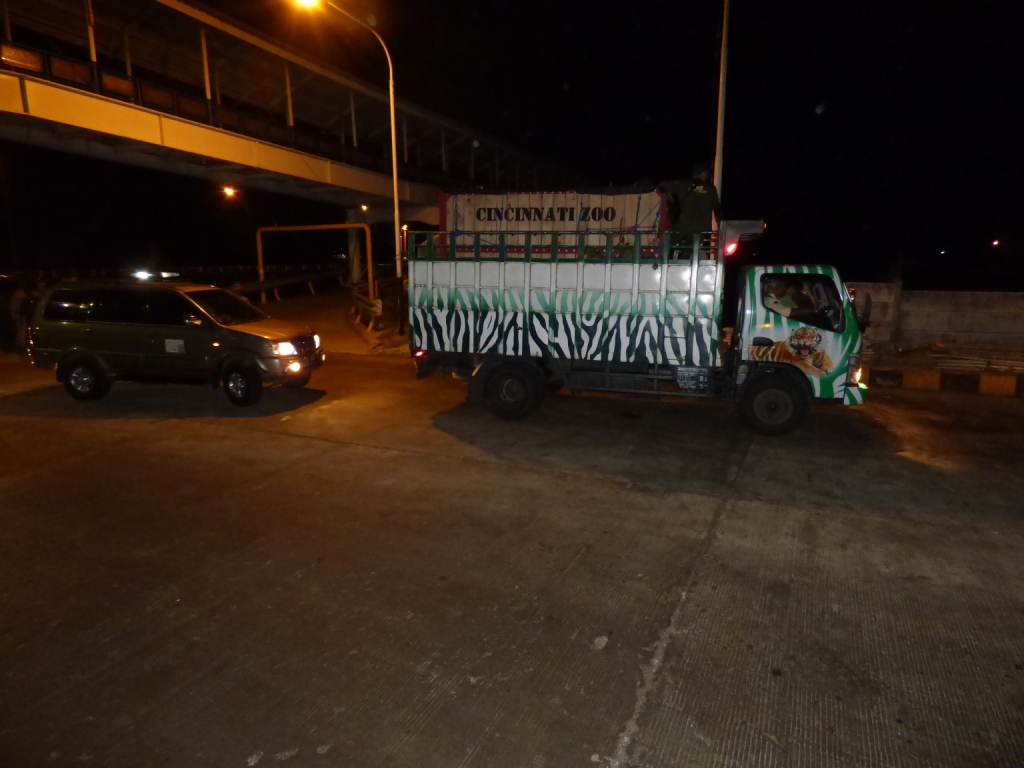 Harapan, the last Sumatran rhino in the Western Hemisphere, has joined the rest of his family in Indonesia. After a 10,000 mile, 53-hour journey from the Cincinnati Zoo & Botanical Garden, Harapan (a.k.a. "Harry") calmly emerged from his crate to his new home at the Sumatran Rhino Sanctuary (SRS), browsing around for a local snack.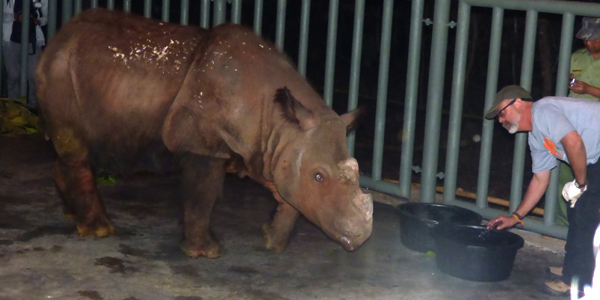 Harry left Cincinnati on Friday, October 30, making stops in Columbus, OH, Chicago, IL, Anchorage, AK, Hong Kong and Jakarta before being trucked and ferried to his final destination in Sumatra on November 1. A Cincinnati Zoo videographer documented Harry's historic journey and captured the moment when Harry backed out of his crate.
[youtube https://www.youtube.com/watch?v=tjlwmAUc3L0?rel=0]
Harry joins his big brother, Andalas, born at the Cincinnati Zoo in 2001, and nephew Andatu, born at the Sanctuary in 2012. Andalas moved to the SRS in 2007 and mated with Ratu, a now-12-year-old female, to produce Andatu. Ratu is now pregnant with a second calf and is due to give birth in May.
The SRS is a 250-acre rainforest complex in the middle of Way Kambas National Park in south Sumatra, now home to Harry, Andalas, Andatu and three females. The SRS rhinos are part of an intensively managed research and breeding program aimed at increasing the Sumatran rhino population. The animals reside in large, open forest areas where they can experience a natural habitat while still receiving state-of-the-art veterinary care and nutrition.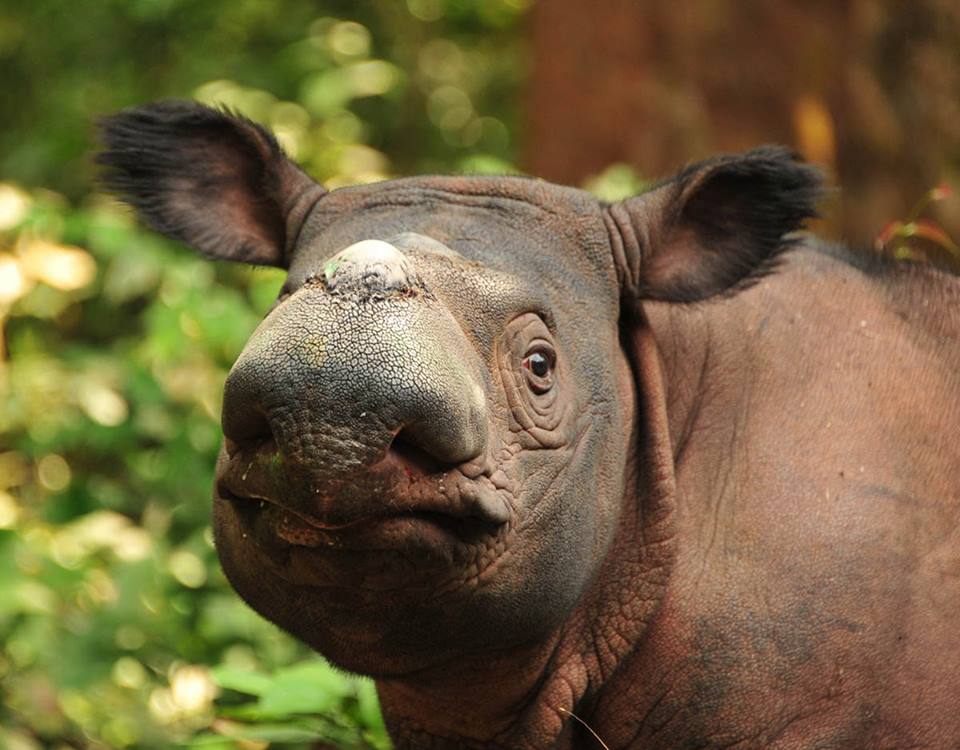 After completing a mandatory two-week stay in quarantine, 8-year-old Harry will have access to the forested areas at the sanctuary and will embark on his mission to mate to help save his critically endangered species from extinction. We have great expectations that once he settles in, Harapan, whose name means "Hope," will sire a calf with one of the three females at SRS.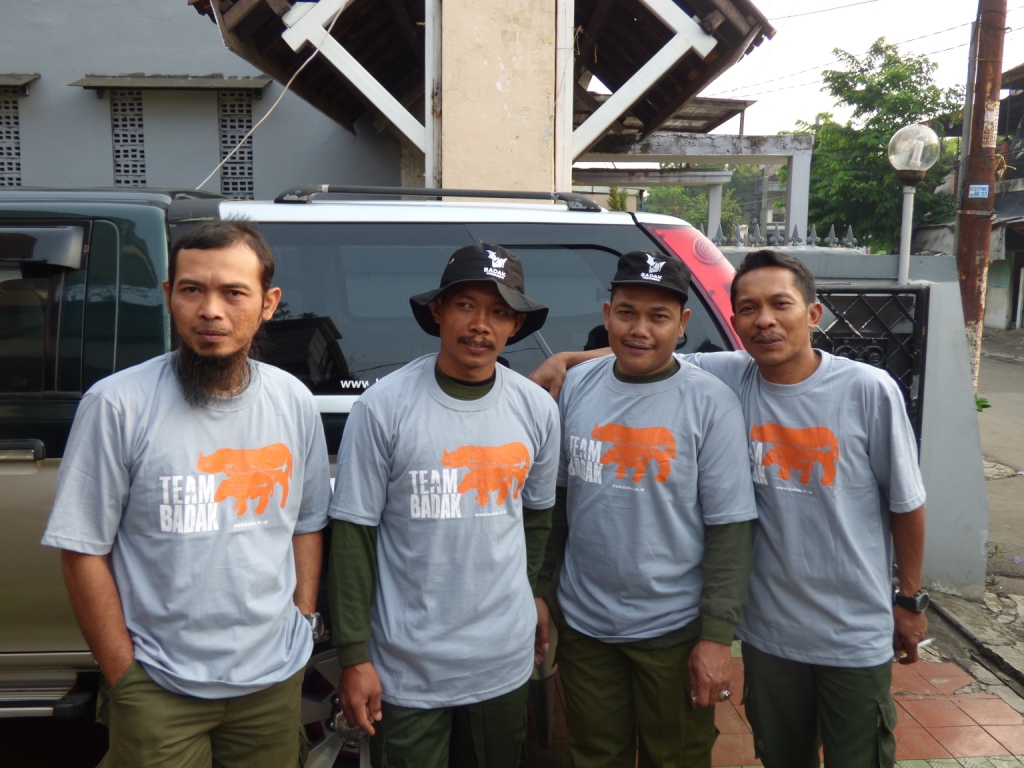 The Sanctuary, funded by the IRF and operated in partnership with the Rhino Foundation of Indonesia, has been abuzz with preparations for Harry's arrival, including renovating a portion of the facility to accommodate the new addition. You can help support the SRS by adopting Harry or one of the other rhinos, or by making a donation to help with renovation costs, which now total about $18,000.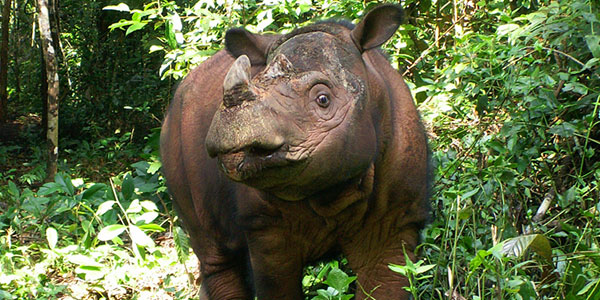 There are fewer than 100 wild Sumatran rhinos left in the world, and the species is only found in Indonesia. The few remaining Sumatran rhinos are scattered throughout three main fragmented rainforests on Sumatra, making it difficult for the animals to find each other and reproduce. The Sumatran rhino was recently declared extinct in the wild in Malaysia, dealing another blow to a species that's already considered the most critically endangered large mammal on Earth. Harapan's move is a testament to the international cooperation and coordination needed to save this critically endangered species. Adopt a Rhino Today!