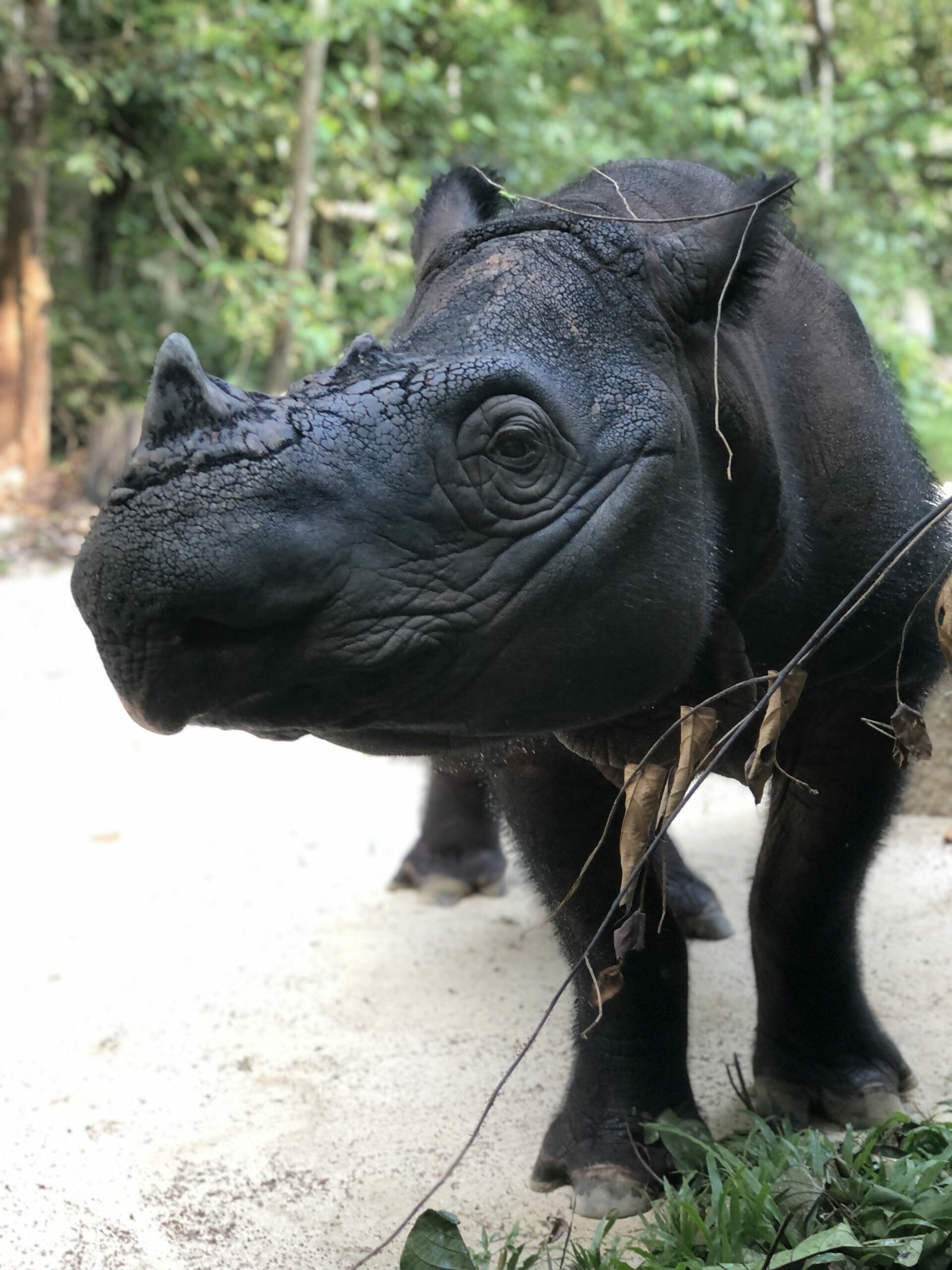 Harapan turns 15 today. IRF sat down with Paul Reinhart, Team Leader Ungulate Department at the Cincinnati Zoo & Botanical Garden, to talk about the big guy and his experiences with Sumatran rhinos.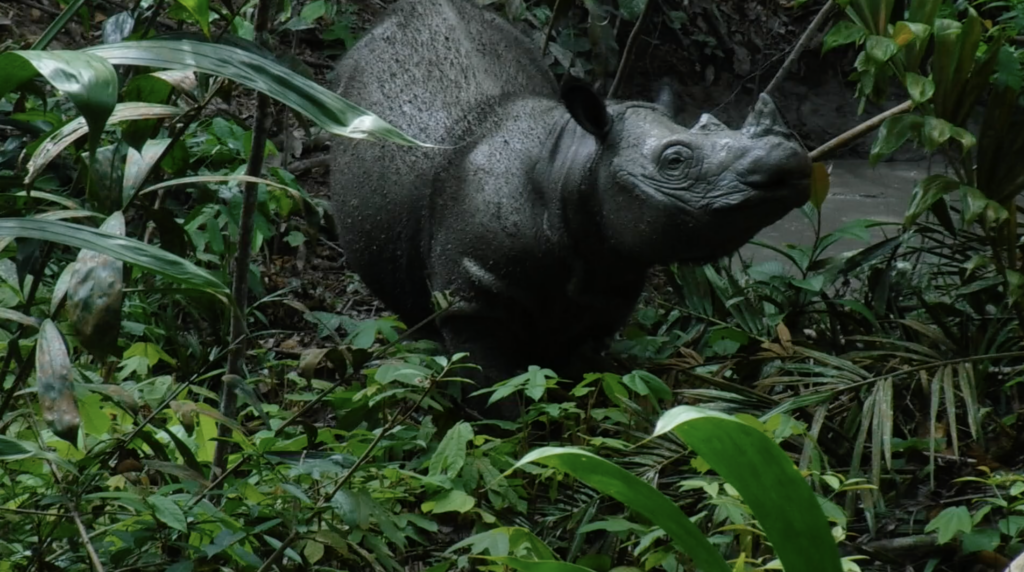 Paul is an expert in all things Sumatran rhinos. He recently returned home from Indonesia after attending the birth of Rosa's calf. Paul was on-hand with Scott Citino, Senior Veterinarian at White Oak Conservation to provide assistance to the vets at the Sumatran Rhino Sanctuary (SRS) if needed during the birth or postnatal care.
This was not the first birth that Paul has attended. In fact, Paul has been part of every captive birth of a Sumatran Rhino since 2001. That includes the births of Andalas and Harapan at the Cincinnati Zoo & Botanical Gardens as well as Andatu, Delilah and the new calf at the SRS.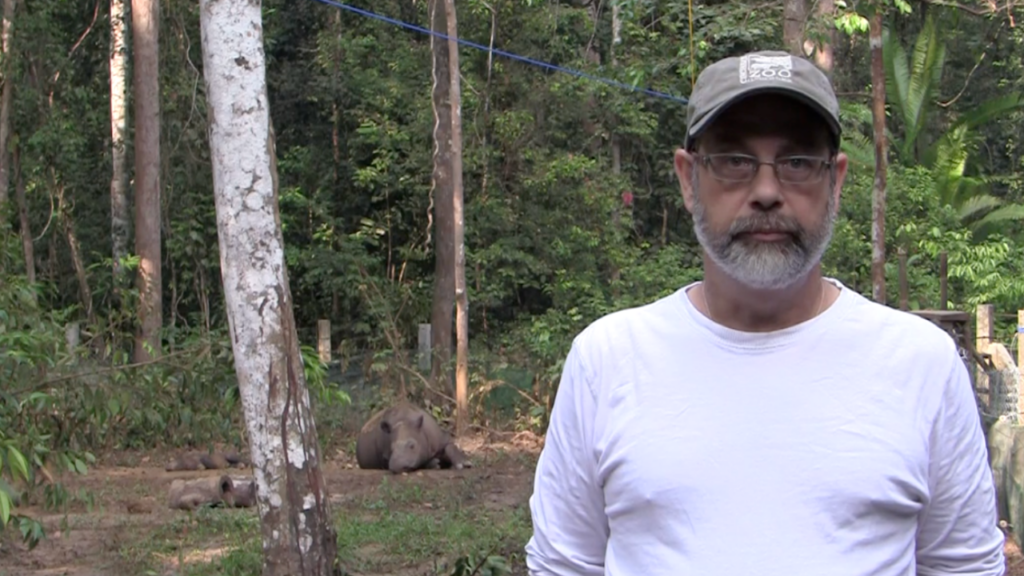 Paul fondly remembers them all and has also had the opportunity to get to know the other residents at the SRS – Bina, Rosa and Ratu. He was very excited to learn that Andatu was the father of Rosa's calf and that Andalas is now a grandfather. "Three generations are now at the SRS," he noted.
Paul was also looking forward to seeing Harapan, or Harry as he is fondly called. It is true that Harry has a large fan club all around the world, but Paul has a special relationship with him. When Harry was being prepared to make the 10,000 mile, 53-hour journey to the SRS, Paul worked with him to get comfortable with the crate that would be his home for the journey.
Paul accompanied Harry throughout the journey and recalls that he took the stressful trip in stride. "He became a little antsy at the times of day when he would normally be out for a walk, but handled the travel extremely well."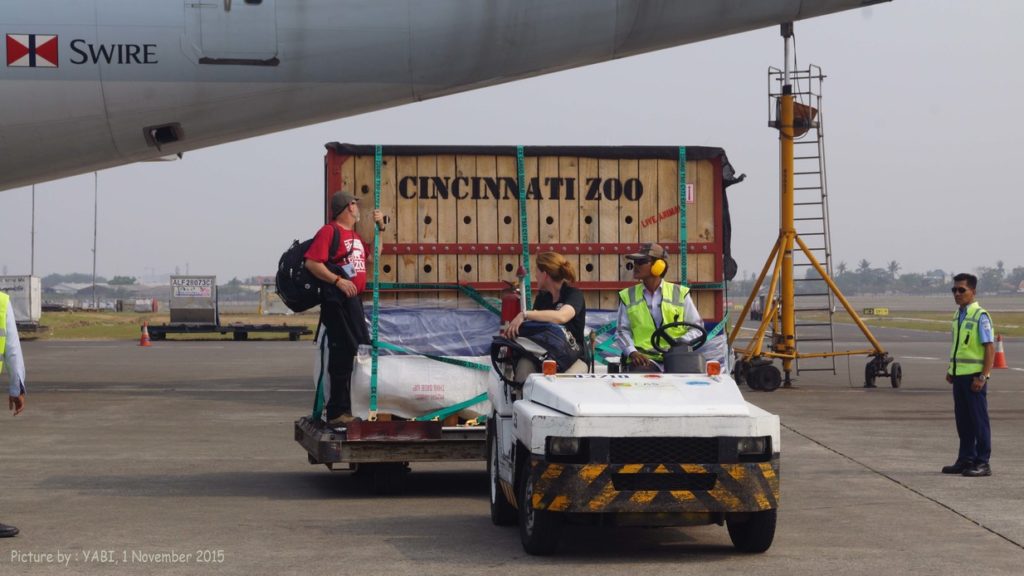 One of IRF's favorite stories about Harry is when he first arrived at the SRS. Everyone expected him to take some time to adjust, but Harry immediately helped himself to some of the available food in his new semi-wild enclosure. "He did come back to the pen to check on things on a regular basis," said Paul. "This made it easy for the keepers to check on his health."
Paul checked on Harry during his trip to the SRS. "He is doing very well. He looked great, healthy and active."
Paul has more than 40 years of experience with a variety of animals. He still and always will have a special place in his heart for Sumatran rhinos. "I am getting older and thought this may be my last trip to the SRS and to see the rhinos," he said. "Upon returning though, I thought if Delilah gets pregnant soon, I definitely want to be there for that!"
Harapan's name means hope. The potential for Delilah to breed gives us hope. Rosa's new calf gives us hope. Paul's passion and dedication gives us hope. The commitment from the Indonesia Ministry of Environment and Forestry gives us hope. The dedicated keepers, vets and operational staff at the SRS gives us hope. The long term partnerships with Yayasan Badak Indonesia (YABI), Taman Safari and others gives us hope. The support we receive from you to continue these essential programs gives us hope.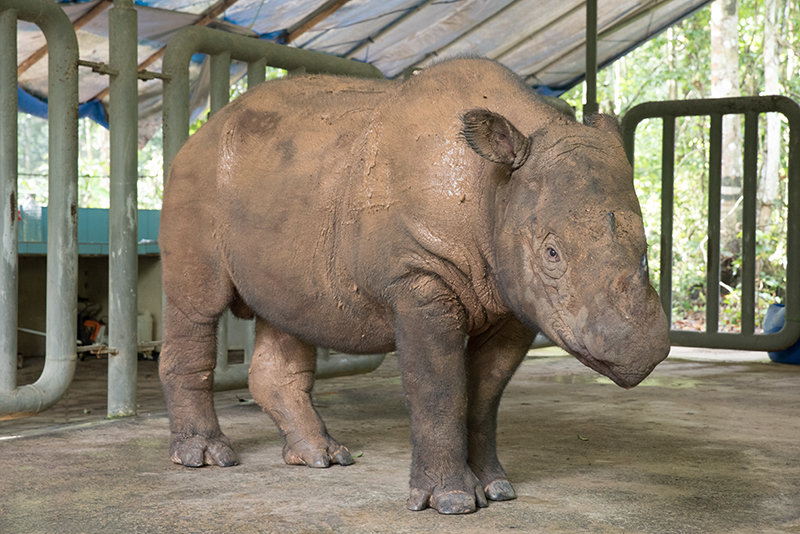 Happy Birthday Harapan! Thank you for inspiring the world to help save the Critically Endangered Sumatran rhinos for future generations. If you would like to wish Harry a Happy Birthday, please leave a message in the comments below.
You Can Help Care for the New Baby!
Sumatran rhinos need your help to survive. Make a donation to the International Rhino Foundation in support of the Sumatran Rhino Sanctuary today. Your donation will provide veterinary and husbandry equipment to care for the rhinos including medications, staff salaries, and food for the rhinos as well as materials to renovate and expand the sanctuary when necessary.