Cinco de Rhino Takes the Party Online
For the last several years, May 5th has been celebrated as Cinco de Rhino, a day when Team Rhino would gather their friends and families for a party while raising funds for rhino conservation. In this time of social distancing, we invite you to continue this tradition with a slight twist…
In one week, we will go online to party like a rhino!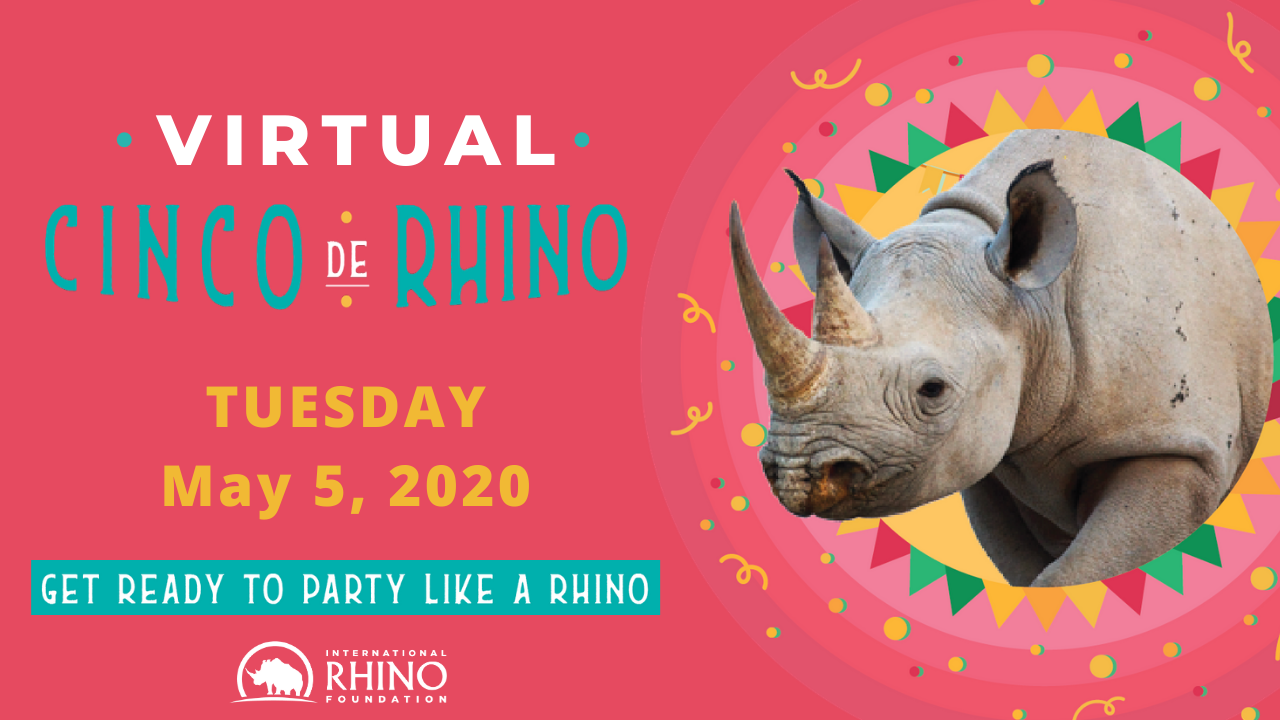 We invite you to join us on Tuesday, May 5, 2020 for our first Virtual Cinco de Rhino celebration and have created a toolkit with tips and ideas to throw a virtual happy hour, play games, host watch parties, share fun facts about rhinos, and raise money for conservation, using Zoom, Google Hangouts, Facebook Live, Skype, Facetime, House Party, or other platforms.
Get your Cinco de Rhino toolkit here!
Whether you're hosting your own Cinco de Rhino or not, you're welcome to join IRF online for our day of activities. Here's our online schedule for Tuesday, May 5th – we hope you can make it to our events and take a little time to enjoy yourself, celebrate rhinos, and raise a little awareness to help keep them protected.
Cinco de Rhino Schedule of Events – Tuesday May 5, 2020
*All times below are in EST, many can be viewed LIVE on our Facebook page. Some events will also be available to watch via Zoom – note that each event has a different Zoom link*
9:00 am – India talk with Dr. Bibhab Talukdar. LIVE on Facebook, or join us on Zoom here.
Join us bright and early for a discussion about rhino conservation in India, IRV2020, and the impacts of COVID 19 with IRF's Asia Program Coordinator, Dr. Bibhab Talukdar.
10:00 am – Africa talk with Elise Serfontein. Watch party on Facebook.
We'll host a watch party of a previously recorded interview with Elise, Founding Director of StopRhinoPoaching.com in South Africa. Elise will be talking more about the cause we're all partying for today – supporting the needs of rangers in South Africa impacted by COVID-19.
1:00 pm – LIVE reading of 'One Special Rhino.' LIVE on Facebook, or join us on Zoom here.
Since 2012, students at the P.S. 107 John W. Kimball Learning Center in Brooklyn, New York have been fundraising for Cinco de Rhino with spare-change drives and lemonade stands. They even wrote, illustrated and published a book about Andatu, the first Sumatran rhino born in captivity in Indonesia. Due to COVID-19, this will be the first year the PS 107 students won't get to hold a Cinco de Rhino fundraiser, so we've invited a few of them to join us in a special live reading of "One Special Rhino: The Story of Andatu."
3:00 pm – Talk with IRKA President, Joe Hauser. LIVE on Facebook, or join us on Zoom here.
We catch-up with President of the International Rhino Keeper Association, Joe Hauser who is also the Assistant Curator at the Buffalo Zoo and the studbook keeper for the North American collection of greater one-horned rhinos. We'll be talking with Joe about the momentous birth Buffalo Zoo had last year.
4:00 pm – Zen moment watch party. Playing on Facebook.
Take a moment out of your day for a break. Take a deep breath and relax with comforting music and rhinos.
5:00 pm – Kick off toast to virtual happy hours. LIVE on Facebook or join us on Zoom here.
It's 5 o'clock right here. We want to thank you for hosting Cinco de Rhino happy hours and get the evening started with a toast from IRF to you.
6:00 pm – Rhino Bingo. Get your virtual Bingo cards, then meet us in our Zoom Bingo Room to play, or follow along on Facebook.
It's the Bingo game you know and love, except you call out "RHINO!" To get your virtual bingo card go to https://www.bingomaker.com/ starting at 5:30 pm EST on May 5th and select join a game. Use game title: Cinco de Rhino Bingo and password: 2020cinco. Game will start at 6:15 EST.
7:00 pm How to Draw a Rhino with Joe Wos of How to Toon. Watch party on Facebook.
Joe Wos of How to Toon loves drawing rhinos. He will show you how to draw a rhino and he created a special rhino maze for us that you can download here.
8:00 pm Rhino Trivia and West Coast Toast. LIVE on Facebook, or join us on Zoom here.
It's finally 5:00 for our friends on the West Coast so cheers to you and welcome to Rhino Trivia! You can play on your own or compete in teams – we've got questions for all levels of rhino-enthusiast so join us and test your rhino knowledge!
9:00 pm Indonesia talk with Inov. LIVE on Facebook, or join us on Zoom here.
By this time, it will be 8am on May 6th in Indonesia! We hope you can join us for our final live event of the evening. We'll be talking with IRF's Indonesia coordinator, Inov, who oversees our Javan and Sumatran rhino conservation projects, working directly with our field partner YABI. Inov and will be giving updates and answering questions about field programs, Rhino Protection Units, and the Sumatran Rhino Sanctuary. 
11:00 pm A Special Good Night From IRF. Playing on Facebook.
As a special thank you to for your support and to end this year's Cinco de Rhino, we have a goodnight lullaby with some of our favorite photos of rhinos.
We hope that Team Rhino will come together for some fun, outreach and to raise funds at this critical time for rhinos and the people that protect them.
As always, when we party, we party for a cause. During this one day, we're trying to raise essential emergency funding for the people and organizations who are protecting rhinos during the crisis. Funds will be used to support salaries and health and safety needs for the dedicated men and women who continue to ensure that rhinos and other endangered species will survive.
If you'd like to help with a donation, you can do so at any time. We've also got fundraising tips and suggestions to host your own virtual Cinco de Rhino fundraiser in our toolkit.
Whichever way you're celebrating, we hope you have a great time!