Celebrate 5/5 by Doubling Your Donation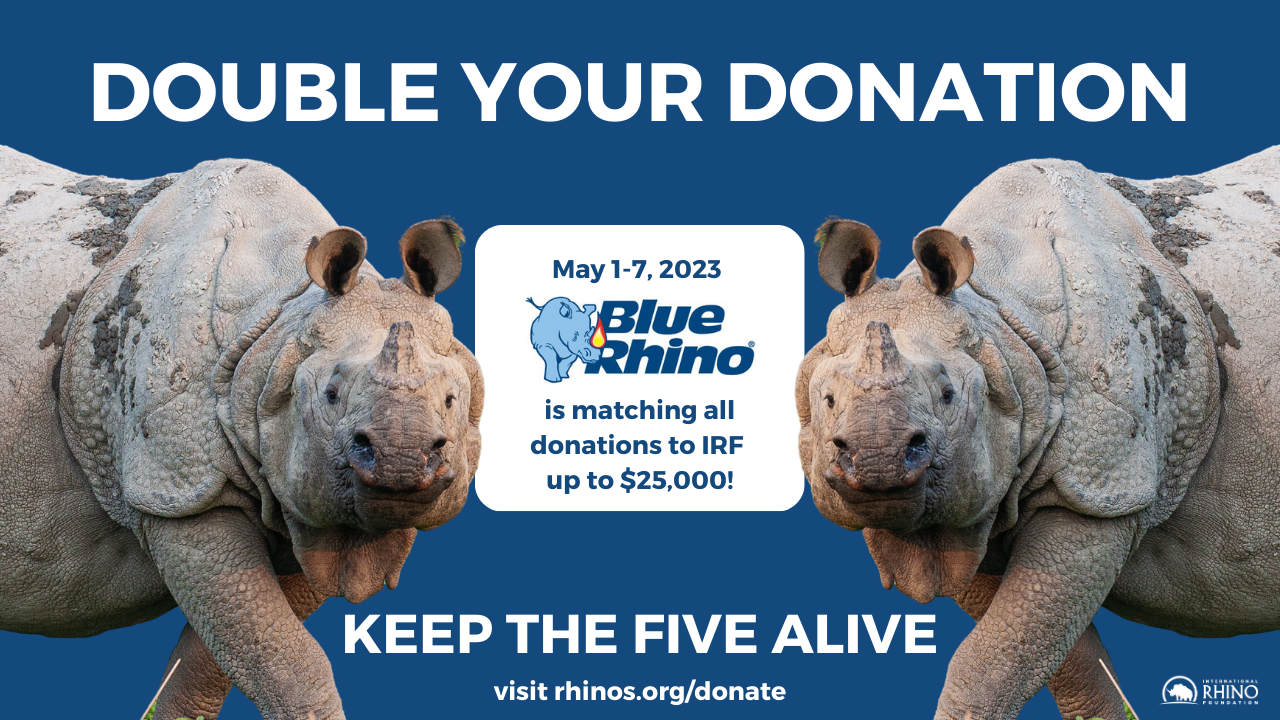 We're celebrating May 5th (the 5th day of the 5th month) by raising awareness about the need to protect rhinos and their habitats – and by raising $5,000 to protect each of the 5 rhino species. That's $25,000 total. 
To celebrate 5/5, our presenting sponsor Blue Rhino has agreed to match up to $25,000 in donations this week. Gifts made May 1-7, 2023 will go twice as far and make double the impact for rhinos!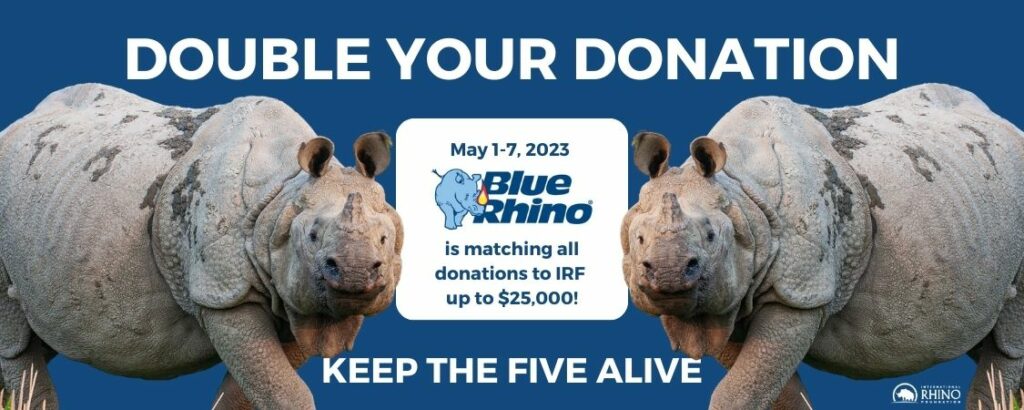 At the beginning of the 20th century, the worldwide rhino population numbered 500,000 animals. A hundred years later, only 26,000 survive. Illegal poaching for horn has decimated rhino populations, with at least 1 rhino killed every single day in Africa. Habitat loss and fragmentation caused by ever-increasing human populations also poses a severe and growing threat.
If these trends continue, we could lose most of the world's rhinos within our lifetime – along with the savannahs, grasslands and rainforests that rhinos and many other species call home.
With your help, the International Rhino Foundation partners with local governments and communities throughout Asia and Africa to stop poaching and habitat loss and to protect all five rhino species.
Can you help us Keep the Five Alive by donating $5, $50 or $500 today?
Despite the dire threats rhinos face, there is hope. The greater one-horned rhino is a success story – a species that has recovered from fewer than 100 individuals in northern India and the lowlands of Nepal to over 4,000 animals today, thanks to strict protection and conservation measures.
In India and Nepal, regional and national-level government agencies have worked together with communities and organizations, including IRF, to prioritize rhino conservation and to ensure that conservation benefits local people. Together we have expanded rhino ranges and reintroduced rhinos to protected areas from which they had disappeared, removed invasive species and replanted native grasses to increase usable rhino habitats, improved protected area security, strengthened investigation and enforcement of wildlife crime, and created environmentally-friendly job opportunities for local people. The result is a rhino population that has doubled in just a few decades!
The greater one-horned rhino's recovery provides a blueprint – and hope – for the four other rhino species. It's not too late to save rhinos from extinction.
Every dollar you donate will be doubled, and every dollar you donate will make a difference.