August Rhino Champion: Conservation Scientist Dr. Michele Miller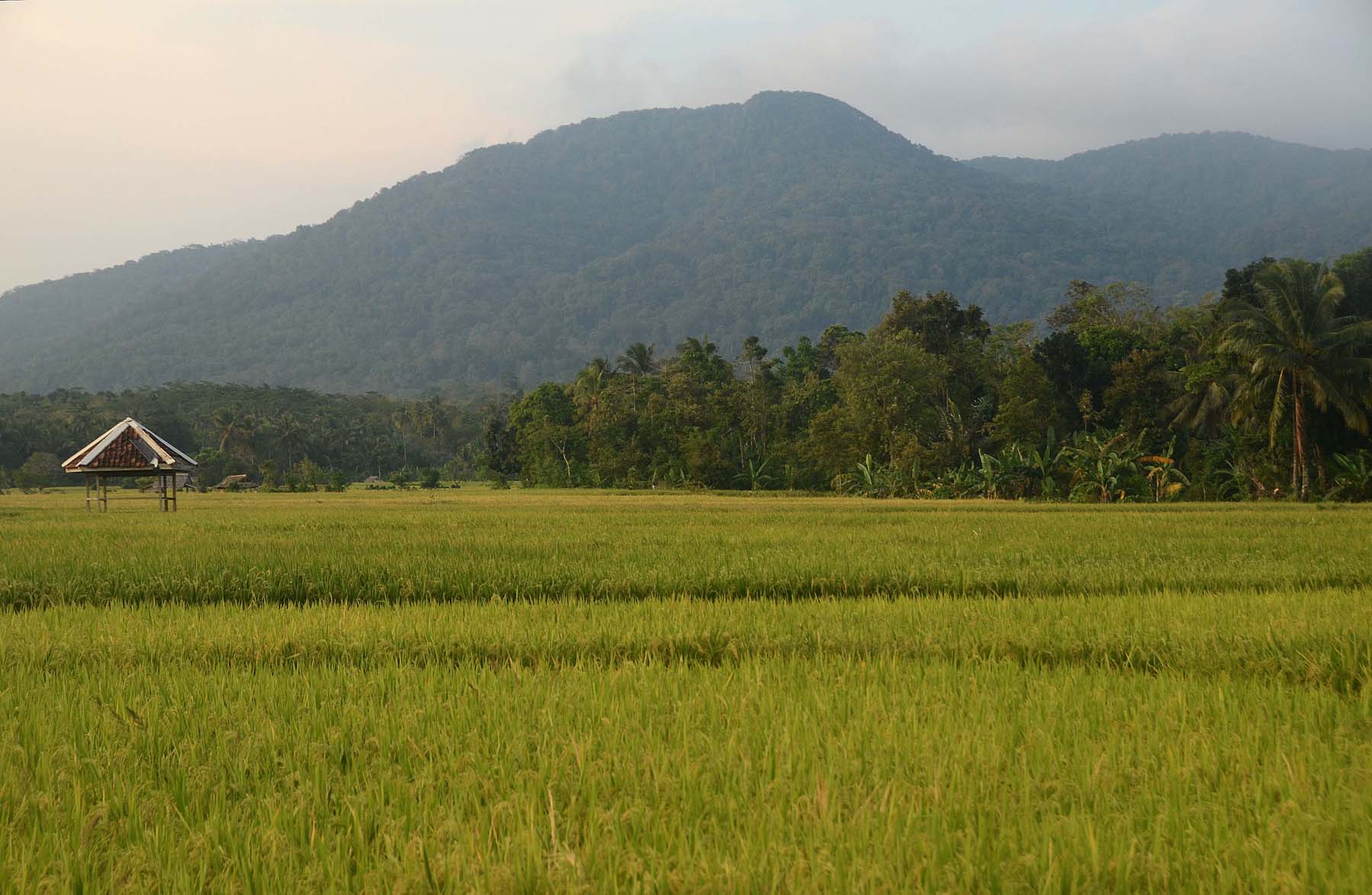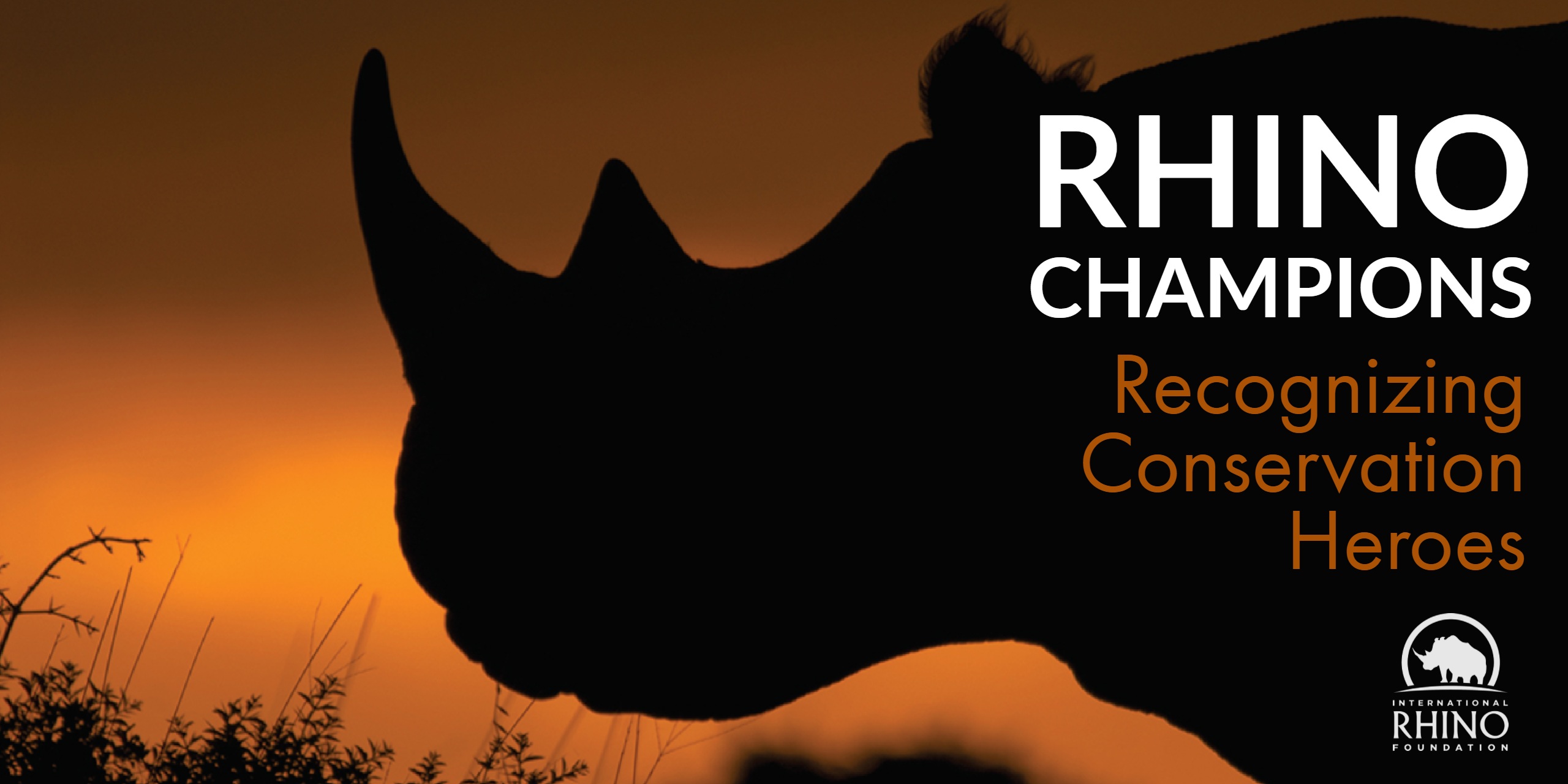 We are continuing with our Year of Rhino Champions!  This month, we introduce you to Dr. Michele Miller – a conservation scientist working with wild rhinos in South Africa.
Michele received her MS and PhD in Immunology, and DVM from the University of Wisconsin-Madison, and Masters' in Public Health (MPH) at the University of Florida-Gainesville. She is also a diplomate of the European College of Zoological Medicine. She did her post-doctoral training at San Diego Zoo, then went onto work at several zoos in the U.S. (Los Angeles Zoo, Busch Gardens, Disney's Animal Kingdom, Palm Beach Zoo), including being a Veterinary Manager at Disney's Animal Kingdom. She moved to South Africa in 2013 and is currently the NRF South African Research Chair in Animal TB at Stellenbosch University, although she is based full-time in Kruger National Park. Michele is actively involved in wildlife research, particularly focusing on TB, immobilization physiology and immunology.  She works with veterinarians at a number of zoos and private facilities around the world.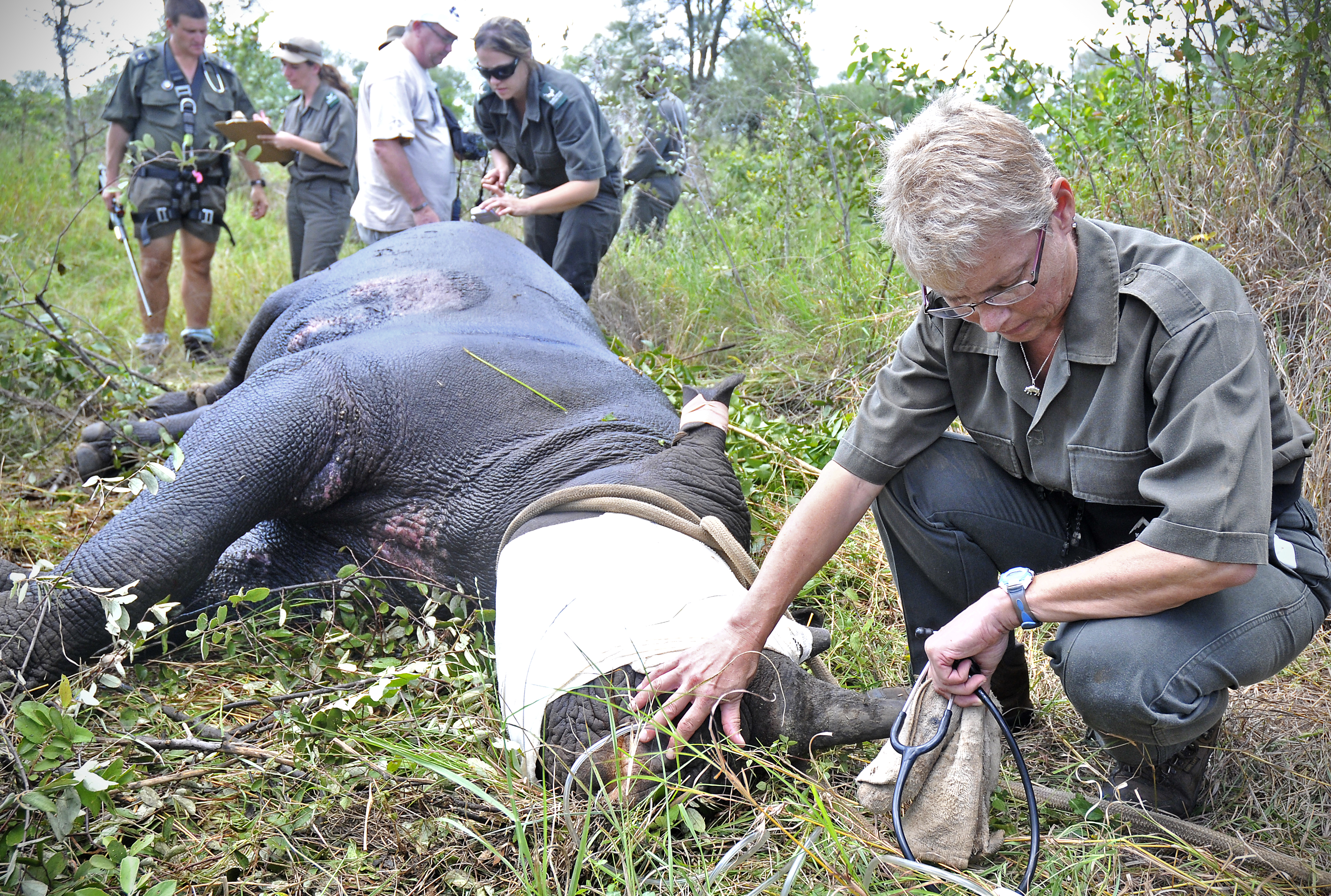 How did you get started in your career?
I wanted to become a wildlife vet, and specifically work with African animals, from childhood. I had a rural upbringing in Wisconsin so focused on large animal medicine during my PhD and veterinary school studies, since we there were few opportunities to work with wildlife in the 1980's in that area. I was accepted for a summer program at the San Diego Zoo based on my interest in research, which led to a post-doctoral fellowship after graduation from veterinary school. This eventually resulted in jobs as a clinical zoo veterinarian and eventually to South Africa full-time.
Did you always want to work in conservation medicine?
Conservation medicine was not a common term when I first started my career, but in essence, yes, I always wanted to be involved in wildlife conservation specifically as it pertained to health and disease, at both an individual and population level.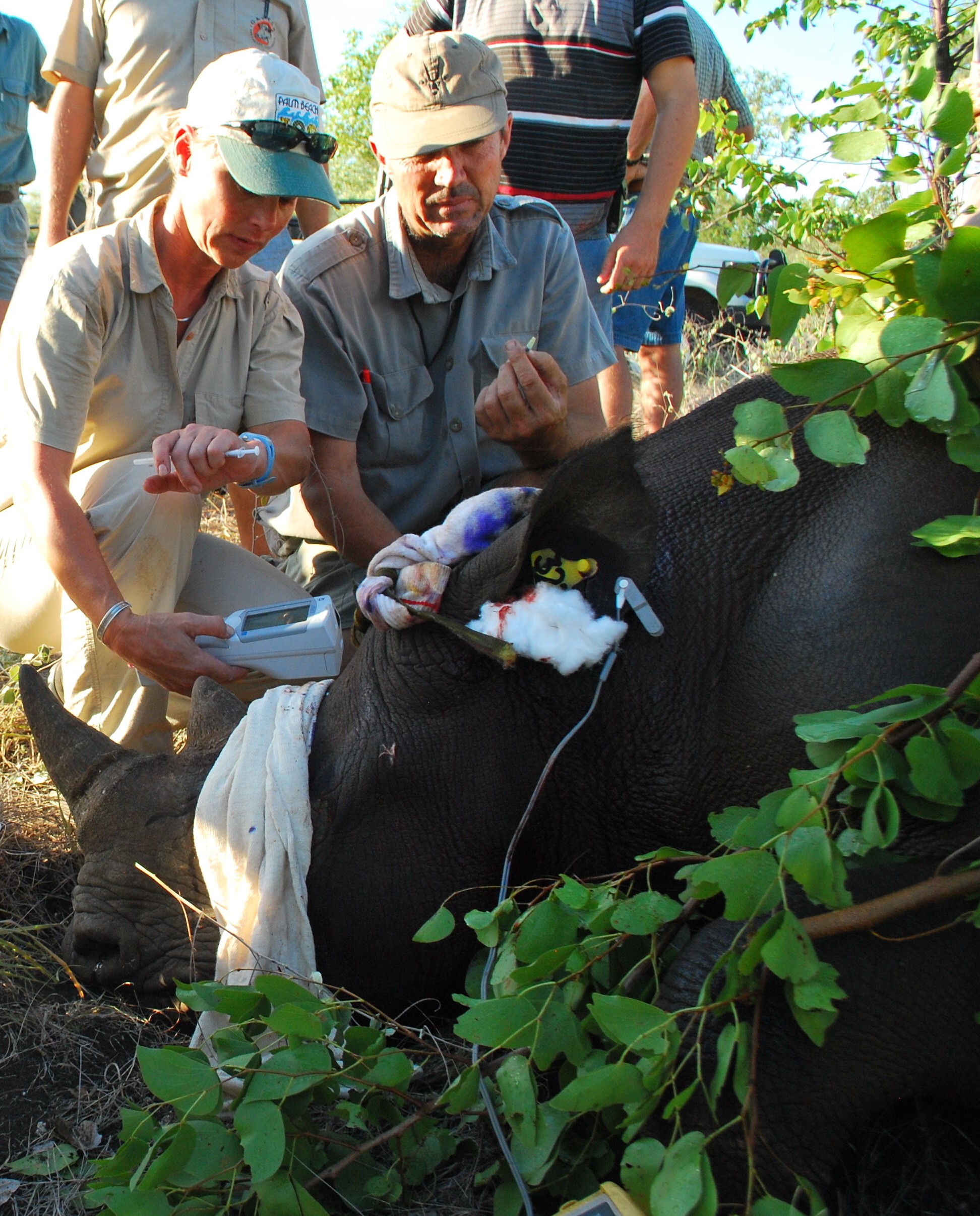 Why did you choose rhinos to focus your research on?
I've always enjoyed the challenge of working with large animals, and especially since we know so little about the megavertebrates, like elephants, hippos, and rhinos. As a child, I had a favorite book "Ruppert the Rhinoceros", and as I got older, I began to recognize all the challenges that these species face both in captivity and the wild. I believed that I could use my combination of veterinary clinical and research skills to contribute in a small way to improving their existence.
What are the main challenges you face in studying rhinos?
The main challenges are those facing anyone working with large, wild animals. There are risks to both people and animals when capturing and handling these species. In zoos, these can be overcome through training animals to voluntarily participate in many behaviors such as blood collection or ultrasound exams. However, with free-ranging rhinos, we need to immobilize them which brings its own set of risks. We have been actively investigating how the immobilizing drugs affect rhinos along with collaborators in South Africa and the USA, to minimize complications. Also, when it comes to developing diagnostic tests, for example for tuberculosis, we have pioneered new field techniques and laboratory tests to improve our ability to detect and manage disease. By increasing our knowledge of these species, we will be able to develop more effective management strategies for their survival.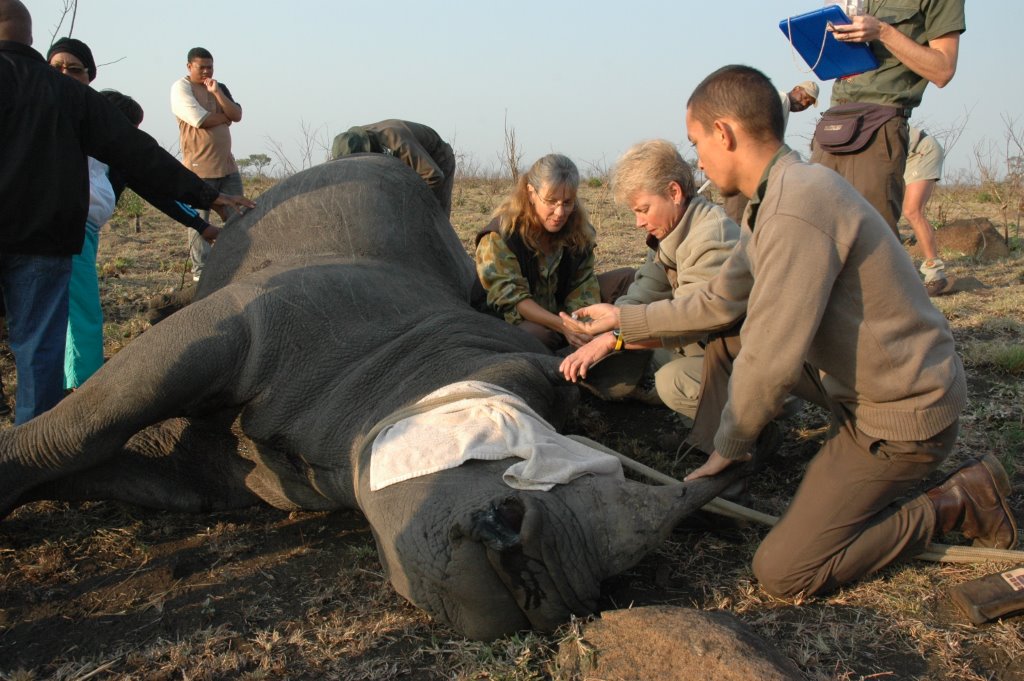 What are some biological threats that rhinos face?
The long-term survival of rhinos relies on humans stopping the unsustainable poaching and habitat destruction. Efforts to safeguard and build rhino populations require movement of rhinos, sometimes to fairly different environments. However, this puts the animals at risk of succumbing to pathogens and environmental changes, to which they may be naïve or poorly adapted. In addition, some rhinos in Kruger National Park, which is endemic for bovine tuberculosis, have been found to be infected with Mycobacterium bovis. Since bovine TB is a controlled disease, this discovery has resulted in a quarantine of the Kruger population and restricts movement of rhinos out of the park. Although the disease itself may not necessarily be a direct cause of death, the inability to move rhinos to safer locations presents a significant risk of death due to poaching. The complex interactions of direct and indirect risks may result in significant consequences to the conservation of these species.
During your time studying rhinos, what has surprised you the most about them?
Probably their intelligence, especially black rhinos. They can learn to participate in voluntary procedures that facilitate their care, such as blood collection or training to stand in a crate for transport. I'm always surprised to see the adaptive responses of free-ranging rhinos that are translocated to a different location and environment, and how they cope with these significant changes.
How has partnering with IRF helped furthered your research goals?
I have been very fortunate to be part of several grants from the IRF to investigate issues ranging from the factors affecting adaptation of free-ranging white rhinos to bomas used as a step before translocation (as background, up to 20% of individuals don't adapt and have to be released), developing a scoring system for monitoring newly captured rhinos placed in bomas, the physiological impact of positioning of immobilized rhinos for example when transporting rhinos upside-down under a helicopter, and investigating how differences in gastrointestinal microbiomes may impact susceptibility to disease syndromes. IRF not only provides financial support for research but also the awareness and education necessary to make a difference for the future.
What do you feel is most important contribution our readers can make to help save rhinos?
Educate yourself about the issues surrounding rhino conservation, get involved in activities to promote awareness, and contribute to those organizations, such as IRF, that are making a difference.
Thank you Michele Miller for sitting down with us for this interview. Her work is extremely important for rhino safety and on-the-ground conservation efforts and we are proud to name her one of our Rhino Champions! To see more of our Champion series, click here.