A Shameful Record: Offical 2013 South African Rhino Poaching Stats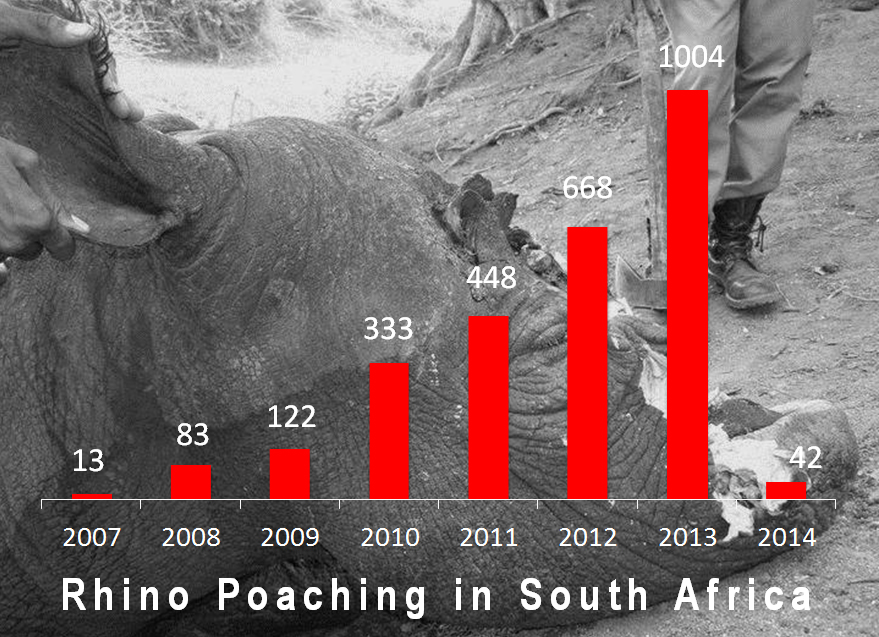 The numbers are in. The government of South Africa recently announced that a record 1,004 rhinos were poached last year, up from 668 animals in 2012. (And these are only the deaths we know about.) Today, three weeks into the year, the loss stands at 42 animals — two killings per day.


Of late, news media have focused on the Dallas Safari Club's auction of a permit to kill a black rhino in Namibia, an event that has brought forth a range of emotions and arguments. It's a complex and multi-faceted issue, one that prompted us to write a statement that represents our perspective. The $350,000 that was raised by the auction will go to support rhino conservation in Namibia, which holds a black rhino population of about 1,700 animals — one that has been stable for the past decade or so. While we don't agree with the tactics of the Dallas Safari Club, we deeply respect Namibia's efforts to maintain a healthy rhino population, as well as raise money to conserve and protect its rhinos.
But let's talk about the critical issue that has been being sidelined by the uproar over the Dallas Safari Club auction: rhinos are under siege. We stand to lose a century of rhino conservation success in Africa in the next few years if we can't stop, or slow, rhino poaching now.
Organized, international crime syndicates carry out rhino poaching. Horns are smuggled to the main consumer countries, Viet Nam and China, where they are primarily used as a status symbol and for "health" reasons.


Mozambique, which shares a border with South Africa, is both an exit point for smuggled rhino horn and a base of operations for poachers who cross the border to kill rhinos. Both South Africa and Mozambique need to make a serious commitment to get their borders under control to stop the trans-boundary killing. At least 606 of South Africa's rhino losses last year occurred in Kruger National Park, which lies on the border of the two countries.
Most of the actions that need to take place to stop rhino poaching in countries like South Africa and Mozambique are dependent upon the political and economic realities of these range countries (national commitment vs. corruption, wildlife-based land-use vs. subsistence farming, etc.). These are make-or-break factors that will be key in determining the future for rhinos.
IRF has never been an organization that shies away from challenges, and we're doing our part. Thanks to you.
Your generous funding has helped provide training and equipment to rangers in nearly 20 under-served areas in South Africa — ones that needed a little boost in order for rangers to be able to adequately protect their charges.
You have helped IRF to secure information from reliable sources that can help to deter poaching before it occurs or track down the perpetrators of rhino killings, making sure they are arrested and prosecuted with solid evidence.
In Zimbabwe, you helped us to move rhinos from unsafe to secure areas in the Lowveld just after that country's poaching crisis in 2008-2009. Because of these efforts, and through intensive protection and monitoring, these rhino populations are slowly recovering. The Lowveld now holds nearly 90% of Zimbabwe's rhinos.


Join us in saying, "Enough!" We will be expanding all of these efforts over the coming year to make sure that this horrendous loss is stopped or, at the very least, slowed. In 2011, we launched Operation: Stop Poaching Now. You responded with big-hearted contributions. Now in 2014, we desperately need your help again. Please consider signing up for a monthly donation to help us do more to Stop Poaching Now.

Thank you for your support.