21 Things You Might Not Know About the International Rhino Foundation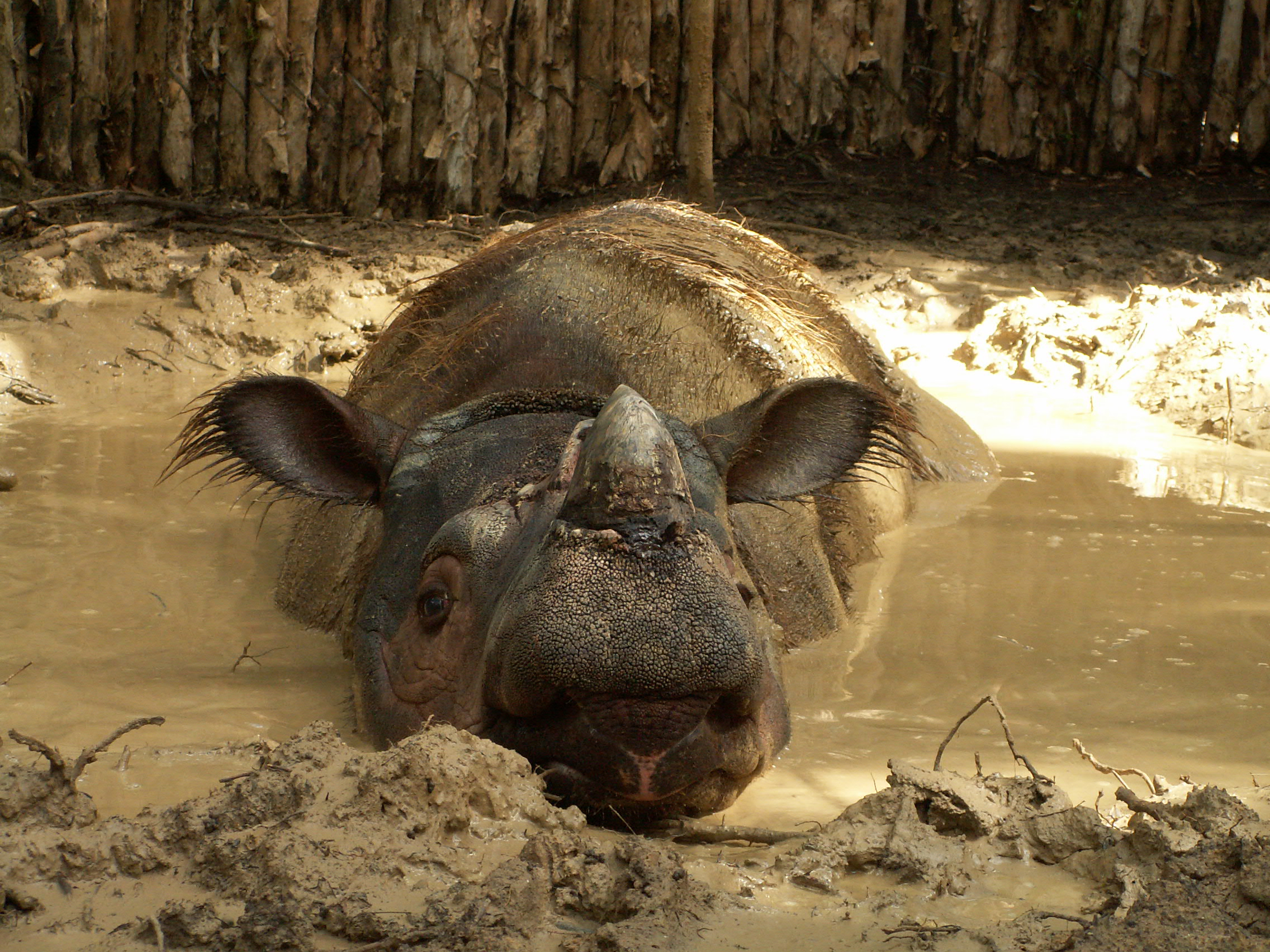 The International Rhino Foundation hasn't always been the International Rhino Foundation. During the late 1980s, Zimbabwe's black rhino populations were rapidly being depleted by intense, organized poaching. In 1989, a group of concerned individuals and institutions founded the International Black Rhino Foundation to assist in the conservation of black rhinos in Zimbabwe, both through efforts in the wild and in zoos. Then, in 1993, in response to the escalating crisis facing all five rhino species, the International Black Rhino Foundation evolved into the International Rhino Foundation and expanded its mission to encompass all five species of rhino.
IRF is committed to being lean (but not mean). We maintain only 2.5 paid staff members in the U.S. Much of the administrative and creative support for IRF is donated pro-bono by the generous institutions and organizations represented on the IRF Board. IRF's structure allows 93% of its funds to go directly to its field programs in Africa and Asia.
The IRF Administrative Offices are based in Fort Worth, Texas. Our legal and financial services are generously donated by The Bass Companies. IRF staff work from home offices in Virginia and Texas. These things combine to keep our overhead low.
The IRF Board of Directors consists of 17 individuals from three continents and many major conservation organizations. The Board meets annually to review IRF program impact and to set our short- and long-term strategy.
We believe that lasting conservation solutions involve a multitude of stakeholders – local people, communities, government agencies, zoos, conservation organizations, scientists, and others – in order to be effective. Our key partners in the field – including Yayasan Badak Indonesia, the Government of Indonesia, the Government of Assam, the Lowveld Rhino Trust, Save the Rhino, the Asian Rhino Project, WWF, and many others – share our commitment to creatively and collaboratively seek ways to work together towards our common goals.
IRF works to ensure that local communities living in closest proximity to rhinos are active partners in wildlife protection and reap direct benefits from conservation efforts. For instance, in Indonesia, our Rhino Protection Units are helping with a development program, primarily focused on cacao production, for local villages within the Bukit Barisan Selatan National Park buffer zone. To-date, more than 1,000 families from 18 villages have been trained (including several ex-poachers). Farmers who participate in the program receive cacao seedlings and training. In return, they sign a pledge not to encroach in park areas, and provide intelligence to the RPUs regarding illegal activities. In some areas, encroachment has already decreased by as much as 60%. Fifteen farmers are now actively volunteering with the RPUs as informants and providing information on potential poaching and encroachment activities. After participating in the training over the course of three years, average family income increases by 30 – 50%, which decreases the need for incursions into the forest to hunt wildlife decreases. This "win-win" situation combines protecting the Sumatran rhino and its ecosystem more effectively and efficiently and improving people's livelihoods.
Education is an important component of our community work. One of the most common challenges we face in trying to protect endangered species is that these animals often live in close proximity to humans who are unaware of the level of threat faced by certain species, and don't know how to help protect them, or why conservation is important. This is certainly true in Assam, India, where IRF and our partners, WWF and the Government of Assam, are working to increase the population and expand the range of the greater one-horned rhino. Past surveys have shown that many people living around Manas National Park know very little about wildlife conservation and the importance of Manas NP as a habitat for numerous threatened species. Since the most effective way to reach out to a community is often through its children, IRF's local partner, WWF, has launched a conservation education program in local schools around the fringes of the park.
IRF participated in the Convention on International Trade in Endangered Species (CITES) 2010 Conference of the Parties, to advocate for increased efforts to control poaching and illegal trade, and will participate in the Conference of the Parties in 2013 in Thailand. In 2010, the parties agreed to a number of positive rhino-related decisions to improve cooperative control of illegal trade both by source countries and countries which have been implicated in illegal trade, with the objective to put a stop to illegal trade altogether.
Just because we're called the International Rhino Foundation, it doesn't mean we only care about rhinos. IRF believes that by protecting rhinos, we can also ensure the survival of the other species that share their habitats. Our Rhino Protection Units in Indonesia monitor and protect numerous endangered species that live in the lowland rainforests along with Javan and Sumatran rhinos, including Sumatran tigers, Sumatran elephants, Malayan tapirs, leopards, fishing cats, and banteng, to name a few. In Bukit Barisan Selatan and Way Kambas National Parks, the RPUs are working to halt illegal trade in pangolin, tiger and elephant parts by infiltrating poaching gangs and arresting those trying to sell tiger skins and ivory.
IRF is extremely proud that two of our field staff have been selected as Disney Conservation Heroes. (This prestigious international award recognizes local people who make significant contributions to conservation in their communities.) Jackson Kamwi, Senior Rhino Monitor for the Lowveld Rhino Trust, was selected in 2009, in recognition of his commitment to protecting Zimbabwe's black rhinos and his heroic efforts helping to capture and relocate nearly 1,000 rhinos over the past two decades. Arief Rubianto, the leader of our Rhino Protection Units in Indonesia, was selected in 2007 for his years of work protecting Javan and Sumatran rhinos from poachers and habitat destruction.
Raoul du Toit, IRF's African Rhino Program Advisor and Director of the Lowveld Rhino Trust in Zimbabwe, was awarded the prestigious Sir Peter Scott Award for Conservation Merit from the IUCN Species Survival Commission. The Sir Peter Scott Award, the SSC's highest honor, is presented to individuals in recognition of significant and long term service to conservation through their work with the SSC or associated institutions.
Science is key to our ability to save rhinos. Since 1989, IRF has regularly provided grants for scientific work that is directly applicable to management, propagation and conservation of rhinoceros species in nature and in captivity. In 2009, IRF funded research projects on: 1) Radio frequency identification system for monitoring wild rhino populations; 2) Pan-African physiogeography and evolutionary history of the black rhinoceros; 3) Effects of acid-base, electrolyte, energy and cardiorespiratory imbalances during capture and confinement on boma adaptation in white rhinos; 4) Genetic estimates of Javan and Sumatran rhino population size and sex radio using fecal samples; and 5) Population genetic monitoring of Indian rhino in Assam: an evaluation of genetic diversity and population differentiation. A new request for proposals will be issued in 2013.
IRF believes that viable captive populations can be vital to the success of rhino conservation. Captive populations and programs are an insurance policy that is part of a diversified strategy for rhino conservation that maximizes options. We work closely with many zoos around the world that hold rhinos, to help improve management of captive populations and to generate research and data that is useful for managing wild populations as well.
IRF uses lots of different tools to provide our supporters with information from around the world. Check out IRF's Facebook page for frequent updates about important conservation news, and the IRF blog for first-person stories from the field.
Do you know a child who loves animals and wants to learn more about rhinos and other wildlife? IRF's website has some great features for kids and teachers, including rhino orgami, rhino cards, interactive maps, "make your own savannah", and rhino silhouettes and footprints.
We're incredibly lucky to have a strong, committed group of supporters who help IRF raise money for rhino conservation. IRF supporters have held birthday parties and bowling tournaments to benefit rhinos, have sold t-shirts, wine and cookies to generate funds for conservation, and have launched their own websites and Facebook campaigns.
IRF has received The Independent Charities Seal of Excellence. This seal is awarded to charities that have, upon rigorous independent review, been able to certify, document, and demonstrate on an annual basis that they meet the highest standards of public accountability, program effectiveness, and cost effectiveness. Of the more than 1 million charities operating in the US today, it is estimated that fewer than 5% meet or exceed these standards. We also have been awarded high ratings by Charity Navigator, comparable to the largest environmental non-profit organizations.
IRF's work is possible due to the generosity of our supporters. While most of our donors contribute cash directly to IRF, we are actually able to accept a variety of different types of donations, including: Old, unneeded vehicles from anywhere in the US. IRF receives the cash, our donors receive a tax deduction, and our management company does all the work. It's a pretty great system!Donations through the Combined Federal Campaign (Charity # 42511), the largest workplace giving program in the US. This means that federal employees can easily donate to IRF, either with a direct donation or a payroll deduction.
Through IRF's Legacy Club, a special group of forward-thinking supporters who have chosen to stand up for rhinos and their future by naming IRF as a beneficiary in their estate plans. Legacy Club members receive a personalized membership certificate and special publications, as well as invitations to events, and are recognized for their commitment.
IRF partners with a number of corporations and small businesses that are interested in educating their customers about conservation and generating proceeds for rhino protection efforts while also selling their products.
To generate more interest and awareness about rhinos, IRF held an "Endangered Feces" auction in December 2007 – auctioning off rhino poop from four of the five rhino species on eBay. This was easily the most unconventional project IRF has ever undertaken! But it captured people's imaginations and generated interest in rhinos all over the world. In the US, television coverage included 41 stories that reached at least 3.5 million people, including on CNN Headline News, on ABC and NBC national broadcasts, and on local channels. There were also at least 150,000 print and internet stories, including coverage by the Associated Press, USA Today, Forbes, Reuters, MSN, ABC, CBS, BBC, and others. And, there were more than 175,000 articles referenced to "rhino poop" and the IRF on Google.