2019 Has Been the Year of the Rhino in Buffalo, NY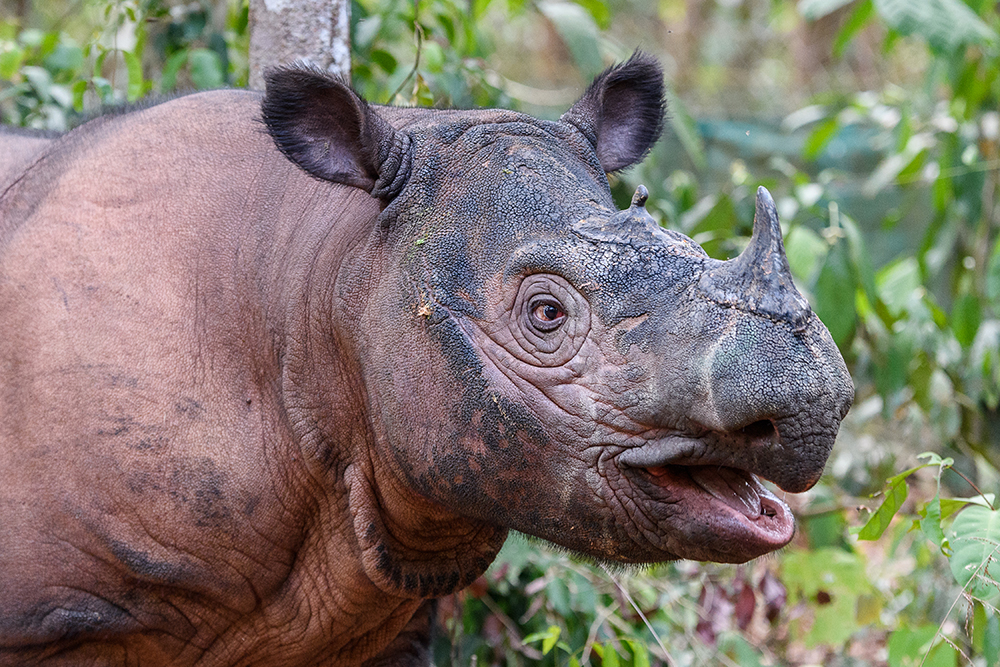 Buffalo Zoo Makes Significant Donation to Support Expansion of Indonesian Rhino Sanctuary
Through community fundraising events throughout 2019, the Buffalo Zoo has raised $13,500 to support the International Rhino Foundation (IRF) expansion of the Sumatran Rhino Sanctuary in Indonesia. In Indonesia, fewer than 80 Sumatran rhinos remain. The species is likely now the most endangered large mammal on Earth, with declines of more than 70 percent in the past 20 years.
2019 has definitely been the year of the rhino in Buffalo. It began with the birth of Mohan, a greater one-horned rhino, at the Zoo in June. Building on its success in artificial reproduction, Mohan is the fourth calf born to mother Tashi and her second via artificial insemination.
Buffalo Zoo Assistant General Curator Joe Hauser is also the President of the International Rhino Keepers Association (IRKA). Under his leadership, IRKA has worked to unite zoos across the country in support of the Sumatran Rhino Rescue Alliance of which IRF is a member. "I want to bring IRKA's mission to Buffalo because if we don't work together as a team across the world, then we will lose the Sumatran rhino," says Hauser. "Events like the ones we host in Buffalo are one way we can work together to make a difference."
Funds raised by the Buffalo Zoo helped to create a new deep well to provide water for the rhinos and staff as well as fire suppression systems. This is an important project as the weather has been dry lately in the area and the risk of fire is greater at this time. In addition, the donation provides for additional equipment to improve communications between staff and Rhino Protection Units in the field.
In 1996, IRF built the 250-acre Sumatran Rhino Sanctuary (SRS) in partnership with local NGO Yayasan Badak Indonesia, which translates to the Indonesian Rhino Foundation. Located in the heart of Way Kambas National Park on the island of Sumatra, the SRS is home to the only reproductively viable captive Sumatran rhinos in the world. The facility currently houses seven resident rhinos, three males and four females, including a male and female that were birthed there.
An expansion of the Sumatran Rhino sanctuary this year doubled the sanctuary's holding capacity for rhinos, improved security and expanded the infrastructure of the facility. This expansion enables the rescue of additional Sumatran rhinos and supports breeding to increase wild populations.
"I would like to thank the Buffalo Zoo staff and its supporters for such a wonderful gift to support the expansion of the SRS," says Susie Ellis, executive director of the IRF. "Actions taken like this give us and others hope for the survival of rhinos for generations to come."
"We were more than happy to work to raise these funds and we recognize it is what we must do to save species in the wild," said Norah Fletchall, President and CEO at the Buffalo Zoo. We have a mandate to not only provide exceptional care for the animals that call the Buffalo Zoo home but to also make a difference for their counterparts in the wild."
For more information on the Buffalo Zoo, please visit BuffaloZoo.org. For more information on IRF and the Sumatran Rescue Sanctuary, please visit https://rhinos.org/species/sumatran-rhino/