Cinco de Rhino
Save 5 species on 5/5
May 5th is Cinco de Rhino, a day to celebrate all 5 rhino species while raising critical funds for rhino protection in Africa, India and Indonesia.
IRF needs to raise $30,000 throughout the month of May to support critical programs in Africa, including rangers, K9 units, care for rhinos, and poaching prevention, as well as our other rhino conservation initiatives around the world. Can you help?
A generous group of long-time IRF supporters have created a Donor Challenge Fund, to match every donation made in May! This month only, every dollar you donate will be doubled – and every dollar will make an immediate impact for rhinos and the people who care for them.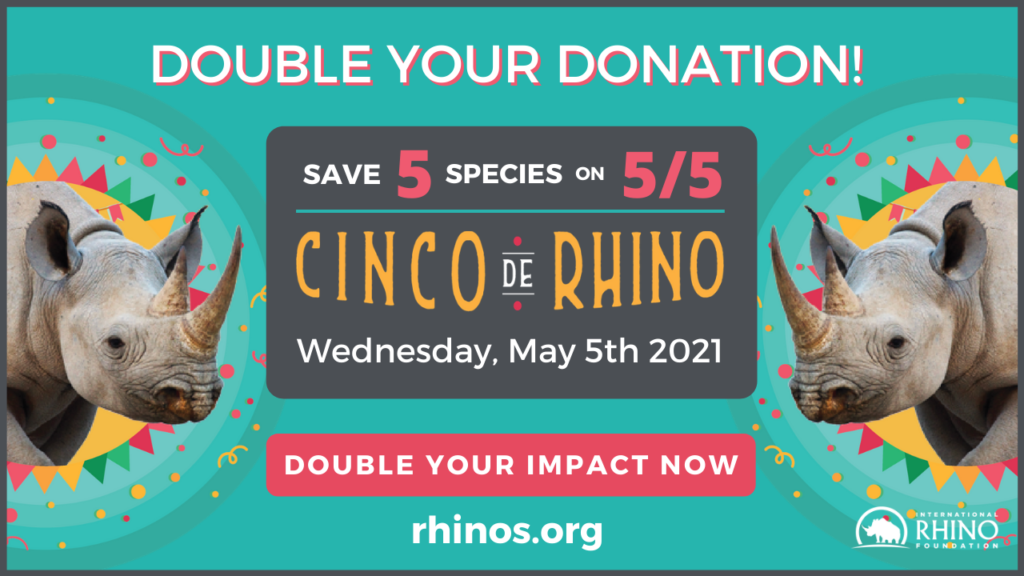 May is the 30th anniversary of the International Rhino Foundation (IRF) and we invite you to join us in celebrating with Cinco de Rhino and throughout the entire month. IRF was formed by concerned individuals responding to a black rhino poaching crisis in Africa. In the past 30 years we have shared successes and losses throughout the entire rhino conservation community. We are guided by our past experiences, collaborations, and hope – that together we can see all five rhino species thrive again.
We want you to have fun as you party for a purpose. We have prepared a special Cinco de Rhino toolkit to help you host your virtual happy hour and ask your friends, relatives and co-workers to donate to your Facebook or other fundraising platform campaign. When you host a fundraiser or donate this year, you will be supporting critical programs in Africa, including rangers, K9 units, care for rhinos, and poaching prevention, as well as our other rhino conservation initiatives around the world.
We also welcome you to connect your events to an IRF event. We had a lot of fun virtually with you last year and we invite you to go online with us again this year. On May 5th, we will host a variety of talks, games and other surprises throughout the day. These events are all free to watch and participate in, and donations are always welcome.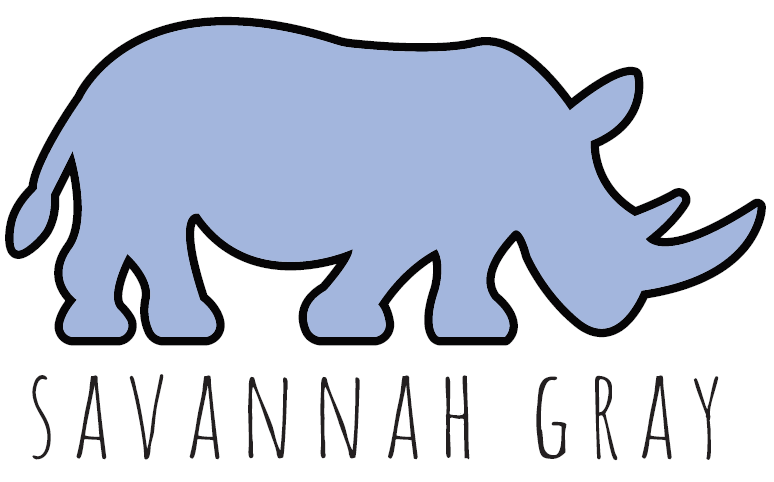 CINCO DE RHINO SCHEDULE
Wednesday, May 5th 2021 – all times EST
9 AM – COFFEE CHAT WITH NINA – LIVE ON FACEBOOK
Nina Fascione is celebrating her one-year anniversary as IRF's executive director and will be hosting a casual coffee chat to get us primed and ready for Cinco festivities. Nina will provide an update on Africa and we invite you to bring your rhino questions for her to answer.
12 pm – Africa Talk with Cathy Dreyer – Premiering on Facebook, Instagram, and YouTube
A long-time friend of IRF, Cathy Dreyer, was just announced as Kruger National Park's next head ranger. We'll speak with Cathy about her incredible background, challenges of her new role, and her hope for rhino conservation in Kruger. Don't miss it!
3 pm – AndBeyond Virtual Safari at Phinda Game Reserve, sponsored by Savannah Gray – Registration required, limited seating available.
Go on safari right from your living room! Have the luxury of sitting in on a virtual session with an expert andBeyond ranger who will interpret the incredible sightings of a recorded WILDwatch Live drive with you. This guided safari offers the unmissable opportunity to gain insight from an expert safari guide, who will offer their wealth of expertise in interpreting the fascinating antics and behaviours of Africa's famed wildlife. Seating is limited for this 90 minute experience, so sign-up today!
*SAFARI REGISTRATION booked very quickly! This was a popular event, so we will do it again soon!*
6:00 pm Rhino Origami with Dr. Rhino – Live on Twitch
Dr. Rhino has been hosting fundraising gaming streams on Twitch for IRF, and for Cinco will be hosting a simple how-to on rhino origami. Grab some paper and follow along!
7:00 pm – Family Game Night – Zoom Registration Required
Game night is back! Gather the whole family and join us on Zoom. Chris will be hosting rounds of trivia, a 'safari hunt' and of course, R-H-I-N-O (aka Bingo).
Southern Africa has been hit hard by tourism losses which provide the majority of support for wildlife conservation programs. Your donation will help maintain essential programs as well as implement new technology and activities to protect rhinos from poachers.
Check this page often and subscribe to our blog for the latest updates. Don't forget to share with your friends. Join us for Cinco de Rhino and for anniversary celebrations in May. We are Stronger Together. We are Team Rhino.