Tracking A Growing Concern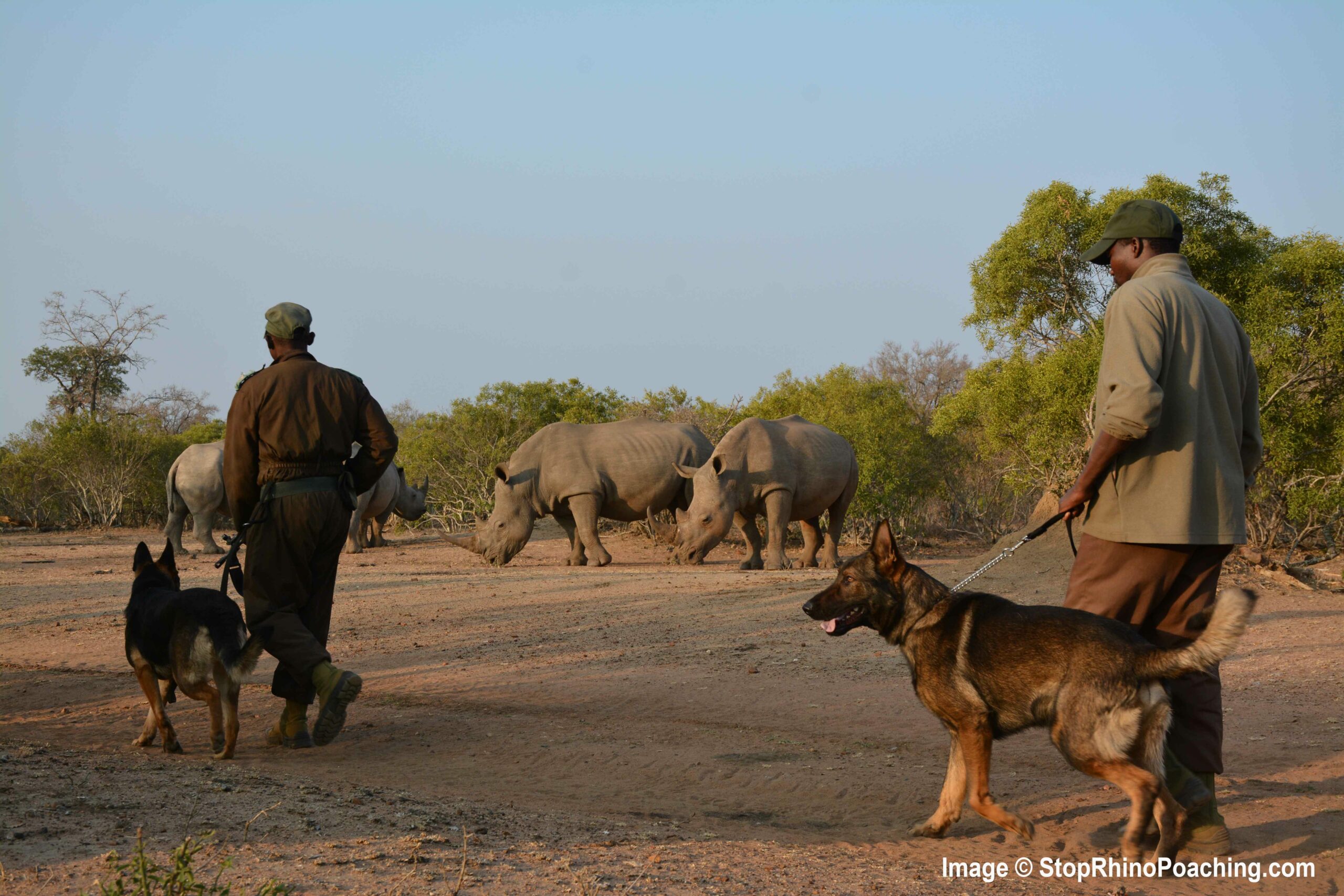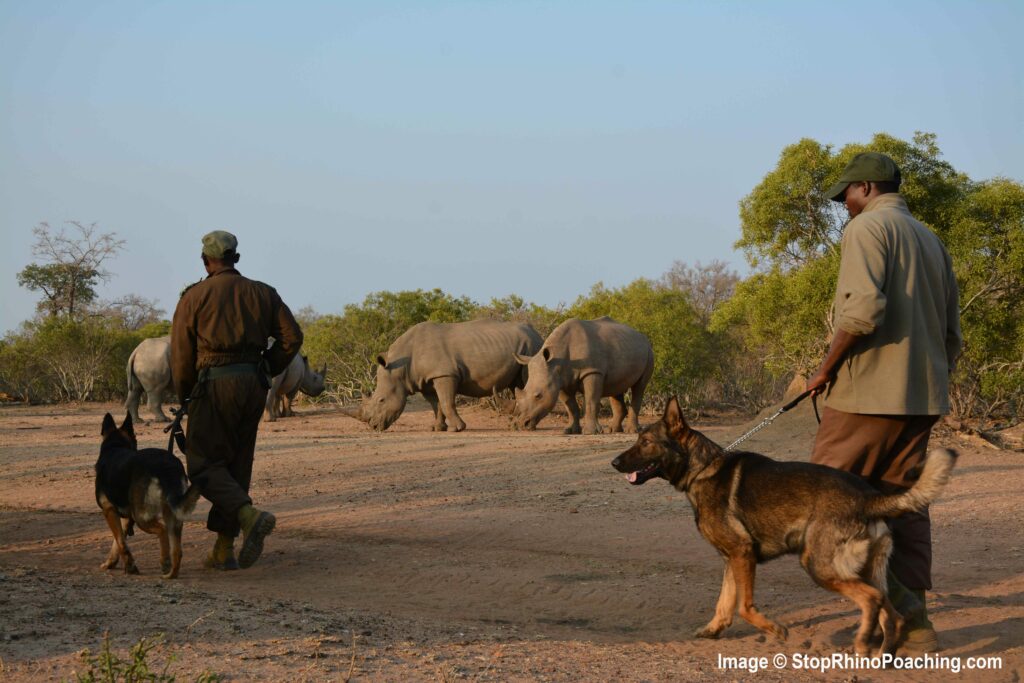 Poaching remains the greatest threat to black and white rhinos in southern Africa. The global pandemic has increased concerns that poaching could reach crisis levels as economies continue to crumble and job losses mount.
The International Rhino Foundation (IRF) is working closely with our on-the-ground partners to respond to rapidly changing needs and new threats to protect key rhino populations. With your support, IRF made emergency grants to maintain monitoring and protection activities.
Earlier this year, IRF also expanded our partnership with the Southern African Wildlife College (SAWC) to support additional training and deployment of K9 units in the field. K9 units have been a part of a multi-faceted protection strategy complementing boots on the ground begun in 2018 with Dozer, one of IRF's first 'Rhino Dogs'.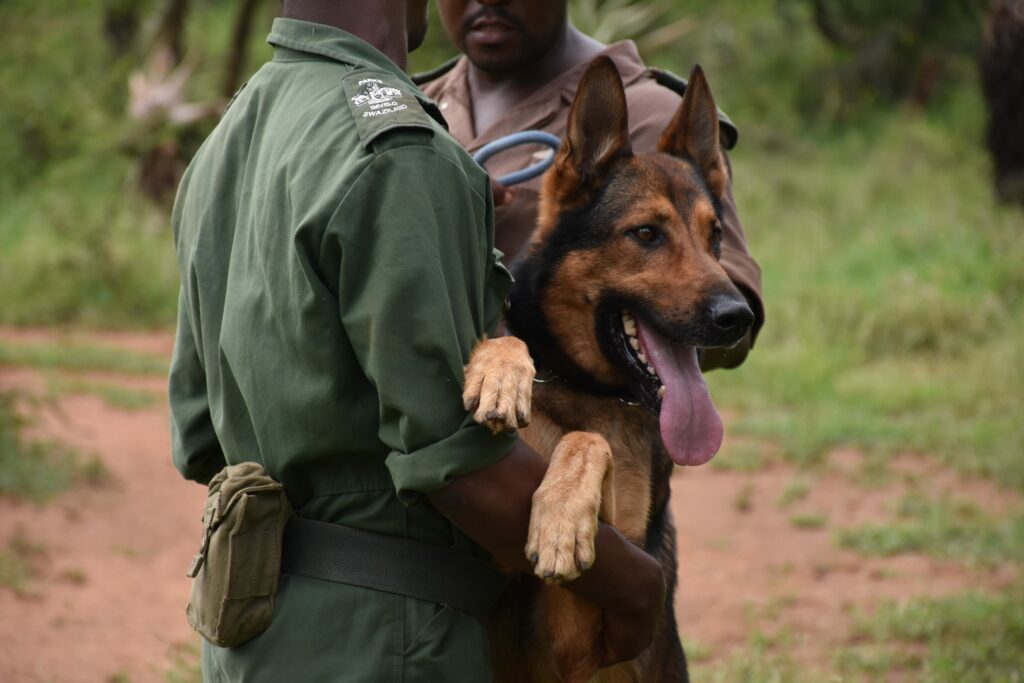 Dozer is a very special dog. He's a German Shepherd/Belgian Malinois line dog that is trained to track poachers at Big Game Parks in eSwatini by following their scent in the bush, protect handlers and rangers, detect ammunition (which poachers often stash prior to a poaching event), and locate the horns of poached rhinos at roadblocks and security checkpoints.
A well-trained dog and its handler are powerful weapons against wildlife crime. Dogs use their superior senses of smell and hearing, eyesight, and agility to sense and do things that people can't. As poachers become more lethally armed, dogs provide vital early warning and safety systems for rangers and handlers. Their keen sense of smell and ability to track over long distances for up to 48 hours, make them invaluable.
In addition to providing training to dogs and their handlers for other parks and reserves, SAWC directly operates the K9 and aerial support units in Kruger National Park in South Africa and surrounding reserves. Kruger is home to the largest concentration of rhinos on the planet and faces intense poaching pressure.
Dog master Johan van Straaten starts evaluating and training future rhino dogs as young as 8 weeks old. Dogs can work independently or in a pack, on or off lead, and in a variety of anti-poaching applications depending on the best fit for each dog. Photos courtesy of Southern African Wildlife College.
SAWC has developed and tested an innovative strategy to counter poaching threats. Through the combination of well-trained field rangers and the addition of free-running canine assets, anti-poaching successes on the ground have increased from 3 – 5 % without a canine asset, to over 60% with the use of both on-leash and free-tracking dogs.
In addition to line dogs like Dozer, SAWC's K9 Unit is made up of pack dogs, typically hounds. Some of the original dogs came from Texas and have now produced a litter of South African born dogs. When a line dog or ranger unit begins tracking a poacher in Kruger, the pack dogs are then called in to apprehend. From February 2018 to December 2019, the SAWC K9 Unit was deployed 120 times, making arrests of 134 poachers and seizing 55 weapons.
By making a contribution to IRF today, you'll help ensure that African parks and their K9 units will stand ready to face the new poaching threats that are sure to arise in the coming years. 
A generous, long-time IRF donor has volunteered to match every gift you make, dollar for dollar, from today until December 31st. That means that for the rest of this year, your gift will go twice as far and make double the impact for rhinos and the people and dogs guarding them.