They need your protection now more than ever.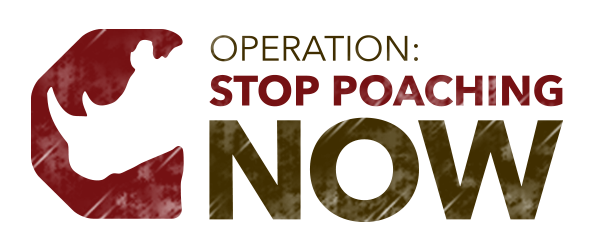 We didn't think rhino poaching
could get much worse.

But it has.

Halfway through 2014, poachers are killing at least three African rhinos every day. More than 500 rhinos have been poached in South Africa alone; almost halfway to the 1,004 killed in 2013. We fear it will get worse before it gets better.
That's the purpose behind Operation: STOP POACHING NOW.
Before the end of 2014, the International Rhino Foundation aims to raise at least $100,000 to help turn the tide of rhino killing in the southern African countries hardest hit by the recent poaching surge.
To prepare for the onslaught that soon will expand beyond South Africa, we are working with leading rhino conservationists, security experts and wildlife authorities to identify rhino populations that, with adequate protection, can likely survive that next wave of poaching.
It's not a sure thing. But it's our best bet.
Today's poachers are well-equipped, highly organized and dangerous beyond belief.
After the rhino wars of the late '80s and early '90s, when thousands were killed, conservationists got poaching under control. Now, poachers are using helicopters, machine guns, veterinary immobilization drugs and other sophisticated methods to stalk their prey. And because most poaching syndicates are based in Mozambique — a country that borders South Africa and where the government turns a blind eye — they are getting away with murder.

Help us stop the killing. Please give what you can.

Every gift, regardless of the amount, matters. Every gift allows us to do more.
 10 Ways to Fight Rhino Poaching
Throughout 2014, we'll share 10 Ways to Fight Rhino Poaching — detailing diverse solutions to address the poaching crisis. Check back to learn more about the work we're supporting to bring rhino poaching to an end.