Tales from the Field: Rhino Protection Units in Training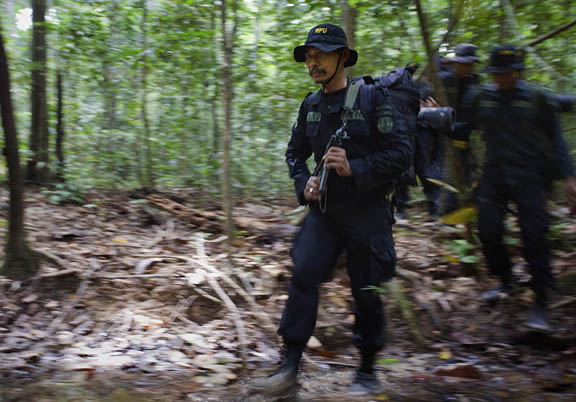 The International Rhino Foundation (IRF) supports 16 Rhino Protection Units (RPUs) in three Indonesian national parks. Bukit Barisan Selatan and Way Kambas National Parks contain approximately two-thirds of the world's remaining Sumatran rhinos, while Ujung Kulon National Park is the final stronghold for the critically endangered Javan rhino.  Specially-trained four-man teams spend at least 15 days each month on field patrol, looking for signs of poachers, rhinos and other threatened wildlife such as tigers, elephants, tapirs and banteng – a wild Asian cattle species. The RPU program is a close collaboration between the Rhino Foundation of Indonesia (Yayasan Badak Indonesia or YABI) and national park authorities, and since 2006 their teamwork has prevented the poaching of both Sumatran and Javan rhinos. Given the escalating poaching threats to white rhinos and black rhinos in Africa, as well as greater one-horned rhinos in India, the anti-poaching performance of Indonesia's RPUs is nothing short of remarkable.


A major reason for this successful effort is the special training the RPUs receive, training that must be refreshed periodically. Recently, 48 men representing the seven RPUs from Bukit Barisan Selatan and the five units from Way Kambas convened at the Sumatran Rhino Sanctuary for a three-day, anti-poaching refresher course supported by national park authorities and the Tropical Forest Conservation Act (TFCA).  IRF's Indonesia Liaison, Inov, facilitated the course, which contained segments on wildlife crime investigative techniques, law enforcement, survey methodology, database management and rhino ecology and behavior, as well as essential team-building exercises.


In the months ahead, similar training programs will be implemented in northern Sumatra's Gunung Leuser National Park, where an RPU program is being established by the Leuser International Foundation based upon the IRF/YABI model. This cross-training program was initiated with funding from the US Fish and Wildlife Service and recently received support from Save Our Species (SOS), a joint program of IUCN-The World Conservation Union, the Global Environmental Facility (GEF) and the World Bank. The goal of establishing an RPU program in Gunung Leuser is to bring 100% of Sumatra's remaining rhinos under effective protection, the most important step in the recovery of this species.


The success of the RPU program is due in large part to support from a number of government agencies, organizations, foundations and individuals.  If you would like to help keep "boots on the ground" and critically endangered Indonesian rhinos safe in their tropical forest habitats, please consider a donation to IRF today: http://rhinos.org/donate.