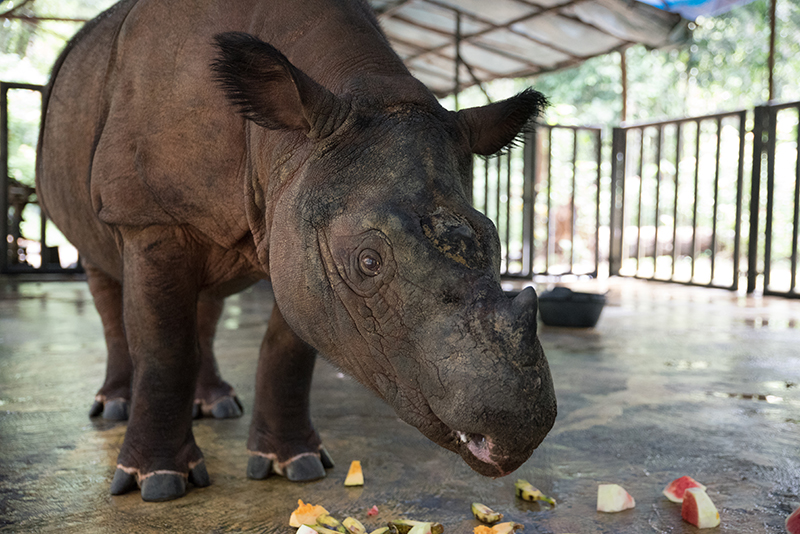 Bina
Sumatran rhinos are the smallest and furriest of all rhino species. They live in the dense, tropical forests of Indonesia and are Asia's only two-horned rhino.
If we don't act now, the Sumatran rhino could be extinct in our lifetime. Despite protection, the species has decreased to no more than 80 individuals total. Because most Sumatran rhinos now live only in tiny, isolated sub-populations, they can't find each other to breed.
You can symbolically adopt Bina the Sumatran rhino either in your own name, or as a gift for a relative or friend who supports wildlife conservation.
FOR EACH ADOPTION YOU WILL RECEIVE:
A digital certificate to print

A digital photo of your adopted rhino to share on social media

A bio on your adopted rhino

An exclusive rhino adoption sticker
By adopting Bina today, you'll help save Sumatran rhinos from extinction. Your donation will fund:
Care for Bina and the other rhinos at the sanctuary
Continued research and breeding efforts
Protection for wild Sumatran rhinos and their habitat
Bina's Story
At 39 years old, Bina, is now the oldest living captive Sumatran rhino. She was one of the last Sumatran rhinos to be captured and relocated within Indonesia as part of an international effort to rescue isolated rhinos some 30 years ago. She was one the the first rhino residents to come to the Sumatran Rhino Sanctuary (SRS) in Way Kambas, Indonesia. 
The SRS in Way Kambas is home to seven rhinos that are part of an intensively-managed research and breeding program aimed at increasing Sumatra's wild rhino population. At the sanctuary, the rhinos reside in large, open areas where they can experience a natural rainforest habitat while still receiving state-of-the-art veterinary care and nutrition. The future of this species may very well depend on the success of the conservation breeding program at the SRS.